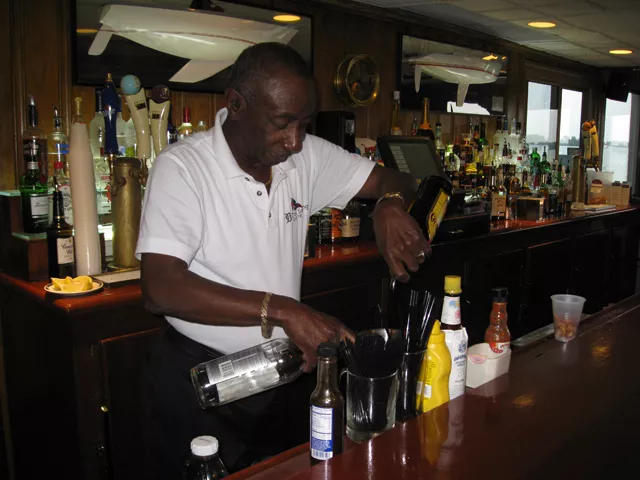 The Hummer
1-1/2 ounces rum (usually Bacardi)
1-1/2 ounces Kahlúa
2 scoops vanilla ice cream
A couple ice cubes
Blend and serve in a 7-1/2-ounce rocks glass.
When he started tending bar at Bayview Yacht Club in 1967, Jerome Adams wasn't looking to create a worldwide sensation. He says he was just trying to fill the shoes of his eminent predecessor, Curtis Hicks, who had tended bar at Bayview for 28 years and was retiring.
Adams says, "They were so used to Curtis, the way he made his drinks, that anything I did I couldn't do as good as Curtis. And that's when I was trying to come up with something to try to help me fit in with the group."
So, one late January night in 1968, the club's newest mixologist was trying to devise a drink that would be a crowd-pleaser. "I had tried all different things. I used rum, I used vodka, I used scotch. I used everything. But the best taste was with rum, Kahlúa and ice cream. So, one night, I had a little, small blender then, and it was big enough to make maybe three or four of these drinks.
"So had made up some and I was going to take them into the kitchen and give them to the waitstaff and let them taste it — but just as I pulled them up, three guys walked in coming from the hockey game from Olympia. And one of the guys at that time was the bar and restaurant chairman at Bayview, Ed Jacoby, the owner of Jacoby's downtown.
"And so he said, 'What you got there?' I say, 'Oh, it's something I just made up.' He said, 'Let us taste it.' And so I gave him and his two buddies three of 'em, and they drank it and said, 'You got any more?' I said, 'No, but I could make up some.' So I ran back in the kitchen, got some more ice cream, and made up three more and gave them to them.
"They say, 'Well, Jesus Christ, these are pretty good! ... What you call it?' I say, 'Well, it doesn't have a name.' So one of the guys says, 'You know what? After two of these damn things, kinda makes you wanna hum.' So that's how we got the name 'the Hummer.' I never thought it was going to be that big. I just started pushing it across the bar."
The story may have ended right there, with Adams' position as bartender secured and club members happy to imbibe in this newfound nectar. But our local boating and sailing crowd has always been an intrepid bunch, scouring the Great Lakes in summer, traveling to tropical climes for winter races, and jet-setting all over the globe. Soon, Bayview members were walking into bars and clubs all over the world asking for a Hummer. And, in those pre-Internet days, the flummoxed bartender would have to place a long-distance phone call to Detroit to get the recipe. Bayview's bar began fielding calls from California, Florida, even France, all asking for the magic formula.
Over the years, that formula has seen some changes. Modifications have included using butter pecan and peppermint ice cream, and even using actual cream instead.
Adams says, "We ran out of ice cream one night. Now, the ice can make it thick, but I didn't have ice cream, so I used cream with some vanilla flavor in it. And I could make it just as thick." The alteration led to a common misconception of the drink's provenance.
"There was a lot of controversy about that, because the guy from Joe Muer's London Chop House, back in the '80s, he said he invented it. I told him, 'No, you didn't.' He said, 'Well, I was the one that started using ice cream.' I said, 'No, I used the ice cream first. ... The reason I quit using ice cream was because at the time it was cheaper for me to use cream, because I was only getting 75 cents for a Hummer.'
"Back then, you see, a scotch and water would only cost you 90 cents. And in the '60s and '70s, we had 50-cent drinks and 15-cent glasses of beer. You know, money was tight."
The rivalry is now long-settled, and Adams now gets on well with the former London Chop House bar staff. "Saturday night," Adams says, "my wife and I got an invitation to go to the new Joe Muer Seafood restaurant at the Renaissance Center as guests of Joe Muer. I was talking to the bartender down there, and he said, 'Man, you helped me make many dollars, 'cause we made that drink by the pitchers-full.' I said, 'Well, you didn't make them any more than I do.'"
Adams is perhaps too humble, because Bayview can really mix up huge batches of the drink. When large parties started coming into the club and requesting dozens of Hummers at once, the bar had to upgrade to a large, heavy-duty blender. Now, Bayview keeps two of them ready in the kitchen for large parties, or to take out to regattas, and Adams often travels to Toronto, Mackinac and Florida to personally mix his fabled classic drink.
With a humble smile on his face, Adams says, "Like I say, when I invented the drink, I never thought it was going to be that big." —Michael Jackman