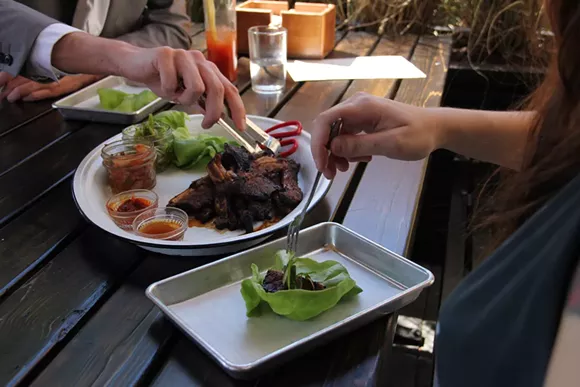 Chef Sarah Welch doesn't mince words when talking about how she and her team find ingredients for the ever-changing menu at Republic Tavern in Detroit.
"It's all about finding ingredients that excite us," she says.
Republic Tavern prides itself on serving "new American" fare, but that doesn't mean it's just turning out meat and potatoes.
Like many restaurants around metro Detroit, Welch is delving into new territory, while still keeping a Midwestern flair. And a lot of that creativity is in the condiments.
One of the more unusual condiments Republic's kitchen uses is a black garlic fig purée, which comes on the seared duck breast.
"We try to work within the framework of what we are known for, so rustic new American food," Welch says. "And we are trying to keep it interesting for us."
Welch says the garlic is heated for around 45 days, giving it a dark color and an unusual flavor. The choice to incorporate it into a dish stemmed from the desire to add an exciting flavor to the menu.
"We are trying to stay true to our vision, which, this time of year, is ... using some funky, dried items," Welch says. "We use dates and figs and the black garlic to really bring out something special."
The use of exotic or uncommon ingredients isn't exclusive to Republic, but Welch says a lot of thought goes into any new item on the menu.
"We do try a lot of things just for the sake of trying it," she says. "We have a lot of hits and a lot of misses too. You never want to just stop experimenting; you never want to just sit back."
Welch says traveling is often a good inspiration for new and exotic ingredients.
"When I recently got back from Ireland, we started doing a lot of farmhouse-inspired dishes," she says. "You kind of learn to take what you experience in other places and put it back into your cooking."
Selden Standard is another local restaurant kicking up its condiment game. As a rule, however, the dishes aren't extremely complex.
"We are a pretty cut-and-dried place," head sous chef Nick Elswick says. "You aren't going to find anything extremely exotic here, but we are often able to get some really cool ingredients into the mix."
One unique element in Selden Standard's whole trout is a cumin vinaigrette.
"There isn't a lot too it, but it's not something many people have had before, so it can seem kind of intimidating," Elswick says. "But it's really quite good."
The hip eatery also uses black garlic on a newer dish, oyster mushrooms and spaghetti squash. According to Elswick, the mushrooms are steeped in rice vinegar and then mixed with the black garlic.
"Again, it's nothing complex," he says. "There are only four ingredients. But that's kind of what we do well, taking a few things and making a great dish out of them."
One of the more exotic items that can be found on a metro Detroit menu is gochujang, a fermented Korean condiment made from red chiles, rice, fermented soybeans, and salt. It's featured on the beef kalbi at Public House in Ferndale.
"It's not something you see every day," Public House chef Brandon Zarb says. "It's nice to have a few ingredients on the menu that really stick out."
Public House's menu changes often, but it's not uncommon to see things like whipped goat cheese, red quinoa, or kale-and-almond pesto.
"We're always looking for new things, new flavors," Zarb says. "We're always looking for something that will give a dish a little extra. Maybe that's an exotic ingredient, or maybe it's just a different take on something we've all had before."
Zarb's menu features other unusual condiments, including granny apple slaw and Sriracha aioli.
"It doesn't have to be some kind of crazy ingredient way out of left field to make a dish better," Zarb says.
One of Detroit's newer restaurants, Katoi, often serves up dishes with some surprising ingredients. Brad Greenhill's Thai-inspired food truck-turned-restaurant stays true its Thai undertones, while also maintaining some good-old Detroit sensibility. Greenhill uses ingredients like papaya, fish sauce, and pickled mustard greens.
"At its heart, we're doing Thai street food," Greenhill says. "And these aren't really crazy ingredients for the style of food. But they are things that you probably aren't going to be seeing on menus in the Midwest."
Since opening in March, Katoi has been one of the more ballyhooed new restaurants in the area. It's often crowded and reviews have been stellar.
"I think it just goes to show that people [in the Detroit area] like a lot of different kinds of food," Greenhill says. "You look around and there are all sorts of restaurants popping up, serving different styles of food, and many are doing well. I think that says a lot."
Welch agrees.
"I don't think it's necessarily about showcasing exotic ingredients," Welch says. "I think the key to a good dining experience is the willingness to try something new, but even more so, to try and trust us. Every once in awhile we'll get someone that orders a Caesar salad that isn't even on the menu, and we kind of know right away that this person isn't going to come out of their comfort zone.
"Every dish is a new experience and the guests we have that have the best experiences are the ones who take a risk and try something new." n