Detroit seems to get all of the attention when it comes to conversations about all things culinary around here, but there are plenty of other great restaurants and chefs across the Great Lakes State. Here are a few of our favorites.
Flint
MaMang: Billed as Flint's only southeast Asian eatery serving "Vietnamese cuisine and Taiwanese treats inside the Flint Farmer's Market," MaMang is the product of chef Tony Vu, a master at fusing traditional and contemporary approaches from around the world. His offerings include dishes like the crispy Peking duck tacos with a sweet and sour pineapple salsa, or bun thit nuong with grilled lemongrass, caramel pork, spring rolls, cucumber, cilantro, shiso, Asian mint over vermicelli rice noodles, and a Vietnamese vinaigrette. But he's best known for his Texas Smoked Brisket Pho — a 20-hour post oak smoked brisket to match a 20-hour bone broth. Vu's professional cooking career launched with a food truck in 2014 following extensive trips to Vietnam and Peru. He now holds down a permanent spot at the Flint Farmers Market, from which he sources around 75 percent of the ingredients he uses during the summer months. Look for his recently opened spot in Traverse City. 300 E. 1st St., Flint; 810-394-8492
White Lake
The Root Restaurant & Bar: Just outside of metro Detroit is the Root, one of the restaurants that embraced seasonality and the local food movement early on. It still stands strong, offering dishes like Baked Michigan Brie (Reny Picot Triple Crème Brie in a puff pastry with Grass Farms arugula, radish, dried cherry, fresh apple, and Michigan maple and black pepper balsamic vinaigrette) and the Michigan Pork Chop (whole grain mustard spaetzle, mushroom and roasted leek jus, fig mostarda, and mustard greens). The Root also has a killer fried bologna sandwich, made with Michigan's C-Roy bologna. 340 Town Center Blvd., White Lake Charter Township; 786-769-9646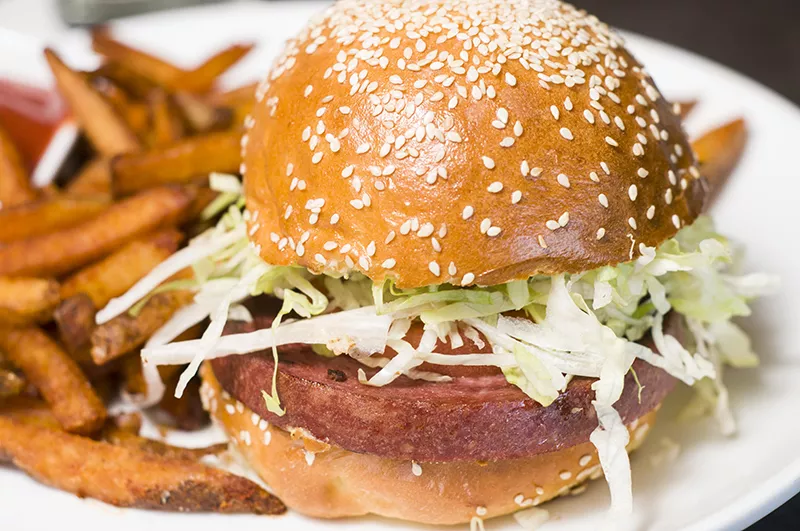 Lansing
Golden Harvest: Killer omelets and inventive breakfast dishes are the name of the game at this Old Town restaurant, where people will literally line up out the door to try them. Specials change all the time, but a sample of top notch plates include the Blue, Blue Balloon (blueberry, vanilla custard, shortbread, and blueberry coulis) or the Breakfast Arepas (fried corn cakes topped with chorizo, egg, black bean, onion, garlic, pineapple, salsa, pepper jack, and cumin lime yogurt). 1625 Turner Rd, Lansing; 517-485-3663
Kalamazoo
Food Dance: Food Dance is one of Kalamazoo's best spots for locally sourced, seasonally driven fare, and it maintains relationships with excellent companies and farms like the Brinery, Waterstreet Roastery, and Cedar Crest Dairy. Those relationships are used to build dishes like the BBQ Rocksteady Sandwich (Young Earth Farms pulled pork, BBQ sauce, and spicy slaw on a brioche roll) and Food Dance Pad Thai (bok choy, onion, ginger, carrot, egg, tamarind sauce, crushed peanuts, cilantro and the choice of chicken or tofu). 401 E. Michigan Ave., Kalamazoo; 269-382-1888; fooddance.net
Leland
The Cove: Long before extreme bloody Marys were ever a thing, Leland's the Cove was smoking chubbies and plunging them into their bloody Marys — the "Chubby Mary" — at their dockside restaurant on the Leelanau Peninsula. For fans of smoked fish, this is a must. For those unacquainted with a chub fish, it's a tiny breed the flourishes in the Great Lakes, and is extra tasty after hanging out in the smoker. The Cove puts the approximately five-inch fish in its spicy bloody Mary with an olive, pickle, and lemon wedge. If you're hungry, the Cove specializes in whitefish — try the Campfire Whitefish baked in foil with peppers and onions, or the stuffed whitefish that is "pinwheeled" with crab and shrimp stuffing. 111 River St, Leland; 231-256-9834; thecoveleland.com
Petoskey
Jose's Authentic Mexican Restaurant: Outstate towns aren't necessarily known for their Mexican fare, but Jose's offers some of the best tacos around. Beyond those, try the Mexican pizza (thin and crispy crust, beans, cheese, tomato, cilantro, sour cream, and salsa; with the option to add steak, pork, chicken, chorizo, or barbacoa) and shrimp cocktail (shrimp, cocktail sauce, onion, cilantro, jalapeno peppers, avocado, and lime juice). 309 Petoskey St., Petoskey; 231-348-3299
Traverse City
Gaijin: Gaijin offers "Japanese comfort foods" and is similar to an izakaya, or Japanese gastropub. Here's you'll find excellent dishes like the pork gyoza (black bean sauce, enoki mushroom, and pea shoots) as well as the Angry Crab Roll (lump crab, chili paste, cucumber, wasabi tobiko, and avocado). 136 E. Front St., Traverse City; 231-421-5466; gaijintc.com
Grand Rapids
The Green Well:The Green Well bills itself as an American gastropub serving "honest fayre" with a local flair. That translates into excellent, seasonally driven cuisine built with ingredients from awesome local producers. Its building is LEED-certified, and it offers a fine selection of beer, wine, and craft cocktails. Check out the Michigan Turkey (all-natural local turkey, sweet potatoes, creamy coleslaw, smoked bacon, white cheddar, tomato vinaigrette, grilled Field and Fire sourdough) or the Seafood escabeche tacos (Lake Superior whitefish, tiger shrimp, and blue crab escabeche with pickled radish and onion, spicy sour cream, citrus slaw, cilantro, guacamole, Green Well fire-roasted salsa and Champion Chips). 924 Cherry St., Grand Rapids; 616-808-3566; thegreenwell.com
Marquette
Donckers: A homemade candy store, soda fountain, and restaurant that offers frozen treats like the T-Rex Sundae (zanzibar, sea salt caramel ice cream, chocolate and caramel sauce, chocolate rocks, Oreo crumbles, real whipped cream, and Donckers chocolate dust) and solid plates like the Scarecrow Sandwich (turkey, bacon, roasted red peppers, smoked gouda, and avocado spread on your choice of white, wheat, rye, or house focaccia bread). Without a doubt, Donckers is one of the most fun places on this list. 137 W. Washington St., Marquette; 906-226-6110; donckersonline.com
Saginaw
Fuzzy's Restaurant: The housemade bread in the folded sandwiches is what people drive across county lines to get at. The sandwiches consist of different meats stuffed into the bread that's accompanied by lettuce, tomatoes, onions, mayonnaise, and mozzarella. Fuzzy's is also a favorite visit because it offers a soda fountain and ice cream parlor. 1924 Court St., Saginaw; 989-790-1719
Port Huron
Palms Krystal Bar and Grill: Good fried chicken is a rarity this far north of the Mason-Dixon, and sometimes you've got to drive to get it. Port Huron's Palms Krystal Bar and Grill offers Grandma Fay's Chicken and Waffles (two pieces of chicken in a rough, homemade Belgian waffle, butter, maple syrup, and creamy coleslaw) and, if you aren't in the market for bird, the Ultimate Bacon Burger (ground Angus beef, Smith's Applewood smoked bacon, cheddar, jumbo onion ring, mayo, lettuce, tomato, pickle, toasted brioche bun, and a side of BBQ sauce). Get it to go and take it for a picnic at any of Port Huron's awesome waterfront state parks. 1535 Pine Grove Ave., Port Huron; 810-985-9838; palmskrystal.com
From our 2018 Made in Michigan issue.