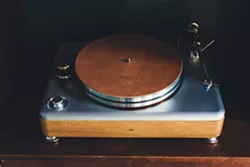 For luxury watchmaker Shinola, the decision to launch an audio division may very well have been an inevitability. The company has cultivated a decidedly nostalgic aesthetic since setting up shop in Detroit in 2012, and the turntables it debuted late last year join its other retro-chic product lines, which include watches, leather goods, and bicycles.
According to Alex Rosson, Shinola's head of audio, the turntables are a natural extension of the brand. "It's weird, but it's similar to a watch, really. It spins at a certain frequency," he says. "For me, it was, 'How would you take one of their watches and turn it into a turntable?'"
Then again, the dive into audio could just be good business, too. As the music industry has shifted from CD sales to digital downloads and streaming over the past decade, vinyl record sales have steadily grown; according to a Deloitte Global report, vinyl and turntable sales are poised to hit $1 billion this year. Chalk it up, perhaps, to a desire for something tangible in an otherwise disposable age.
For now, Shinola's audio line includes the Runwell turntables and Bookshelf Speakers, with headphones expected by the end of this year. As with Shinola's other products, the audio line commands a higher price point — $2,500 for the Runwells and $1,500 the speakers — though Rosson points out that in the world of true audiophiles, some setups can easily exceed tens of thousands of dollars.
Instead, Rosson says, Shinola's audio setup is meant to be plug-and-play, with a low-fuss customer in mind. "This is an audiophile setup, but we're making it easy on them," he says.
Rosson joined Shinola's audio program shortly after stepping down as CEO from his California-based headphones company Audeze in 2015. When he came onboard at Shinola, he says he designed the turntables "from the ground up," arriving at a design he says calls to mind old Lenco or Garrard turntables.
"It was made to look timeless, really. And classic and classy," he says.
But the turntables aren't completely backward-looking. Rosson says a big selling point of the Runwell's design is its modular "sled," with initial plans in place for customers to be able to send it back to the manufacturer for upgrades, such as adding Bluetooth or other features as they become available. A cost hasn't been worked out, but Rosson says the arrangement would be unprecedented in the industry — and would give the turntables a life for decades, at least.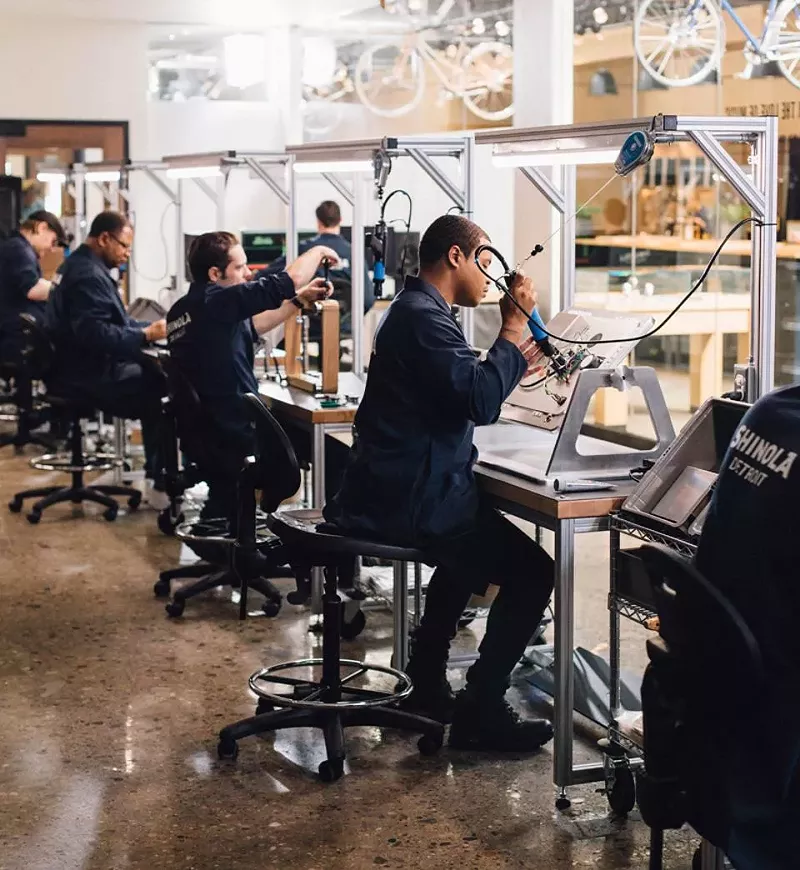 Like its other products, the turntables are assembled in Shinola's headquarters in the A. Alfred Taubman Center for Design in Detroit's New Center. Most of the parts are manufactured in America — such as its made-in-the-U.S.A. motor — with some exceptions, a method he calls "responsible sourcing."
According to Shinola president Jacques Panis, whether the parts are sourced from the U.S. or beyond ultimately comes down to quality. "We're bringing in experts to help us build, create, design, manufacture, whether it's a watch or a bicycle or a journal book, a leather bag," he says. "There are experts around each category to help ensure that the level of quality is adhered to on all levels."
At the facility, workers assemble turntables from start to finish, checking each part for any imperfections before assembly. Each worker is responsible for building each turntable in its entirety; the entire process takes between a half hour to 40 minutes per turntable. When the work is complete, the workers test the finished product using Beatles and Stooges records before sending them off to be shipped.
According to Panis, the company's foray into music opens the brand to a new customer base; he says 80 percent of turntable sales so far have been to new customers.
"Bring the right people around an idea, you bring the right motivation around an idea, you bring the right design around an idea ... things are possible," he says. "What this speaks to is what's possible in this city."