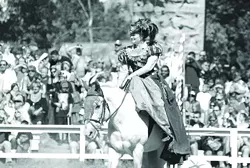 Hamtramck Labor Day Festival
8.31; North Stage
The Ill Itches (4:30 p.m.)
Stooges riffs and MC5 evangelical vocals are given a deft contemporary spit n' polish before being re-unleashed by a set of rowdy youths with dirty mouths.
The Octopus (8:30 p.m.)
The Octopus seems to delight in disappearing for a while, then re-emerging triumphantly. It's a smart ploy — every show is a reunion. Plus, they've got killer stoner rock 'n' roll tunes and an awesome front-woman.
8.31; South Stage
Tunde Olaniran (7 p.m.)
Flint's Olaniran describes himself as a cultural warrior with a four-octave range and a penchant for dirty synths. He balances precariously at the dead center of crossroads separating R&B, pop, dance and rap; every now and again he falls off, but never gets hurt.
Dennis Coffey (8 p.m.)
Dennis Coffey was one of the Funk Brothers (meaning, for those of you of tender years, that he was a member of the Motown Records house band). Can you imagine the incredible people he has performed with? And now you get to see him in the street in Hamtramck. Lucky bastards.
9.1; North Stage
Danny Kroha (3:30 p.m.)
Danny Kroha seems to be dividing his time between his solo material and his Danny & the Darleans project. Whichever you get, Kroha is always captivating, spacey and genuinely enthralling. His slight frame moves like a damn cobra. Quitcha hypnotizin', Kroha!
Joe Mazzola (4:30 p.m.)
With the Sugarcoats or, back in the day, the Detroit Cobras, Mazzola has proven himself a great player and smart songwriter. He's like an angrier Marshall Crenshaw, or a happier Bob Mould.
Golden Torso (7:30 p.m.)
Golden Torso has a kind of sound that hammers the thesaurus out of your hands before hammering you right in the face; amped-up, chugging hardcore-punk revivalist jams, nuanced with some grimy, alt-rock riffs.
9.1; South Stage
The Codgers (3 p.m.)
It's Irish folk from a Detroit band that has been around since 2006. Don't expect the punk stomp of Flogging Molly — these guys believe that playing the songs trad is energetic enough. And they're right.
Mike Hurtt & the Haunted Heart (5 p.m.)
Former MT scribe Hurtt should really have been playing music in the '50s; that's where his haunted heart seemingly belongs. The good news is we get to see the rockabilly rascal and his band right now.
Polish Muslims (7 p.m.)
There shouldn't be a human alive in Detroit who can say they haven't seen the Polish Muslims. Who wouldn't want to hear Beach Boys songs rewritten and re-jigged into a polka style? It's quite literally the life and soul of the party.
9.2; North Stage
Bill Bondsmen (7:30 p.m.)
Grrrr; these guys are pissed — and they're going to tell you what's irking them by way of hardcore punk ditties. Phlegm will fly and they won't be sorry.
Infatuations (8:30 p.m.)
Funky soul meets rock 'n' roll, courtesy of the ultimate party band. These guys remember when soul was soulful and add a touch of cheesy disco just for the fun of it.
9.2; South Stage
Pink Lightning (5 p.m.)
You're going to dance with Pink Lightning — and all five of them will likely step on your toes. They'll take your hand and dip you, straightening their tuxedo bowties; hair tussled and chins still dripping of champagne from their last dance partner's splash in the face. Plus, they'll bring their funky bass, disco-punk drums, wailing guitars, wheezing organs and yowling vocals; all will get down.
George Morris (6 p.m.)
The on again/off again Satin Peaches aren't going to be keeping lead singer Morris busy in the long term, so he's gone off and recorded a solo album. And it's really fucking good.
Outrageous Cherry (7 p.m.)
Matt Smith has been playing with his Outrageous Cherry for a couple of decades now. In that time, he has evolved into one of the best pop-rock songwriters in town. He knows how to perfectly balance the pudding with the arsenic, writing anthems that are both bitter and sweet.
Jeecy & the Jungle (8 p.m.)
These guys call themselves "nu-wave soul," which pretty much hits the nail on the head. Think Elvis Costello fronting Love — and you're partway there.
Soul Ambassador
Melvin Davis (8:45 p.m.)
Melvin Davis is a true Detroit soul "legend," a word that is overused, but absolutely applicable here. The man has done everything and played everywhere, and he still looks and sounds great.
Arts Beats & Eats
8.31; Soaring Eagle Stage
Audra Kubat (12:45 p.m.)
Audra Kubat might be a singer-songwriter, but she's a completely different beast to any similar female artist in the city; mainly because she seems to feel everything so much more. Kubat's lyrics suggest she's deeply affected by everything that's ever gone wrong anywhere — resulting in a vulnerability that's entrancing.
American Mars (6:45 p.m.)
Dave Feeny has played with Blanche and Goober & the Peas among others, and he heads up Tempermill Studios in Ferndale. Still, one can't help but think that he's most at home when playing with American Mars, this most rootsy of Americana bands.
Candy Band (8:15 p.m.)
It's kinda weird that the Candy Band is going on stage so late considering the fact that it's a band aimed at young children. Maybe the kids will be allowed to stay up past 9 p.m. on Labor Day weekend and listen to punky versions of songs like "Spongebob Squarepants."
8.31; Budweiser Rock Stage
Howling Diablos (9:45 p.m.)
With Tino Gross' Howling Diablos, you know exactly what you're going to get — smooth blues and Gross' likeable, gruff vocals. It'll get funky, so wear your dance pants.
9.1; Main Stage
Kaleido (5 p.m.)
Kaleido have made sure all the boxes have been checked for some potential mainstream success. Image, quirky pop rock tunes, being seen in the right places, etc. Now they have to keep working hard — and cross their fingers.
Ty Stone (6:30 p.m.)
One of the city's great gifts, Stone has a voice to seduce angels (and they don't even have genitals). The man can write an alt-country song — and his band is killer. Mainstream success? Pah! You've always got Detroit, sir.
9.1; Soaring Eagle Stage
Ryan Dillaha & the
Miracle Men (2:15 p.m.)
One of Detroit's best-kept secrets, Dillaha is a majestic songwriter who disguises epic tunes with subtle, gorgeous musicianship.
9.1; Ford 89X Stage
Bill Grogan's Goat (2:15 p.m.)
Celtic rock, but not Celtic punk; forget the Dropkick Murphys, these guys take a progressive rock approach to classics like "Danny Boy," as well as their originals. Still, joy-filled and stomp-heavy though.
9.1; Budweiser Rock Stage
The Ruiners (6:30 p.m.)
Still one of the best live bands in Detroit, the Ruiners also now have a bunch of great tunes thanks to a killer second album. Fingers crossed that Rick Ruiner will light his pants on fire.
Amy Gore & Her Valentines (8 p.m.)
Rock chicks singing about cars and partying, power-pop style? Count us in. Mind you, Gore can write a sweet ballad too.
Jennifer Westwood (9:45 p.m.)
Detroit's own country princess, Westwood and her band have been slogging away for a few years and are finally making some headway. Go see.
9.2; Main Stage
Sponge (6:45 p.m.)
Vinnie Dombroski's Sponge was up there with Detroit's biggest exports in the '90s. The sales might not be as grand nowadays, but the most recent songs are just as powerful — the perfect festival band.
9.2; Soaring Eagle Stage
Dutch Pink (5:30 p.m.)
Hard-rocking alt-blues band with awesome, interchangeable male/female vocals and guitar work that will make your ears melt, but in a good way.
The Orbitsuns (8:30 p.m.)
Vinnie Dombroski is playing the main stage with Sponge, but he's always happy to drag out his cow-punk band and dust off his Stetson. Josie Wales ain't got nothin' on these outlaws.
9.2; Ford 89X Stage
Electric Graffiti (12:45 p.m.)
Fresh-faced female pop-rockers with youth and talent on their side. Catchy tunes, blessed with sunshine melodies, and some genuine heartfelt emotion.
Citizen Zero (8:15 p.m.)
Yup, we used to hate the music produced by this fresh-faced metal outfit. But then they went and surprised the hell out of us by hitting their stride with an awesome second album. Now we like them, so check them out.
9.2; Budweiser Rock Stage
The Muggs (6:30 p.m.)
Former reality stars — turned blues-rock vets — the Muggs will skin you alive with their sludgy tunes and then roll you in salt. It'll hurt, but it will be worth it.
10th Annual
Panic in Hamtramck
8.29; Painted Lady
Heroes & Villains, Salted, Platinum Selection, Chatoyant (9 p.m.-2 a.m.)
It's an eclectic first night at this year's Panic. Expect Detroit Psych from Heroes & Villains, proggy psych pop from Michigan's own Platinum Selection and acid-jazz freakouts from Detroit-based Chatoyant. As always, Panic organizer Timmy Vulgar throws in an out-of-town act; this year it's a band from Austin, Texas, called Salted — and they will thrill the house with its no-wave sounds
8.30; Painted Lady
Wolf Eyes, F'ke Blood, Obnox, Anguish (9 p.m.-2 a.m.)
Bring those earplugs: This show features the face-melting sounds of Michigan noise kings Wolf Eyes; Detroit proto metal from Anguish; a heavy punk duo from Cleveland called Obnox; and a performance from Detroit no-wavers F'ke Blood — marking the release of their new LP.
8.31; Chiipss Skate Shop
Stale Fish, Party Plates,
Drunk Dom & the Roaches (6-9 p.m.)
An early evening, free show, takes over the half-pipe in the back of Chiipss, the skate shop that touched down in Hamtramck a year ago. The "ramp jam" bill includes Detroit skate-rockers Stale Fish, heavy stoner punk from Party Plates and "Detroit scum country" from Drunk Dom & the Roaches.
8.31; Painted Lady
Cheater Slicks, Richard Papiercuts, Circus Boy, Eroders (9 p.m.-2 a.m.)
Finishing up the fest big, the last night's bill features Cheater Slicks, a band that's a garage punk legend from Columbus, Ohio, as well as New York weirdo punks Richard Papiercuts, a performance by the awesome Motor City punk 'n' rollers Circus Boy, and Detroit punk garage from the Eroders.
Michigan State Fair, Novi
8.31; Entertainment Tent
Marshall Crenshaw and the
Bottle Rockets (8:45 p.m.)
Without a doubt, it's worth journeying to Novi for the State Fair just to see Marshall Crenshaw. The man could fart a pop-rock classic if he were so inclined — so talented is every inch of his existence. Seriously, there are few better songwriters alive. If you haven't seen him yet, you should.
Michigan Renaissance Festival
Ongoing throughout festival
Roane
As one might expect from this festival, these lovely lassies sing olde timee music using trad instruments and gorgeous harmonies. Expect sea shanties and Celtic tunes about days of old — when knights were bold and shit like that.
Tartanic
Not one set of bagpipes but two.