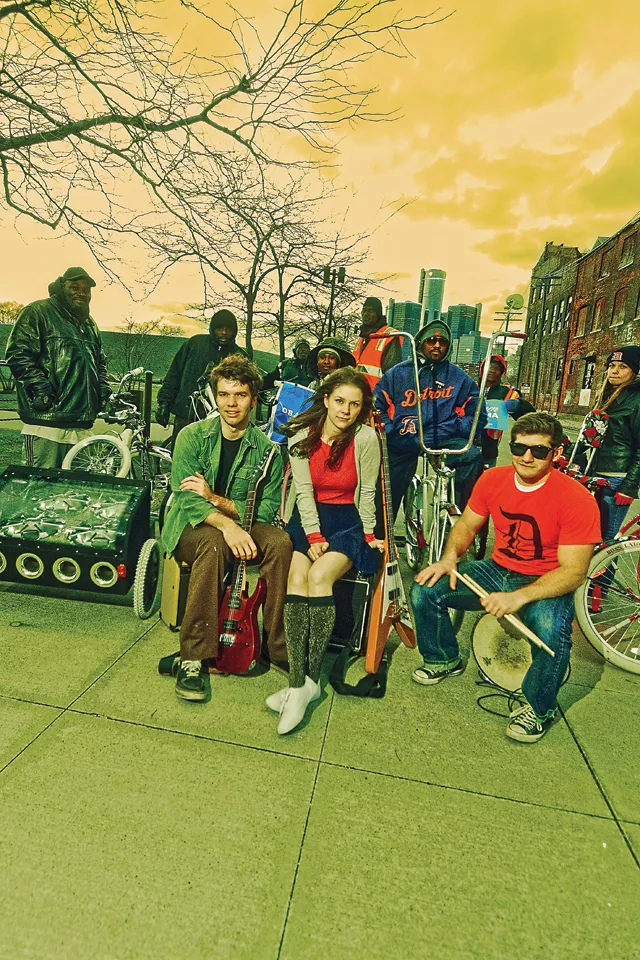 The Kickstand Band record release party is with Lightning Love and the Deadbeat Beat on Saturday, Nov. 10, at PJ's Lager House, 1254 Michigan Ave., Detroit; 313-961-4668.
There's nothing like being in on a secret, especially when it's a really exciting secret that is well worth knowing. Earlier this year, at the Blowout festival, the Kickstand Band performed in front of a sparse crowd at the Mars Bar at midnight. The three 25-year-olds (singer and guitarist Gordon Smith, singer and bassist Allison Young, and drummer Anthony Kanakri) didn't take the occasion for granted; they strolled out and laid waste to the little bar and the few attendees with their hook-heavy pop-rock.
The guys have received some of the best schooling in town. Smith has played with Eddie Baranek in the Sights as well as with Jessica Hernandez in her Deltas, while Young has performed for a good while with Mick Bassett & the Marthas. The three peeps know that, here in Detroit, you have to bring your A-game to every show and leave every inch of yourself on every stage. The crowds, no matter how small, demand nothing less.
The Kickstand Band's first show was just two years ago, on Halloween. "Allison and I had been in a lot of bands together," says Smith. "We always listened to music driving to and from the shows, and we had a lot of things in common. Weezer's Blue Album and stuff like that. In the back of my mind, I was thinking that it'd be so cool to have a band with her. I wanted to write fun, short songs."
Short and fun they are. The songs usually clock in at two-and-a-half minutes or less. Smith and Young harmonize in a trashy, almost haphazard rock 'n' roll way that is both raw and sweet. Lyrically, they recall early Beatles with the simple, oft-repeated lines about relationships that don't get too deep ("I wonder why as hard as I try / I'm still thinking of you tonight / What can I say to take it away / I'm still thinking of you tonight" — from (surprise!) "Still Thinking of You Tonight"). 
And there's a surfy element that is instantly infectious. Think the '50s punkabilly of the Cramps and the breezy pop brilliance of the Beach Boys, all mixed up in a Boone's Farm warehouse. "We're a three-piece and we try to keep the music within the realm of possibility," Smith says. "Short and sweet. There's not much lavish stuff that we can do. Simple music."
The Kickstand Band is based in the actual city of Detroit (as opposed to a suburb), and Young believes that this is to their benefit. "I think it affects the music," she says. "I live in a shared house and, in the city, we can get away with a bit more. In fact, a lot more. Friends' bands practice here that don't even live here. It's inspiring, being in the mix with your friends and like-minded people. Being surrounded by musical people and musical things. You can do that in the suburbs, but the Lager House is less than a mile from my house. I'm not at the Lager House all the time, but it does make things easy."
Smith agrees that his band is in exactly the right place. "It seems to me like this is a healthy time for Detroit bands," he says. "The Sights are on a big worldwide tour with Tenacious D, Jessica Hernandez is doing great things, Lightning Love's new album is amazing, Dale Earnhardt Jr. Jr. is doing great too. There are a lot of good things happening now. Maybe nobody's making a ton of money, but they're making waves."
Still, this is a particularly rough time for bands everywhere. An ever-increasing number of venues struggle to fill (or even half-fill) rooms, and an overload of information on the 'net means that online event invitations can get lost amid masses of junk. So how do bands drag people out to their shows? 
"People still come out," says Smith. "We were just at the Halloween show at the Crofoot last night and it was almost unbearable, there were so many people there. People still come out. I can't whine and complain that people won't come out to see music because obviously they will. You have to sweeten the deal a little bit. For our album release show, we're trying to make it like an ice-cream social. I know that's a bit gimmicky, but we're new at this anyway. I don't know if ice cream pairs well with excessive drinking."
Hmmm. Offering ice cream may not be a long-term solution for anyone, although the ingenuity, the ability to think outside of the box, is probably important. The ability to use social media certainly is key, though Smith says that bands and musicians can't stick their music in one place and hope for the best. "If your album is streaming live one day, the very next day it could be that nobody is listening to it," he says. "It's literally yesterday's news. I hope that's not 100 percent true, but it's going to be an experiment with our new album. This is our first full-length record. It's just about reaching out to everyone and putting it everywhere. The more people who can give it even a passive listen, the better."
Ah, yes: the new album. The Kickstand Band will drop Puppy Love at a CD release show at the Lager House this weekend. Filled with trademark catchy garage rock ditties, it's also worth noting that the photo on the sleeve is terrifying, a random pic they found on the Web of two guys and a girl posing for a family-style photo with two vicious-looking dogs. "It fits what we're going for," Smith says. "Cute but kind of scary. The picture is from Reddit. It's an incredible website for learning about the world. Somebody pointed us towards this picture because we like 'awkward family photos.' We decided it'd be perfect, so we messaged the guy that owns it, although as of right now I don't think he has any idea that we made an album with that picture on it."
With their debut album in the can, Smith doesn't really want to think too far into the future, preferring to enjoy the "now." "I just want to make as much music as possible," he says. "I don't have much hardcore touring experience. For me, I really like writing and recording music. It's the most satisfying process."
He pauses. "The more we can do that, the better."
Brett Callwood writes the City Slang column and blog for Metro Times. Send comments to [email protected]
The Kickstand Band's 
favorite 5 Detroit albums
Lightning Love 
The Blonde Album
Kommie Kilpatrick 
Nature Sounds
The Sights 
Got What We Want
Prussia 
Blessed Be, Yours Truly in Spirit and Soul
The Pizazz 
Get Out of My House