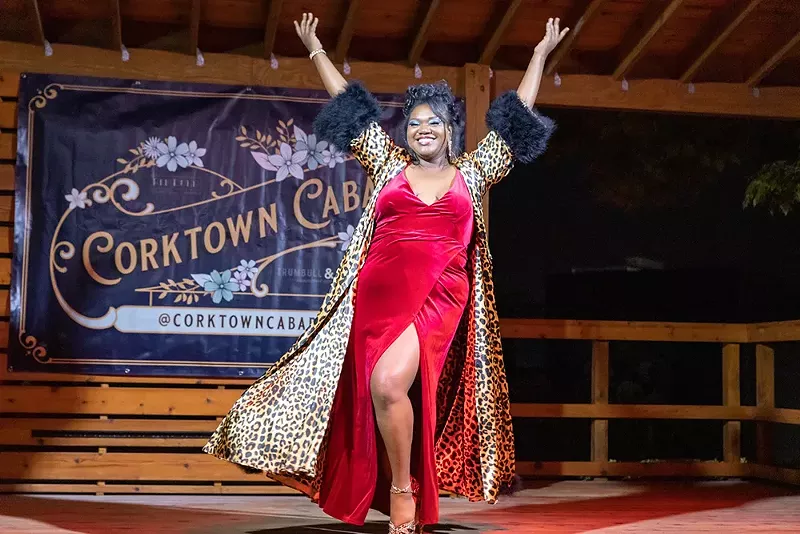 If you type "burlesque dancer" into Google, you'll see several faces are shown in the results: Dita Von Teese, Dixie Evans, Gypsy Rose Lee, Angie Pontani, and Tempest Storm. One thing you'll notice is that most of the burlesque artists shown in the top results are white women, and there's only one Black woman shown among the group — Josephine Baker.
In Michigan, the burlesque community can look the same as those Google search results, with predominantly non-Black performers on the marquee and fliers for those seductive showcases.
Enter Eartha Kitten, a Black, curvy burlesque artist who grew up splitting her time between Detroit and Southfield. She noticed some showcases were only hiring one or two carefully selected non-white performers, so when she began to produce her own burlesque shows, she moved with intention.
"The first show that I produced, it was a 90% Black cast, and that was very intentional, because I want you all to know that we're here, we're not going anywhere," she says. "And if I can find a way to make my show this diverse, and it was my first one, you really don't have any excuse. There's a reason why when Black people come to burlesque shows, they're so excited to see a Black performer, period. It doesn't matter the size or what they're doing, it's like they're just ready to see a Black person because they want to see themselves represented."
Eartha Kitten is no stranger to the stage. Long before she was doing sultry stage shows, Kitten was a theater student. She joined a film club in middle school, which helped grow her interest in theatrical arts, and by high school, she had joined the theater club there.
"I went to Southfield-Lathrup High School, and I started doing theater there and took it extremely seriously," she says. "That was what I wanted to do with my life — I was going to just either teach theater or become a super efficient stage manager. That was the path that I thought my life was gonna take."
She adds, "I was a theater nerd. I definitely remember being the one who was like, crying if a scene didn't go the right way. Mind you, I wasn't on stage, I was the student director, but I was just so detail-oriented and wanted it to go as smoothly as possible."
Eartha Kitten's journey into burlesque began in 2017, when she attended Speakeasy Sunday, a burlesque show at Cliff Bell's produced by Holly Hock. Kitten went to the show to support a friend who began their burlesque journey. It was her first time attending a show, and she wasn't sure what to expect, but she says the feeling of seeing the costumes and performances reminded her of the theater, and gave her that same feeling that plays and musicals did.
"I didn't know what I was going to see. The first act comes out, and in burlesque we go down to pasties, and the first time it happened, I was like, kind of taken aback. I was like, 'Oh, OK, so we're seeing boobs and butt all night,'" Kitten says. "By the end of that show, I was hooked. It was like I was experiencing theater for the first time again, I just wanted to soak it all in. It just grabbed me, and it kind of awoke that creativity that was always there, but I never had a chance to express it. After I saw it enough times, I was like, 'No, I know that I want to do this,' so I put it into motion."
By the end of 2018, Eartha Kitten began performing as a burlesque artist, and began to make a name for herself the following year. During that time, as Kitten is growing herself as an artist and navigating the world of burlesque, she did have moments where she compared herself to her thinner, non-Black, more experienced counterparts. She says really learning herself as an artist, and being honest about who she was and what she represented, really helped give her the strength and focus to continue to learn and practice the craft.
"I'm not going to be Dita Von Teese, ever. I'm not going to be XYZ, skinny, white, more dance-capable, or whatever-capable," Kitten says. "I could spend all this time comparing myself to these people, and pointing out everything they are, that I'm not. Or I can understand that I am somebody who needs to be seen a little bit more, and needs to revel in the fact that as a fat, Black dancer from Detroit, I need to be just as much in love with my body as everyone else can be."
Despite the challenges, Kitten says she has gained a lot from doing burlesque. One of the things she loves most about the art is how femme-forward the setting is. She says while anyone can do burlesque, she appreciates the artform that allows women to succeed and take the lead. She also says she's personally grown in ways since taking the stage nearly five years ago.
"I'm a totally different person, confidence wise, and advocating for myself wise, than I was before I even started going to burlesque shows," Kitten says. "I dress a lot better now, I dress for my body because I really like my body, so I actually wear things that look really good on me."
The Dirty Show runs 7 p.m.-2 a.m. Feb. 10-11 and 18-18 at the Russell Industrial Center; 1600 Clay St., Detroit; see full schedule of events at dirtydetroit.com. Tickets start at $45, ages 21 and older only.
Coming soon: Metro Times Daily newsletter. We'll send you a handful of interesting Detroit stories every morning. Subscribe now to not miss a thing.

Follow us: Google News | NewsBreak | Reddit | Instagram | Facebook | Twitter