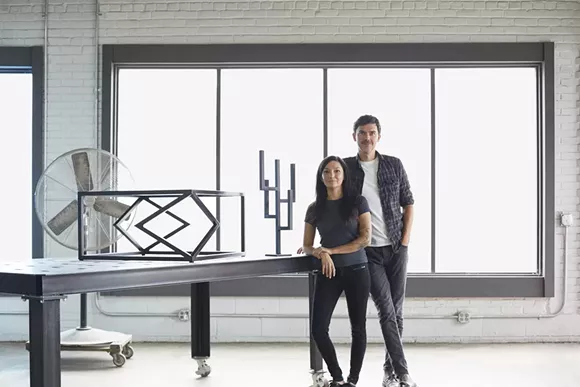 Before Detroit put America on wheels, on the other side of the state Grand Rapids had already earned a reputation as a manufacturing powerhouse in its own right. Thanks to its Lake Michigan location, the city became a lumber hub in the 1800s; this soon gave rise to enough quality furniture makers to earn Grand Rapids the moniker "Furniture City." Meanwhile, in Detroit, the Murphy Chair Co. would at one point become the world's largest chair manufacturer.
Eventually, the industry migrated south, but the region still maintained a strong presence in furniture design. Companies like Grand Rapids' Steelcase, Zeeland's Herman Miller, and Holland's Haworth — Michigan's other "Big Three" — became giants of office furniture design. In fact, today's offices would look very different if not for Herman Miller's Aeron chairs and a notable innovation called the cubicle.
As the industry blossomed, it left behind learning institutions dedicated to design. In Grand Rapids, the Kendall College of Art and Design was founded by the widow of David Wolcott Kendall, a prominent designer from the city's Phoenix Furniture Company. Meanwhile, schools like Cranbrook Academy of Art in Bloomfield Hills nurtured the famous Saarinen family of Finnish designers; among its alumni were famed furniture designers like Eero Saarinen, Florence Knoll, and Charles and Ray Eames, all of whom would go on to become respected names in the mid-century modern design movement. In the Motor City, in response the the rise of industrialization, the Detroit Society of Arts and Crafts formed; it would eventually become the College for Creative Studies, an institution for design of all kind.
And while the industry might not be what it was in its heyday, it is this legacy of furniture design that led, in part, to Detroit earning the designation as a "City of Design" by the United Nations Educational, Scientific and Cultural Organization in 2015 — the first U.S. city to earn such a distinction. In the coming years, groups like the Detroit Creative Corridor Center will use this global designation to shine a light on the grassroots designers and small businesses who are keeping Michigan's legacy of furniture design alive.
Alan Kaniarz is one such designer. A machinist, woodworker, and residential builder by training, he now runs Möbel Link, a furniture design outfit based in Detroit's Russell Industrial Center.
"Aside from the companies that are still involved with furniture around Grand Rapids, there's not a huge industry per se," he says. "But there are a lot of artisans who are trying to make their way in, such as myself."
Kaniarz, who has no formal training in design, says it wasn't until his late 20s that he was able to appreciate mid-century modernism. "My parents didn't give a wit about design. We had some old furniture and some that was I guess mid-century modern stuff, and I hated it," he says. "That whole idea of less being more was something I didn't grasp."
He says that all changed decades after that, when he visited the Southfield Civic Center's Modernism Art and Antiques show in the 1980s. "I think I was probably 28 when I went there first, and then the scales fell from my eyes," he says. "I was exposed to a lot more in the way of design in those intervening years. Good design is always good design, but it takes a bit to recognize it."
Now, Kaniarz applies that "less is more" inspiration to his work with Möbel Link. He partners with a Detroit-based company to precisely cut shapes out of plywood using computers. The parts are then assembled into Möbel Link's furniture, known for its intricate, machined designs — Kaniarz's flagship Quarnge chair is comprised of 132 individual pieces routed out of a single 4-foot-by-8-foot sheet of plywood.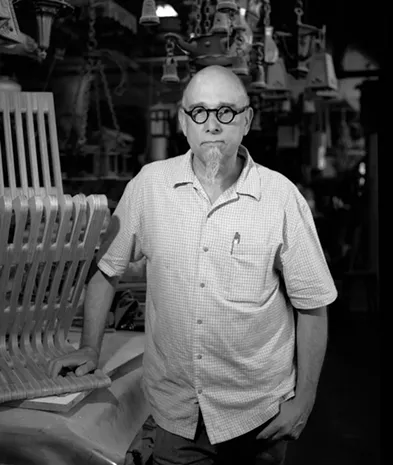 For Kaniarz, Detroit is the perfect headquarters for his operations, a city where industrial know-how meets an eye for design. A graduate of Detroit's Pershing High School, he says his mother encouraged him to "get a good job, to be a machinist or a mechanic." So he did.
"I've always been handy, I've always been really curious about how things go together. I've been building things since I was a child," he says. "I've been fortunate enough to be around people who share information with me, who tell me how something worked. And I like to do the same."
It turned out the jump to artist was a natural one; as a machinist, Kaniarz says he learned lessons in precision and engineering necessary to make aesthetic designs a reality. He has slowly built his furniture business up, and Möbel Link now offers more than 20 different designs for chairs, tables, and barstools, all made-to-order.
Kaniarz says Möbel Link is a mix of old-school handiwork and new technology; a computer calculates the optimal number of pieces that can be laser-cut out of a board, then Kaniarz and his workers finish the pieces by hand. "We're pretty good at it. The cutting out part is the easy part," he says. "But then we have to remove all the machining marks from where the cutters made their passes. So that's when the handwork comes in."
A more recent newcomer to the scene is the furniture-designing outfit named Alex Drew & No One, a duo made up of Alex Rosenhaus and Drew Arrison. Like Kaniarz, they are also inspired by mid-century modernism, though with a decidedly quirky bend.
In their Ferndale-based studio, the duo design polygonal mirrors and cactus-like candelabras. "We play with lots of shadows and light, the way the positive and negative work," Rosenhaus says. "We think the negative space is as important as the positive. We try to incorporate geometric shapes into it, and innovative designs into it as well."
Originally from Farmington Hills, Rosenhaus studied furniture design at Georgia's Savannah College of Art and Design. Meanwhile, Arrison originally hails from Memphis, Tenn., with a background in film and television production. The two met in New York in 2010 while Rosenhaus was working with custom furniture company Walter P. Sauer. They began collaborating on designs soon after, and founded Alex Drew & No One in 2013. Before long, they decided to bring their operations to Rosenhaus' native Michigan.
"When we decided to go out on our own, Detroit made sense," says Rosenhaus. "You can get a lot more space for not a lot of money, so there were some big selling points for us."
Like Kaniarz, Rosenhaus also praises Detroit's culture of builders — and aesthetics. "Detroit had a culture of visually good design," she says. "And it's easy because there's all the fabricators here who have a high quality, and they can work with designers very easily. That's something that's still easily available."
As Alex Drew & No One, Rosenhaus and Arrison partner with local metalworkers for help manufacturing their items. "We have a great guy. We're definitely the most modern, creative people they work with," she says. "These are old car guys, so they can figure out anything. They love when we come in and we have this new project or concept that is going to kind of push the limits of their work, make them do a lot of math, and do some outside-of-the-box thinking. And they love it. In a different city, I don't think that would be possible."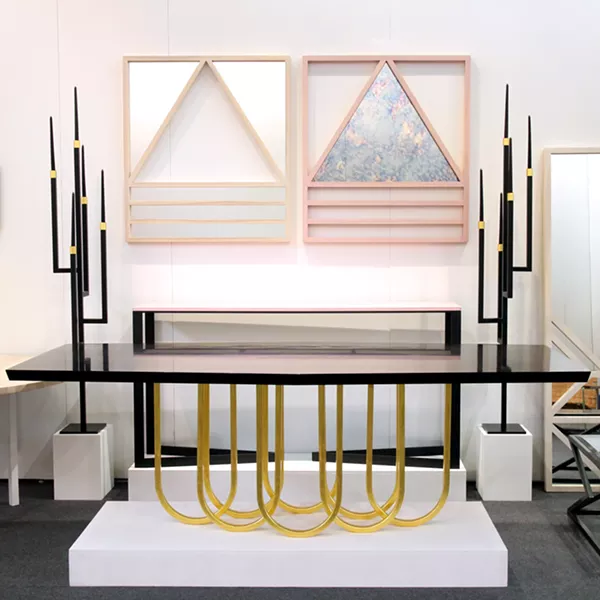 That's why earlier this year, Melannie Chard and Isabelle Weiss of Detroit's Galerie Camille art gallery launched a design program, joining its regular programming of painters and other visual artists. Weiss, Galerie Camille's director of design, hopes the new program will shed a light on Michigan furniture designers through regular curated exhibitions at the gallery, special events, and pop-ups — dovetailing with the efforts of the Detroit Creative Corridor Center to highlight this grassroots industry.
"It's such a diverse landscape of people who specialize in different areas of design, and the gallery is really now this foundation for all of those people to come together," Weiss says. "They're all contributing to the development of the city in ways people don't even realize. This gives them a voice."
The work of Kaniarz and Alex Drew & No One has been exhibited by the gallery. Its roster of furniture designers also includes the experimental work of art duo Zuckerhosen; works by Brian DuBois that expertly balance form, function, and fabrication; and Andrew Ward's work as Line Studio, creating modernist works inspired by cues from the Detroit factories of famed architect Albert Kahn.
Weiss says she hopes the new recognition can help unite the various furniture designers and makers who have been toiling in Detroit — although she says the "City of Design" designation is also very much because of them. "In Detroit, you've got all of these different sides. You've got the die-hards who have been here for like, 50 years, and then you have the people who just moved here," she says. "We're all of a sudden getting all of this attention for being an art and design city. And that wouldn't be happening if it wasn't for the mix of people that are doing things."
Read more about Galerie Camile's design program at galeriecamille.com.