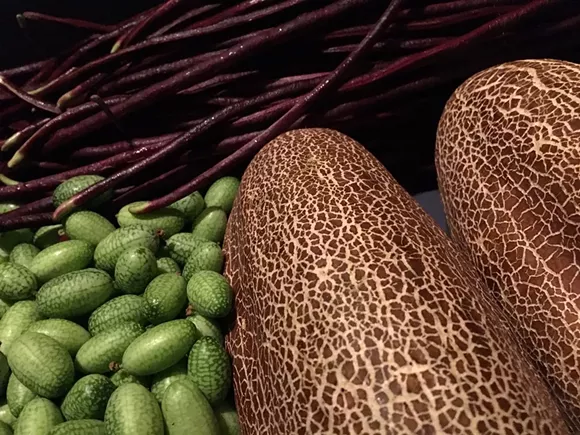 Weird cucumbers and the world's hottest peppers at Meadows Produce
You won't have to look far to find a pickling cucumber in Michigan, as the state is one of the nation's top growers of the vegetable. But if you really want to get weird with cukes, you'll have to stop by Meadows Produce farm in Clio, where you'll find rare varieties like the cikkim that's native to the Himalayan region, or the Mexican sour gherkin.
The latter is smaller than a grape and looks like a tiny watermelon. It's also popped into your mouth like grapes, and bursts with a lemony flavor. Equally strange in appearance is the giraffe skin-like cikkim, which will grow into brown, football-size vegetables that are often used as decorations because of their unique appearance. But if you're in the Himalayas, you'll typically find the cikkim — which taste like a cucumber — in stirfries. Both varieties are available from the Local Grocer in Flint.
Meadows is also one of the only spots in Michigan in which you'll find the world's three hottest peppers — the ghost, scorpion, and Carolina reaper. Each exceed 1 million Scoville heat units, which measures the peppers' hotness. The ghost is the most well-known of the bunch, and it's not hard to find at specialty pizzerias, for example. The scorpion peppers are slightly sweet and fit in, in small doses with Caribbean cuisine, farmer Brian Schorr says, but don't go overboard. The Carolina reaper is the world's hottest, and far stronger than police-grade pepper spray.
Schorr says he keeps "caution" signs posted around the peppers, and those with heart conditions should not indulge. He typically sees two kinds of customers for the reapers — ladies who use them to kill rodents, and college kids lookin' to get wild. Though it should be noted that eating them straight is a terrible idea, as some kids who needed oxygen tubes after eating one learned the hard way.
Nightshade Farms' super rare heirloom peppers and tomatoes
At Tilian Farms in Ann Arbor, Nightshade's Stefanie Stauffer grows all the heirloom peppers and around half of the tomato varieties on the Slow Food Ark of Taste, which Slow Food very simply describes as "a living catalog of delicious and distinctive foods facing extinction." That includes the fish pepper, a 2- to 3-inch vegetable that, as it grows, changes from cream with green stripes to orange with brown stripes, then eventually to all red. According to Slow Food, the pepper was common in oyster and crab houses around the Chesapeake Bay, and is used in mild to medium salsas.
Stauffer tells us that around half of her peppers ended up in the jars produced by Ann Arbor kraut and pickle maker The Brinery. Others landed in Nightshade's amazing hot sauces and salsas, or in restaurants like Detroit's Supino's. The latter used Calabrese peppers grown from seeds Stauffer received from farmers she met at Slow Food's 2014 Terra Madre Salone del Gusto in Italy, and she's the only person in the Michigan growing anything of the sort.
Top Hops' hopyard
Michigan's craft beer industry is thriving, but it's not quite as wonderful if the brew is made from ingredients grown in other states or countries. Thus, a crop industry supporting the growing number of Michigan beer producers emerged in recent years, and Atlas Township's Top Hops, founded in 2012, is part of that. Its 20-acre hopyard holds seven varieties of hops used by over 350 Michigan and Midwest brewers like Rochester Mills, Griffin Glaw, Batch, and Atwater. It also holds a processing center capable of picking, drying, baling, storing, pelletizing, and packaging.
Peanut Butter Malt for breweries and distilleries at Pilot Malt House
The same idea goes for malt. Michigan breweries typically purchase between 20 million and 25 million pounds of malt per year, but, until recently, it was sourced from overseas, or a Wisconsin company described as the "Anheuser-Busch of malting."
But with the quick growth of Michigan farmers like those at Pilot Malt House who support local breweries, that's changing. Pilot malts are found in the product of brewers/distillers like New Holland, Short's, Hopcat, and Grey Skies. And the company's trajectory is impressive: Late last year, it announced a partnership with Country Malt Group, a distributor that will make its malts available to 4,500 breweries worldwide. In 2015, Pilot sold 15,000 pounds of malt, then moved over 150,000 pounds in 2016.
Part of the reason is its inventive varieties, like the Peanut Butter Toast Malt. As Pilot explains, the company "experimented with caramelization at relatively high temperatures in the kiln," but, due to some happy accidents, they ended up with a product that has "the aroma of creamy peanut butter, but the flavor of darkly toasted, whole grain bread."
Find P.B. Toast in Grey Skies' new single malt whiskey, or Mitten Brew's English rye pale ale.
Ginger at Green Things
Go to the grocery store and purchase ginger root, and chances are good that it came from somewhere warm in Hawaii or Central America. Or, if you're in the Ann Arbor area, you have access to some of the only Michigan-grown ginger, which is pulled from Green Things Farm's ground.
Jill Lada, who co-owns the small farm with her husband, says the USDA-certified organic Green Things first began experimenting with growing ginger in 2012, and this season will produce a larger crop that you'll find at the Ann Arbor Farmers' Market or with the farm's CSA. You can also get a taste of Green Thing's ginger in a hard cider produced by Ann Arbor's Spencer and TraverseCity's Tandem Ciders.
How does one go about growing what's essentially a tropical crop in not-so-tropical Michigan? Lada explains that a piece of the root is planted, and more roots sprout from that piece. It's started in Green Thing's greenhouse before it's moved in May to the ground in its hophouse. Since ginger isn't a frost-hardy crop, it's harvested in September and October, then transported to the market.
Bees at Bees in the D
Bees in the D is the effort of Brian Peterson, a beekeeping enthusiast whose project is the perfect complement to Detroit's thriving and growing urban agriculture industry. As the name suggests, Peterson is developing a network of urban hives on rooftops and in backyards throughout the city and metro Detroit, and he hosts local beekeeping classes.
Why would we want more bees in the D? Peterson's inspiration came when he installed a hive near his own garden several years ago. The previous year, his plants plunked out a few veggies, but thrived when he had the assistance of a hive full of bees. So the bees can be a spur to the urban garden industry — which has a social component and is playing its own unique role in Detroit's comeback — by pollinating plants that otherwise might struggle.