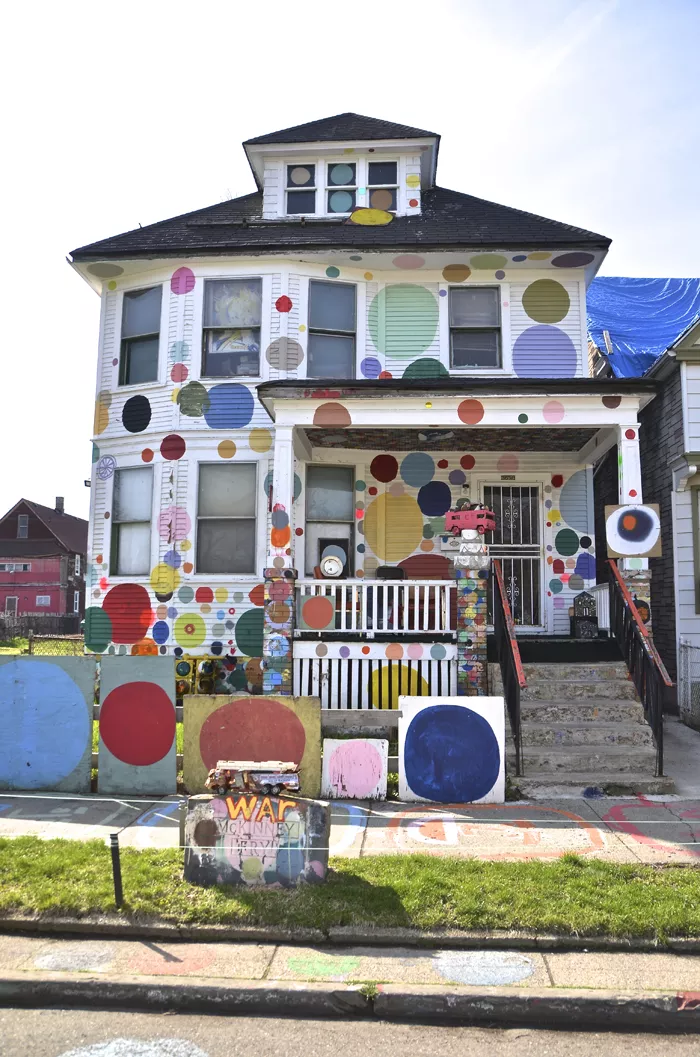 Are art galleries not quite your scene? Do you not care for wine and cheese? Something about the pretentiousness of staring at art in a white room? No worries: There are plenty of alternative places to see great art in Detroit. Here are some of our favorite outdoor works of art in and around town:
The Z
Having just opened this year, the Library Street Collective brought 27 artists from around the world to paint colorful murals on the walls of this 10-story parking garage. If you're going to try to find a parking spot downtown, you might as well look at hip, contemporary art while you're doing it. (Library and Gratiot, Detroit)
The Spirit of Detroit
Built in 1958, this green giant is perhaps Detroit's most iconic statue, known to don outsized Detroit team jerseys when they make the playoffs. Once, some genius painted green footprints leading to the "Passo di Danza," a nearby sculpture of a beautiful dancer. (2 Woodward Ave., Detroit)
The Heidelberg Project
People will endlessly debate whether or not Tyree Guyton's neighborhood-wide outdoor installation is art, a protest or just an eyesore. But it doesn't matter. What's certain is that a walk through the neighborhood's polka-dotted houses is a trippy way to spend a warm, sunny day. (Heidelberg and Mount Elliot, Detroit)
Monumental Kitty
You've got to love this cheeky statue. The brainchild of Corktown artist Jerome Ferretti, this feline-shaped, 9-foot-in-diameter dome consists of 3,000 salvaged bricks. Located at the foot of a pedestrian bridge that used to lead to old Tiger Stadium. (I-75 and Cochrane, Detroit)
The Car Monster at Fourth Street
Found-item art decorates this tree-lined block, but the main attraction of this bohemian neighborhood at Fourth and Holden is a sculpture of a grinning monster fashioned out of an old car. (Fourth and Holden, Detroit)
The People Mover's Art in the Stations
The People Mover may not really take you anywhere you can't walk in five minutes, but it can take you on a fun tour of art. Each stop features an installation, and they range from a bronze sculpture of a man reading a newspaper to neon lights to murals made of Pewabic tiles.
Eastern Market Murals
Eastern Market is known for some great murals, like the iconic bull made out of veggies, or the guy who did his marriage proposal via street art. But more recently, the Detroit Beautification Project has added even more great murals to Eastern Market, as well as Hamtramck and beyond, from 25 big names in the street art scene.
The Uniroyal Tire
More than 80 feet in diameter, this giant tire was originally created as a Ferris wheel for the 1964-1965 New York World's Fair that Jackie O and the Shah of Iran are said to have ridden. Unfortunately. it's no longer a Ferris wheel, but it makes the drive from the city to the airport much more fun. (Best seen on eastbound I-94, east of the Southfield Freeway, Allen Park)
Joe Louis Fist
Perhaps Detroit's second-most-iconic statue, "The Fist" was built as an ode to heavyweight boxing champ Joe Louis, but it makes an awesome black power symbol as well. To comment on the economic times, local art-prankster Jerry Vile rolled a giant can of Crisco in front of it last summer. (Woodward and Jefferson, Detroit)
The Dodge Fountain
Hart Plaza's UFO-shaped fountain is mesmerizing … especially if you're raving at the electronic music festival. (Hart Plaza, Detroit)