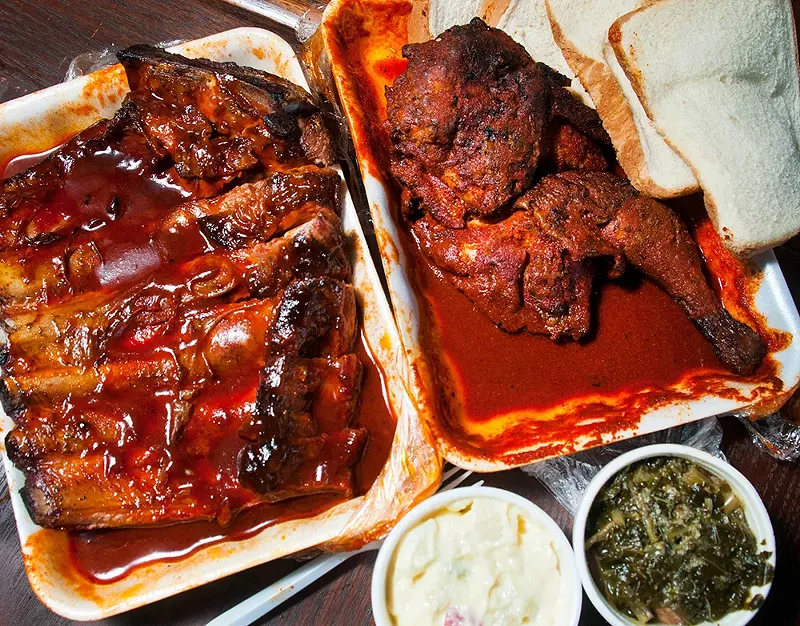 Detroit hasn't always had a reputation as a national leader in grilled meats, but our barbecue game is strong. Here are some of the region's best spots for smokey, succulent, and saucy meats. Some will even be featured at this year's Pig & Whiskey event in Ferndale.
Parks Old Style Bar-B-Q

7444 Beaubien St., Detroit; 313-873-7444

The sauce at Parks is a different animal than its Detroit counterparts. It's done in a thinner-but-lively, acidic, vinegar-based sauce, not unlike what you'll find in the Carolinas, though it's clearly Detroit-born and bred. You can choose from three varieties: The sweet pairs well with the ribs. However, you don't want to miss the hot option, but be forewarned — this isn't "Livonia hot," this is "North End Detroit hot," and the cayenne powder-dusted chicken isn't for those who normally opt for the mild or medium spice levels. Edward Parks opened the restaurant in 1964, endured the neighborhood's ups and downs, and now cooks up between 2,500 and 3,000 pounds of ribs weekly. It's a destination, as is evidenced by 90 percent of Parks' clientele traveling from outside the North End.
(Featured at Pig & Whiskey.)

Slow's Bar BQ

2138 Michigan Ave., Detroit, 313-962-9828; slowsbarbq.com

The Corktown restaurant that gets a lot of credit for the neighborhood's restaurant-led revitalization needs little introduction. A favorite of those in the city and suburbanites, it keeps its menu fresh by regularly rolling out new special barbecue-centered sandwiches and main courses, while always maintaining a certain level of quality that keeps people coming back.
(Featured at Pig & Whiskey.)

Shredderz Food Truck

shredderzfoodtruck.com

What is a Shredder? It's a sandwich built around tangy barbecued meats and the Detroit-based food truck's shredded, signature hash browns. You'll find options like the Chicken Shredder with shredded chicken grilled in a lemon-herb marinade, a four-cheese blend, and Shredderz hash browns; the Steak 'N Bacon Shredder with shredded steak, bacon, caramelized onions, cheese, and Shredderz crispy hash browns all in a brioche sub bun; and the BBQ Pulled Pork Shredder with pulled pork smothered in a tangy homemade barbecue sauce, topped with sharp cheddar, pickle, and Shredderz hash browns.
(Featured at Pig & Whiskey.)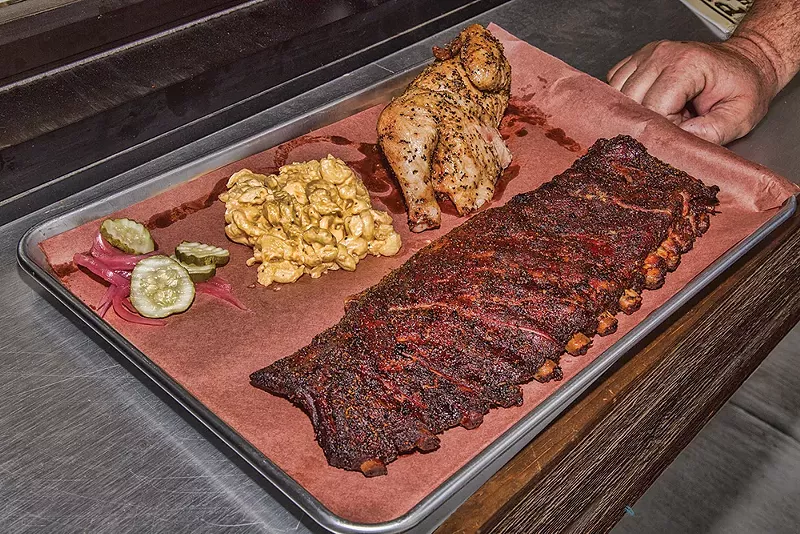 Woodpile BBQ Shack

303 S. Main St., Clawson; 248-565-8149

Celebrated pit master Steve "Bubba" Coddington's repertoire spans several regional barbecue styles, including Central Texas beef brisket, pulled pork, jalapeño cheddar sausage, whole or pulled chicken, and St. Louis spare ribs. You can order meats by themselves or by the half pound in a sandwich on Crispelli's Bakery brioche buns. The restaurant is the quintessential modern barbecue joint — reclaimed wood and metal work details that abound throughout the interior and exterior of the walk-up eatery and adjoining covered dining area give the place a rustic, family-picnic-at-the-park vibe.
(Featured at Pig & Whiskey.)

Sterling's Old Style BBQ

18241 Plymouth Rd., Detroit; 313-493-9495; sosbbqdetroit.com

Sterling's is just about the only neighborhood barbecue joint in Detroit where you'll encounter a plate of brisket. Why is that? As co-owner Will Worthy explains, it's a cultural thing. He traveled to the nation's barbecue capitals before opening Sterling's and found a direct correlation between how far out in the suburbs he traveled and how much brisket landed on a restaurant's plates. But Sterling's decided to buck that trend at its westside restaurant, and the brisket is certainly worth a look. Ditto for the large, sinewy ribs, which are some of the meatiest in town and stained red from hanging out for hours in one of Sterling's three puffing smokers. Each dish receives a generous application of the flavorful, garlicky barbecue sauce. The slightly charred black and yellow corn on the cob side is a nice touch, and all the other sides are solid. Worthy opened the restaurant with partner and chef Quentin Pearson.

3 Lil' Pigs Twisted BBQ

2948 Martin Ct., Midland; 989-615-3512

Twisted barbecue means your favorite meats are twisted with a dish that you wouldn't normally find with hog, like a parfait. But somehow the smoked mac and cheese parfait with sweet cornbread, smoked brisket or pulled pork, cajun-style sweet potatoes, and barbecue sauce just works — as does the Brisket Bear Claw sandwich with a North Branch Bakery bear claw stuffed with slow smoked brisket and topped with a tasty maple sauce.

Smoke Ring BBQ

248-974-5745; smokeringdet.com

One of Michigan's few Kansas City-inspired barbecue spots, Smoke Ring trades in a variety of meats cooked super low and slow, as it's done in K.C., and served with tangy, tomato-based barbecue sauces. Smoke Ring offers a simple menu at reasonable price — a chopped chicken sandwich is $6, a pulled pork sandwich is $7, and beef brisket is $10.
(Featured at Pig & Whiskey.)

Nunn's Bar-B-Que II
19196 Conant St., Detroit; 313-893-7210; nunnsbbq.com

Nunn's is another of the pit-style Detroit classics, and the meat from the ribs and chicken slide off the bone without much encouragement. Down the menu, the potato salad is a zesty side that's among Nunn's best, and the vinegary greens are a fan favorite. For dessert, check out the kenta cake, a mildly sweet frosted pound cake that seems to be a Nunn's original.

Pig & Whiskey runs from 6 p.m.-midnight on Friday, July 13; 11 a.m.-midnight on Saturday, July 14; and 11 a.m.- 11 p.m. on Sunday, July 15; Downtown Ferndale on Nine Mile Rd. and E. Troy St.; pigandwhiskeyferndale.com; Event is free and open to the public.

So many restaurants, so little time. Sign up for our weekly food newsletter delivered every Friday morning for the latest Detroit dining news.