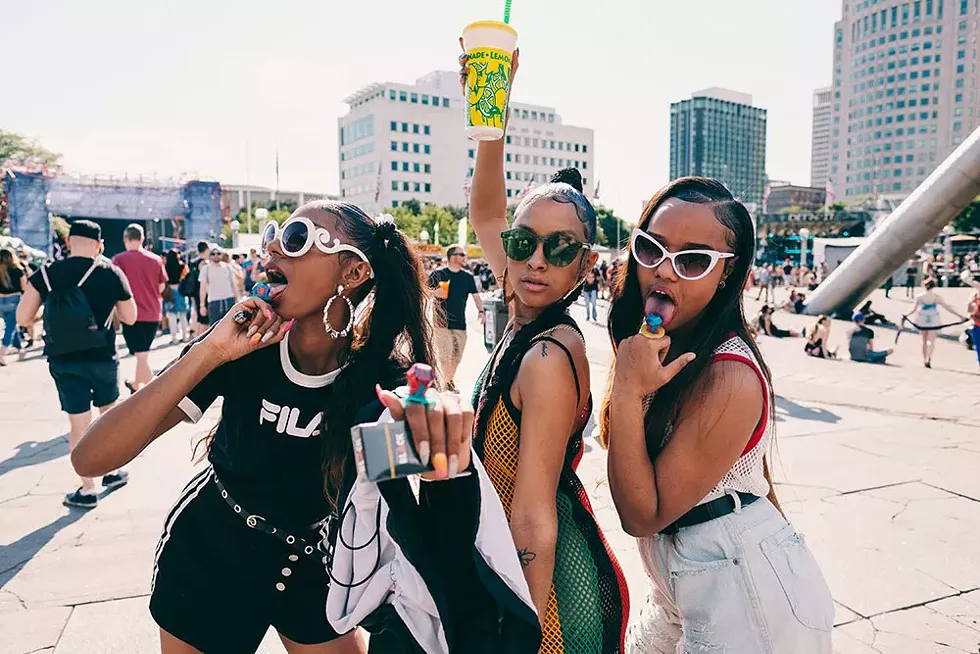 On Memorial Day weekend, a persistent thud spreads over downtown Detroit from Saturday afternoon to Monday morning, originating from the center of Hart Plaza and continuing to the after-parties that boom from different corners of the city. It's Movement Music Festival weekend and people are here to see what Detroit and its techno or electronic music scene is like — depending on who asks and when they first started coming.
All the scene's old-timers who remember when the event was called the Detroit Electronic Music Festival — which first debuted in 2000 and was free for everyone, not just kids under 12 — will witness what money can do. Movement Music Festival is a full-blown production now. There are sponsored stages, roped-off VIP sections, and branded earplugs to prove it. Sure, it took money to get to this point, but it took time too — enough time for electronic music to burst into an international phenomenon, and enough time for Detroit to become cool again.
Paxahau, an event production company, runs Movement now. The team was initially comprised of four guys from Detroit who got cool with techno's early innovators while traversing the city's '90s rave scene. They knew the music and the musicians and the clubs, so they began throwing curated events with an emphasis on electronic music around the city. They were just getting warmed up when techno pioneer Kevin Saunderson, after having taken the lead of the 2005 festival, asked if they had any interest in taking over. Paxahau now has a 10-person staff housed in an unassuming Corktown office with a gray-haired, yellow-eyed cat that greets visitors, by appointment only of course.
As electronic dance music has ballooned into a global art form, Detroit techno maintains a presence in Movement's lineups, with OG Detroit DJs routinely appearing in its lineups year after year. "We were all born and raised here," says Sam Fotias, Paxahau's director of operations. "We came up in this thing, so it's significant to us that those ideas are maintained."
This year's lineup places local legends and nascent newcomers shoulder-to-shoulder with internationally acclaimed electronic dance music, or "EDM," DJ acts like Diplo along with hip-hop greats, most notably Wu-Tang Clan, who will celebrate their 25th anniversary on Monday night. The featured artists squiggle along the lines of strict genre divisions, fueling a persistent argument that Movement's lineup isn't representative of techno's origins. The counterargument, though, is that by this point, Detroit techno has influenced pop music as a whole.
If you've ever attempted to krump to Missy Elliott and Ciara's infectious 2005 hit "Lose Control," then you've popped to a vibrant sampling of Cybotron's 1983 record "Clear," a gem from Detroit techno originators Juan Atkins and Richard Davis. If you've ever uncovered a new remix on Soundcloud, you can thank Saunderson for being the first musician to translate an original song into what we would call a remix today, on a track called "Heat it Up" from British rapping duo Wee Papa Girl Rappers. If you attended the original Detroit Electronic Music Festival, then you experienced techno DJ Derrick May's idea brought to life. If none of these names ring a bell, then it's time for a techno history lesson.
Before "techno" became a catch-all term for electronic music, the music, its people, and its culture were much more representative of overlapping underserved and marginalized communities: Black, LGBTQ, and the youth. At first, this new, four-on-the-floor sound could only be appreciated by young, open ears. But techno would eventually solidify as the lovechild of disco and the cool cousin of house. Many of the early techno shows were held underground in gay clubs and at rented-out halls hosted by high school social clubs.
Before techno could go out after dark, it had to graduate from middle school in Belleville. "Techno" in this instance refers to the music made by Atkins, May, and Saunderson, the young boys who would grow into the men of the Belleville Three. In the late '70s, three Black families joined the handful of others in the Belleville community west of Detroit, each of them raising a son that would contribute to techno's holy trinity. In the beginning, May and Saunderson attended the same middle school and ended up being high school football teammates. They welcomed a new friend into the crew, Aaron Atkins, and eventually came over after school where they saw his brother, Juan, one year their senior. Juan describes his younger brother as the social butterfly while he was the contemplative loner who liked to listen to music, play chess, and convince his brother to express interest in instruments so he could bogart them. Over a couple of years he grew a meager music collection of his grandmother's organ and a toy guitar, to an electric guitar, a drum set, and eventually a Korg MS-10 synthesizer.
As time passed, the football boys became intrigued by the Parliament-Funkadelic that the older Atkins was listening to and the music he was learning to make. May gleefully describes the Atkins brothers as "straight up mischief" and recalls skipping school and inviting Juan, Aaron, and Kevin over to his house while they made pancakes and listened to his stepdad's jazz records. They did what any group of boys who found themselves in a rural suburb at the same time would do: They found each other and found a way to pass the time. They may have thought they were making mischief, but now they were making history.
"I was so impressed and enamored with Juan and Aaron that I just followed them, man — I just became Juan's disciple," says May. "Years later, I would become Juan's promoter, his cheerleader. I was his No. 1 supporter for whatever he was trying to do."
Every good disciple knows how to spread the gospel, and that's what May set out to do after hearing Cybotron's 1981 "Alleys Of Your Mind" track for the first time. May was a junior in high school now and Juan Atkins had already graduated. Atkins hipped him to charismatic, genre-bending radio DJ the Electrifying Mojo a while back, and May immediately set out to get the record on the radio. After a futile attempt to just walk into the station doors and meet Mojo, he went to a small diner up the street from 107.5 WGPR on East Jefferson called Bert's Place. May got word that Mojo occasionally stopped by for a sandwich after his show, which aired from 10 p.m. to 3 a.m. For four weeks straight, he waited for everyone in his house to fall asleep, then carefully backed out of the driveway in his mom's car and drove to the city to orchestrate a chance encounter with Electrifying Mojo. After a few weeks of this ritual, Mojo walked in and the owner told him that someone was waiting for him. May took his cue and started talking about the music his friend was making back at home. He gave Mojo his home number and headed back home. A few days later, Mojo called and invited May and Atkins to the studio. After a bit of showboating, he agreed to play the song during his radio segment and the first star of the Belleville Three ascended.
"At the time, I didn't even fathom that a person could put out their own record, so that was something that was enlightening for me," says Atkins. "I was like, 'These beats I've been making, you mean I could put these beats out myself?' So we did it."
Cybotron consisted of Juan Atkins and Richard Davis, who released their debut album Enter in 1983. But the duo dissolved soon after the record release amid disagreements with the label, Fantasy Records, which prompted Atkins to start his own label, Metroplex, in 1985.
"That actually created the brotherhood," says May. "It was the fact of the resistance of everything that created this unity within. It wasn't like we wanted to do it, but we had no choice."
Metroplex launched a slew of sub-labels over the years to release the music that the rest of the crew was beginning to make, including Saunderson's KMS Records and May's Transmat. The Belleville Three made Detroit a mecca for techno.
Throughout high school, Saunderson was exclusively devoted to football and went on to play at Eastern Michigan University. He slowly began to gain interest in figuring out how to DJ and make his own songs. Pretty soon, he was DJing icebreakers up at the state schools.
"I came back in the summer of '88 and it was like a virus, the music just took off," says Saunderson."To see so many white people dancing to this music that Blacks made and they could dance, they had rhythm, it was tripping me out because they were in the groove."
Saunderson's first hit that he released on KMS Records was "Triangle of Love." Next, he served as a bridge between the techno and house scenes by bringing Chicago native Paris Grey in as the vocalist for Inner City, which dropped back-to-back iconic hits "Big Fun" and "Good Life."
'It was like a virus, the music just took off. To see so many white people dancing to this music that Blacks made and they could dance, they had rhythm, it was tripping me out because they were in the groove.'

tweet this
Techno was spreading into a sound — vast, elastic, and electric enough to grow with its originators. Techno played hooky in middle school, graduated to high school parties, strolled through the quad during college icebreakers, ascended to international acclaim, and accommodated new identities. Places outside of Detroit were starting to get wind of techno, but many people didn't know or care to learn where it came from: They just wanted to dance. That's when Berlin, another industrial city across the Atlantic, began to take notice.
"After the wall fell in 1989 it was new," says Walter Wasacz, a long-time techno journalist from Detroit. "It was like now we can do things that we couldn't do before, there was a freedom to do more things creatively, [and] Detroit techno fit into that. It was a reunification of east and west Berlin, of east and west Germany, and Detroit techno was the soundtrack of reunification,"
Now, Wasacz works with the group the Detroit-Berlin Connection, a counterculture collective, to facilitate economic and creative relationships between Detroit and Berlin, which is still inspired by this moment in music and cultural history. He pinpoints the late '80s as a turning point for Detroit techno as well as cultural movements in Berlin, which quickly took a liking to Detroit.
In addition, the avenues of access to new music between the United States and overseas were opening. At first, the closest international record export location was in nearby Chicago, where Detroit's techno DJs and producers traveled to deliver their records to stores like Gramaphone and Importes, Etc. They also got to know budding Chicago house music icons like Frankie Knuckles during their visits. The new electronic music genres of techno and house were making their way across the world alongside each other, and audiences everywhere were eating it up.
Unfortunately, multiple instances of erasure arose as the newly attainable Midwestern music traveled to far flung corners of the earth and entered an amalgamous wave of new music. The sense of boundless freedom that Detroit techno producers infused with their music made it easy for anyone with an open mind to relate to, but they often closed their eyes to the identities and histories that made the music possible. It wasn't just the international audiences — the general disregard for techno's Black history started right at home in Detroit.
According to May, back when Cybotron was signed to Fantasy Records and preparing to release their record "Clear," the label was convinced that mass audiences wouldn't believe that two Black dudes created the track's industrially futuristic music. Instead of featuring an image of Cybotron members Davis and Atkins, they created artwork of a nearly robotic, presumably white guy with a shock of chestnut hair running from the past and dissolving into a pixelated future, further contributing to the narrative that techno is a European art form instead of the birthright of Detroit.
In 1985, May scored a residency at the present-day City Club. His friends and the broader techno community came downtown to support. The crowd was predominately Black, but according to May the downtown venue wasn't satisfied with the influx of new patrons. According to May, the club's management instructed an employee to walk up and down the winding line to get into May's set and offer discounted entry cards to white partygoers only. The final blow came when the person who hired May for the gig approached him while he was preparing for a Friday night set. He was carrying a crate of rock records, and, according to May, requested that May abandon his signature techno set for a rock 'n' roll one. When May refused, he was fired. According to May, he stepped up to the mic and told the waiting crowd, "I've been fired from the club because the owner doesn't want Black people in here."
"The definition of techno music and what it is has been twisted, mutilated, regurgitated a thousand billion kabillion times," says May. "There's so many different cultures and communities that define their own version of what they think techno music is and most of these versions come from the fact that they could not replicate what was happening here."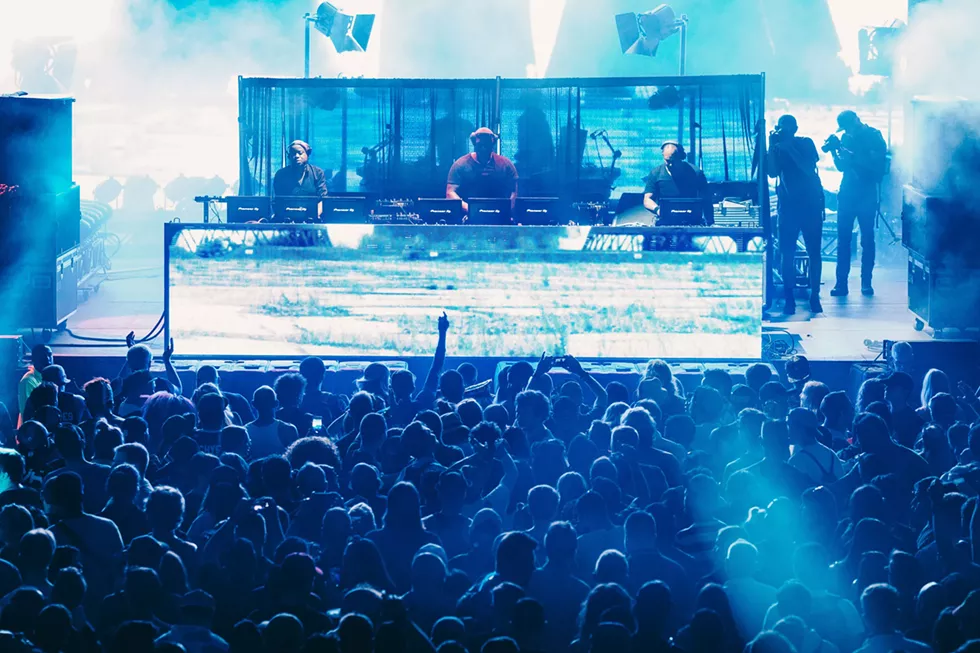 Detroit assembled its own line of defense against the washed out and watered down representations of techno in the early '90s, at the advent of the European explosion. Around this time, women began to make a ripple with techno audiences and other collectives arose with a similar directive. On the musical side, Stacey "Hotwaxx" Hale emerged as a club DJ while other women in the local music scene were tucked in radio booths, using their sugar sweet voices to host radio shows. Hale is affectionately referred to as the Godmother of House, and although she graciously accepts that title, she plays from an inexhaustible music library.
"I belong to a genre of music that makes people happy," says Hale.
Hale was DJing before techno even began. Some nights during her residency at the Lady on the corner of Van Dyke and Jefferson, May would walk up the street from his house on the eastside and come sit in the DJ booth.
"Nobody that's under 30 knows the true meaning of the word 'techno,'" says Hale. "You just don't know what it is, you don't."
Today, Hale continues to DJ and has a slot on this year's movement lineup. When she's not DJing, she is working with the youth and other newcomers who want to learn the technical skills of the music. An electrical engineer by trade, Hale is continuously intrigued by all the moving parts that go into making music come to life. She now hosts radio shows on Deep Space Radio and Red Bull Radio. She also teaches a host of local DJing classes that are open to people of all ages and genders, but she says women who are interested in the music always gravitate to her.
"With it being a male-dominated field, many times you're up against something in that arena that you have to take control of," says Hale.
Hale has worked in close collaboration with influential women throughout her career. Back in the day, Hale worked side-by-side with a childhood friend from her dance class, Laura Gavoor. At one point, Hale and Gavoor were working on launching a radio station together, where Gavoor would be the program director and Hale would DJ. Gavoor came from a musical Armenian family and learned how to charge for events as a teen in Armenian Youth Federation programs. While Hale was captivating dance floors, Gavoor was booking and managing local talent and making connections with promoters in the European scene who were eager to host Detroit artists. Gavoor died in 2002 but her impact is still felt, especially in Detroit's late-night dance scene that her sister, Nancy, frequents.
"Laura was very fiercely and militantly protective of Detroit artists and the Detroit legacy," says Nancy. "The world would not have known about techno if it wasn't for Laura. She was the communicator. She was the messenger for the world."
Laura wasn't on the frontline by herself either. Her office is still at 3000 E. Grand Blvd., where techno stalwarts Submerge Records and Underground Resistance call home. Submerge emerged as a distribution company as techno developed a stronghold over in Europe. At the time, local artists were in negotiations with European distributors where they ended up relinquishing control over their licensing.
"When Submerge formed as one kind of focal point for distribution, they didn't have that excuse anymore," says Cornelius Harris. Harris is the label manager for Underground Resistance. "That was a powerful thing to have Submerge come out because now, all of a sudden, people can own their own stuff."
Underground Resistance is a collective and production group headed by leaders of the second wave of techno, "Mad" Mike Banks and Jeff Mills, also known as the Wizard. Their operations are headquartered in the North End which also features Exhibit 3000, the world's only permanent techno museum.
Harris says lots of tourists come to visit, and some have a hard time acknowledging techno as Black music. "For the people who really fall in love with music, they're going to look to see where music came from and they're going to find Detroit," says Harris.
Underground Resistance was integral in bridging the gap and sending their own representatives over to spread the music. It was UR that helped launch Tresor, a famed nightclub in Berlin where techno fans came to hear the music with an expectation that it would be as close to the real thing in Detroit as possible.
Fast-forward to the age of the internet, where international consumption of techno doesn't always result in erasure, and sometimes it achieves exactly what the music was originally created to do — bring people from disparate communities together under the warmth of collaboration and education.
Delano Smith is also a member of the second wave of techno. Along with the Belleville Three, Ken Collier — another OG Detroit DJ — took Smith under his wings while he was still in high school, throwing parties alongside teens who would eventually became local club owners and promoters. After experimenting with music as a hobby, Smith says he didn't begin to take DJing seriously until he was laid off from General Motors in 2004. He soon discovered that having his hometown connected to his name automatically made him more marketable to mass audiences abroad.
"There's a lot of really good DJs coming out of Detroit, Smith says. "If you're not attached to some type of legacy, it might be kind of hard for you to get gigs, unless you're some kind of exception for what you do. Detroit, in that respect, has done wonders for all of the DJs in Detroit."
In December 2012, Smith was booked for a show at the Analog Room in Dubai that was run by Salar Ansari and his friends. In a brief interaction that they both enjoy retelling, Ansari told Smith that he'd like to move to Detroit to get closer to the music he'd been listening to this whole time. Smith laughed it off and warned Ansari that Detroit wasn't a place that someone can just try out — it was a rough city. Neither of them could predict that in August 2015, Ansari would decide to move to the city after visiting during Movement weekend.
Ansari had been doing his research on Detroit music for a while. He felt a visceral connection between the traditional Iranian music he grew up on, and wasn't moved by the European parties he frequented. There was a void, he says — the soul and the fun was missing. The Analog Room was a rare chance for him and his friends to curate a set list that would educate audience members and contextualize the lineage of music that popular music sprang from.
"I personally myself have always been gravitating toward the Detroit sound, and I think it's just because how thick it is when it comes to the groove," Ansari says. "I love when the groove hits me — that is when I give up and I think with Detroit music, it was really the groove in the music that had me locked in. It's like the opposite of lackadaisical."
Shortly after moving to Detroit, Ansari began working as May's assistant and record label runner for Transmat. After working that gig for a few years, Ansari decided to rededicate himself to the music that brought him to Detroit in the first place. He is currently working closely with Banks of Underground Resistance to release a solo EP under the Submerge Records label entitled ReeShae, a Farsi word that translates to the word "roots."
"Hi-tech soul is a name Derrick May has given to the music," Ansari says. "I think that's a great description because a lot of what European techno is cannot live up to high-tech soul."
In addition to the international musicheads who have caught the techno bug, there is a new generation of people who have techno in their blood. This year's festival features Milan Ariel, Juan Atkins' daughter, who dances, writes, and produces her own songs and hosts a Monday night show on Deep Space Radio. She will perform a live show at Movement on Sunday. Saunderson boasts three members of his family on the ticket. His oldest sons Dantiez and Damarii will perform as the Saunderson Brothers on Sunday. Dantiez has also joined Inner City as a full-time member as the group celebrates its 30th anniversary with a performance on Monday. And Saunderson's Brooklyn, New York-born nephew, Kweku Saunderson, has gotten nods for his track "Do Us" which made it to OVO Sound Radio, headed by a perpetual student of emergent music, Toronto rapper Drake. Kweku will provide the opening set at the Origins Elevation stage curated by Kevin Saunderson on Sunday.
So Detroit, as we prepare for a sweaty, happy celebration in Hart Plaza this weekend, unsure of exactly where techno is headed, remember where it came from, and remember to kiss the hallowed ground.
Movement Music Festival is from Saturday, May 26-Monday, May 28; 1 Hart Plaza, Detroit; movement.us; General admission for one day is $85; General admission tickets for the weekend are $195; VIP weekend tickets are $320.
Stay on top of Detroit news and views. Sign up for our weekly issue newsletter delivered each Wednesday.