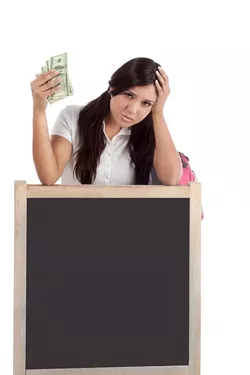 Naturally, there are truckloads of college scholarships floating in the grantosphere geared toward archetypal brainiacs and attuned jocks, as well as sign-holding radicals, "all natural" free spirits and even (yes, I'm sure) for the lowly run-of-the-mill; but what about you everyday milquetoast students with a strange, out-of-this-world hobby or totally wacky talent?
The things that make you shine are the same quirks, interests and (in some cases) genetics that could potentially earn you a ton of cash for college.
Unlike your "usual" university scholarships, where the selection pool is stocked with a massive amount of other fish, a specific criterion — like having the surname Zolp — is required for some of these unique opportunities.
There are tons of zany, unusual and straight-up weird student allowances being offered each academic year — you just have to grab your digital shovel and go digging in the World Wide Weird to unbury them.
For instance, can you use your vocal cords for some good ol' American duck calling? Seems like an awfully strange question, but if you can there's a potential $2,000 scholarship check with your name on it (that's sure to ruffle a few feathers).
Have an enormous sweet tooth? Who doesn't? But if you're really interested in creating the next Skittles or Snickers, the National Candy Technologists Scholarship is the perfect outlet for you to channel those vibrant taste buds. (The rest of us — and dental students — will be forever indebted to you.)
Are you a fashionista, born with creativity oozing from your fingertips? Then the Duck Brand Stuck at Prom Scholarship Contest is right up your alley. Design your entire prom get-up out of nothing but Duck-brand duct tape and you're a few thousand closer to covering your school tuition.
Below are a few great sites to get started on your path to "wacky" scholarship discovery:
• Scholarships.com
• Fastweb.com
• Bigfuture.Collegeboard.org
• Zinch.com
• Scholarshipexperts.com
• Finaid.org
Among the archeological gems discovered on this dig are:
Michigan Llama
Association Scholarship
REQUIREMENTS: Have a fascination with llamas? No? Well, you really don't have to. Applicants are chosen based on academic performance, financial need and the execution of a short essay. However, a bonus to heighten your chances in receiving this scholarship is to join the Michigan Llama Association (only a $15 fee); michiganllama.org.
SCHOLARSHIP AMOUNT: $1,000
DEADLINE: May 1 (annually)
Tall Clubs International Student Scholarships
REQUIREMENTS: What up, Lurch?! For this scholarship, you must be under 21, attending your first year of college the following fall, meet the TCI height requirements (5'10" for women, 6'2" for men) — and must also locate a local Tall Club member to sponsor you; tall.org.
SCHOLARSHIP AMOUNT: up to $1,000
DEADLINE: Feb. 16 (annually)
National Marbles Tournament
REQUIREMENTS: Geared toward all you college-age mibsters (marble shooters), this scholarship is awarded to the winner of an annual four-day marbles tournament held in Wildwood, N.J.; lc-ps.org.
SCHOLARSHIP AMOUNT: $1,000-$2,000
DEADLINE: June (annually)
National Potato Council Scholarship
REQUIREMENTS: Calling all spud lovers. This scholarship is dedicated to those pursuing their graduate degree in in agribusiness that supports the potato industry. The final selection is based on academic achievement, leadership abilities and potato-related areas of graduate study; nationalpotatocouncil.org.
SCHOLARSHIP AMOUNT: $10,000
DEADLINE: June 14 (annually)
Little People of America Scholarship
REQUIREMENTS: Scholarships are granted to students who are members of LPA and have been medically diagnosed with a form of dwarfism, immediate family members of dwarfs who are paid members of LPA, others with dwarfism who are not members, generally disabled students and — and in some cases non-disabled students who can demonstrate a need for financial assistance; lpaonline.org.
SCHOLARSHIP AMOUNT: $250-$1,000
DEADLINE: April 22 (annually)
The Kor Memorial Scholarship
REQUIREMENTS: Your love of streaming old Star Trek episodes may finally pay off. This scholarship is geared toward students pursing a form of language study. Familiarity with Klingon (the fictitious Star Trek language) or other constructed languages is not required, but creativity is a must; kli.org.
SCHOLARSHIP AMOUNT: $500
DEADLINE: June 1 (annually)
Annual Create-A-Greeting-Card
Scholarship Contest
REQUIREMENTS: Open to high school, college and graduate students, applicants are asked to design the front of a greeting card that could be sold as an actual card in The Gallery Collection greeting card line. Let the cheesy punch lines commence; gallerycollection.com.
SCHOLARSHIP AMOUNT: $10,000
DEADLINE: Jan. 15 (annually)
Asparagus Club Scholarship
REQUIREMENTS: Must be pursuing a career in the grocery industry, especially the independent, community-focused retail and wholesale sector, while maintaining at least a 2.5 GPA; nationalgrocers.org.
SCHOLARSHIP AMOUNT: $1,500 per semester (up to four semesters)
DEADLINE: April 30 (annually)
Chick and Sophie Major
Memorial Duck Calling Contest
REQUIREMENTS: Donald and Daffy Duck impersonators need not apply; stuttgartarkansas.org.
SCHOLARSHIP AMOUNT: $500-$2,000
DEADLINE: Nov. 23 (annually)
Duck Brand Stuck at Prom Scholarship Contest
REQUIREMENTS: To all the wannabe Dolces and Gabbanas: Duck Brand Duct Tape wants you. The sole requirement to earn this college cash is to design and make you and your date's senior prom attire solely from Duck Tape products; duckbrand.com.
SCHOLARSHIP AMOUNT: $5,000 for you and $5,000 for your school
DEADLINE: July 8 (annually)
International Dairy-Deli-Bakery
Association Scholarship
REQUIREMENTS: Working with deli meats and cheeses has never looked so appealing! Applicants must be employees of supermarket dairy, deli or bakery departments, or of companies (such as a food manufacturer, broker or wholesaler) that service/supply those departments; iddba.org.
SCHOLARSHIP AMOUNT: up to $1,000
DEADLINE: varies
Eileen J. Garrett Scholarship
REQUIREMENTS: Ghost hunters, mediums, psychics — oh, my! Applicants for this scholarship must prove an interest in the study of parapsychology, as well as being enrolled in an accredited educational institution; parapsychology.org.
SCHOLARSHIP AMOUNT: $3,000
DEADLINE: July 15 (annually)
Ludo Frevel Crystallography
Scholarship Award
REQUIREMENTS: "One atom says to another, 'I lost my electron!' The other replies, 'are you sure?' 'I'm positive!'"— If you just laughed, you qualify (almost). To meet the requirements, applicants must be enrolled in a graduate degree program with major interest in crystallography; icdd.com.
SCHOLARSHIP AMOUNT: $2,500
DEADLINE: Oct. 23 (annually)
Common Knowledge Scholarship
REQUIREMENTS: Do bizarre tidbits and fun facts intrigue you? The main qualification for this scholarship is to be the participant with the highest score on the Common Knowledge Scholarship Foundation's standardized quiz; cksf.org.
SCHOLARSHIP AMOUNT: up to $2,500
DEADLINE: varies
American Fire Sprinkler Association Scholarship Program
REQUIREMENTS: The only requirement for this scholarship is that the applicant read a short essay about automatic fire sprinklers, take a 10-question quiz about it, and violà! You're on your way to being entered into the drawing one time for each question you answer correctly.
SCHOLARSHIP AMOUNT: $2,000 for high school seniors, $1,000 for college students
DEADLINE: April 2, high school seniors; Aug. 28, college students (annually)
Toni Guarrino is a freelance writer and contributor to our sister pub, the San Antonio Current. Send comments to [email protected]