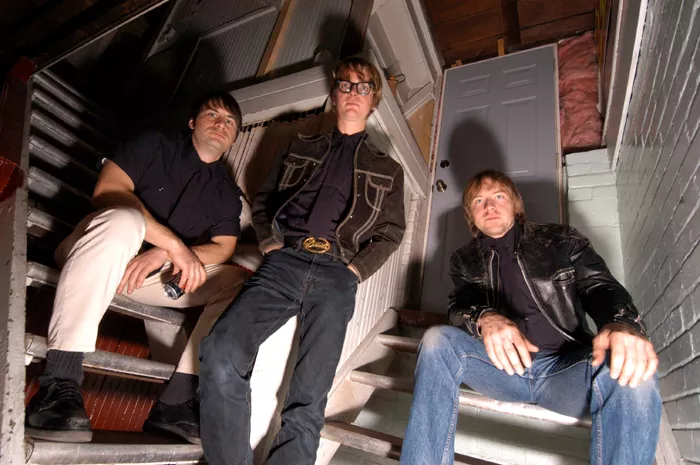 In many ways, John Szymanski and his Hentchmen have come full circle. The band played its first proper show at Paycheck's Lounge more than two decades ago (Feb. 20, 1993, to be precise), and now the Hentchmen are returning to that very stage for Blowout. In the 20 years since, Szymanski has become the landlord of the Hentch House, the Hamtramck home where he used to throw parties. He and longtime bandmate Tim Purrier are now fathers. But all the while, the Hentchmen's '60s-indebted, Farfisa-fueled brand of garage has persisted. We caught up with Szymanski to talk about living in Hamtramck, Blowouts past, and his great love of Devo.
Metro Times: Hamtramck's your home base. You guys used to all live together in the Hentch House, right? Do you still live there?
John Szymanski: No, I rent it now. I live real close to it. I moved here when I was 17 — I graduated high school and moved here with my dad. He wasn't from here either; he moved into my great-grandmother's old house and shortly thereafter I moved in with him, and then shortly thereafter he moved out. I just sort of took over the place, and I've been in the same neighborhood ever since, actually. [Drummer Mike Latulippe] lived there for a while, and we all had parties in the '90s there. A few girls live there now, and I rent it to them. I actually was just there today, doing landlord stuff.
MT: Did you guys ever imagine the Hentchmen would still be going strong two decades later?
Szymanski: No, of course not. We were 20 when we started. I think we thought we'd be done before we were 30. We're not ready to stop playing yet — we think that we'll get some sign when we're supposed to stop. Now we've had kids and stuff, but we still get together and play. I think we realized that we need the discipline of it or something. We talked about doing a 20th anniversary album, but now that's been two years. We still have a handful of tunes — we'll do a record again, we just don't know when. If we don't self-release it, we'll just have to beg somebody to release it.
We all have a lot going on. The band never breaks up. We don't really search out shows anymore, we mostly just wait for things to fall into our lap. I have the Outer Limits Bar, which is also right in my neighborhood now — I bought that a couple years ago. It's not a real bar yet, but we started doing parties there. Those are shows that we put up ourselves, but most other ones, like the Blowout, just come along every couple years. We're doing a show the week after in Ann Arbor.
MT: You guys have a deliberate sonic palette for sure. We don't want to say your songs are formulaic, but a Hentchmen song is a certain kind of song.
Szymanski: I don't think we consciously do it, that's just what our abilities allow us to be. I think we got in that groove, and it's comfortable for us to keep it simple. We've tried to do some other types of genres, like maybe a country-ish song, but it never really feels good.
MT: How did you reach that sound, as a 20-year-old in the '90s? When you started, was the '60s Farfisa thing exotic to you?
Szymanski: Yeah, definitely. We all came out of a ska band, and I had the Farfisa in the ska group, but I didn't really know much about it. I bought it from Gangster Fun, the big ska band in the late '80s in Detroit. I bought the keyboard off of them, and I didn't really know what it was — but I knew I liked it. While I was in that group I just learned where it came from, and we wanted to be more like those kind of bands. The organ was the bridge to the older music. I think we would've found it either way, but it made it easier to identity with Question Mark and Paul Revere & the Raiders and all the oldies that had those organ-driven tunes.
MT: We heard you're a Devo fan too …
Szymanski: I got my Devo tickets! Me and Tim are both big Devo fans. We've covered a bunch of Devo songs and we've recorded a couple. We've recorded the early, hardcore era of Devo and this year they announced a 10-day tour of all the pre-label material, the '74 to '77 material. They're playing Chicago in June. Not sure how I'm going to do it with the baby. I have a newborn, a 7-1/2-month-old. We'll figure it out.
They became our favorite group in the 11th grade. It's one of those favorite groups that luckily stands up. You're kind of proud, like, "Oh, yeah, they've been my favorite band for 30 years." There was never a year where I stopped listening to them or was embarrassed. I've managed to see them, like, six times now. The first time I saw them I was 16 at Harpo's.
MT: We were reading something on the Internet that was saying that Hamtramck is Detroit's Bushwick (eye roll) — the up-and-coming hip neighborhood. Has the neighborhood changed since you moved out there?
Szymanski: Oh, totally. Big time. This year in particular, so many new restaurants have popped up, you see more people that you don't know around. There have been loyalists for a long time, people who have been here as long as I've been here. There have always been cool bars, cheap enough bars. There's always been your old Polish redneck kind of people in the neighborhoods. There's a lot more Muslims now. I live on the very east edge of it. I'm familiar with the Carpenter area and the skate park and the experimental housing and stuff. You can live cheap and close enough to everything.
We're a little lacking in shopping at the moment. There are a lot of cool ethnic markets — we haven't gotten our Trader Joe's yet, but there's a lot going on here. The people moving down here is the most important thing, I think. Just the fact that I rent out a couple places and people are excited about living on the Detroit-Hamtramck border — it's cool.
MT: Any surprises we can look forward to for this Blowout show?
Szymanski: Not really. It will probably be similar to our old shows. It will be nice going back to Paycheck's again — it's kind of the reason why we agreed to do it. Not that we wouldn't have done it, but when it came up that it was Paycheck's, we were like, "Yeah, let's do it."
The Hentchmen play the Metro Times Blowout at 12:45 a.m. on the night of Friday, May 2, at Paycheck's Lounge, 2932 Caniff Ave., Hamtramck; 313-874-0909; mtblowout.com.