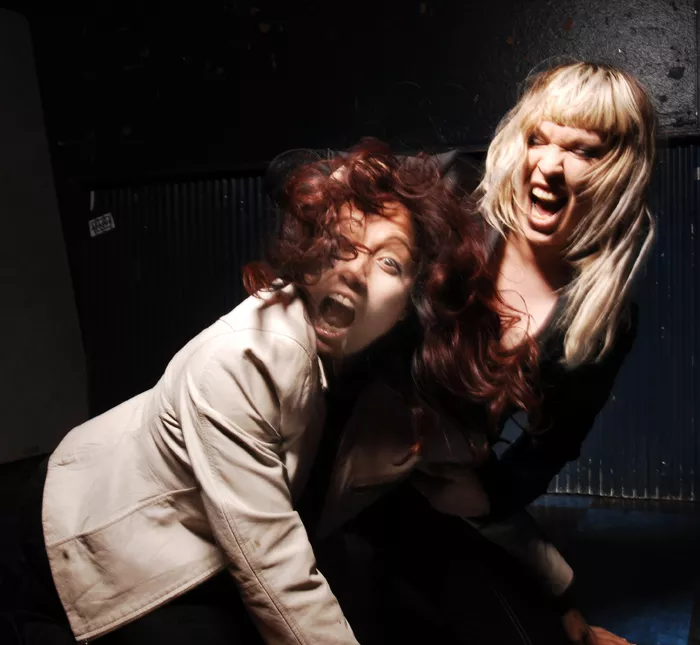 Mary Ramirez of the Detroit Cobras has a bee in her bonnet. "How come we don't have more bands that sound like the MC5," she says. "What happened to hit and quit? I mean, fuck, even the Motown guys hit and quit. Seriously, I wish a lot more Detroit bands would outright rock. Also, get some decent clothes on. Entertain me. I miss hearing good rock 'n' roll, with words like, 'Baby, I want to lick your butt'."
That beautiful and eloquent outburst is fairly typical, a sound representation of our interview with the hyper-fast-talking and passionate guitarist. She's like a wind-up toy; get her talking about things that she cares about, like her band and rock 'n' roll, and she'll gather pace at a startling rate, until it seems like you're listening to a recording with hi-speed dubbing switched on.
It makes for a challenging but extremely enjoyable conversation. Twenty years after the band formed, Ramirez cares — gives a shit — as much as she's ever done if not more. She's determined to make sure that the Cobras never "phone in" a performance or put out a bad record. The idea of a "perfectionist" might seem at odds with the garage rock ethos, but in Ramirez's company they're comfortable bedfellows.
On Thursday, the Detroit Cobras headline at Small's in Hamtramck, kicking off the three-city portion of the festival. Ramirez has been attending the event since the first one, though she says the years all blend together. Still, when the Cobras do play, they always bring it, filling whichever room they're in and playing a crowd-pleasing set.
The Cobras' lineup for Blowout will feature, alongside Ramirez and Nagy, Eddie Baranek of the Sights on guitar, Richie Wohlfiel of Danny & the Darleans on drums, and Dale Wilson of the Octopus on bass. "Basically, I'm going to be with a bunch of blond people," Ramirez says. "They're gonna make me sit on the other side of the room. I'll have to walk behind them 10 steps. It's gonna look like fucking Germany."
The band is a local treasure, despite the fact that it doesn't play a lot of local shows anymore. The days of these guys playing a midweek set at the Lager House or Paycheck's have long gone (with the Gold Dollar). Rather, they'll go out on tour, play a West Coast festival or two, and then make their way back. For singer Rachel Nagy, "home" is New Orleans these days, but Ramirez still lives in Detroit. That can make band-time challenging, but far from impossible.
The fact that the two girls are so geographically separated means that the band has to plan its shows and tours carefully. For Ramirez, driving through Middle America and states like Iowa is a waste of time and gas, the musicians barely making enough money to get fed. Instead, they prefer to drive north, and then across the top of the United States, reaching the state of Washington, and then driving south to California, etc.
"Rarely do we go down South," Ramirez says. "Of course, we go to Atlanta and New Orleans, but I don't think any of us like Florida. We've played it, but it hasn't gone well. Bands like Uncle Kracker do well there. Isn't it weird how music is divided like that across the country? It's like a political map. I just realized that. Holy crap. It really is. I don't know what the rap map looks like, although that probably has tons of places they can play in the middle of the country."
For some, the Cobras will always be rooted in that mid-to-late '90s era, when garage rock was booming in Detroit. While bands like Bantam Rooster were making an impressive amount of incredible noise, the Cobras were looking to the past and giving old rock 'n' roll nuggets a contemporary (for the time) Detroit once-over. There are the occasional original compositions, but the Cobras have really always been a covers band. Damn, though, they really pick those covers well. The girls know their shit, and Ramirez is keen to ensure that the reputation of the band remains solid.
"It never stopped booming for us," she says. "It's a different kind of boom. It's a more grown-up kind of boom. Do I miss the times? The times of drunkenness were a lot of fun, but there was a lot of bad music. Don't get me wrong — there were a lot of great ideas. In the downtown area, the bands are more about ideas. On the east side, they seem to be more about skills. The bottom line, to me, is that a great idea beats out great skills any time. You can learn the skills better. Getting a good idea — I don't know how you teach that."
The Cobras currently have four studio albums and a compilation on the shelves. For now, that's the way it will remain. "Putting out an album doesn't seem that important to me," Ramirez says. "I love singles because I love artwork. We've got some songs that we want to try to record. I'm the kind of person that I believe in making a good record, and I would do whatever it takes to do that. Just because you're in the band, doesn't mean you have to be on the record. It's about getting the right material, the right idea. A couple of years ago I bought a jacket and I would have looked like a clown if I'd worn it. I can wear it now, because I know how. That's what it's about — picking the right songs at the right time."
New material or not, the set at Blowout will surely be a festival highlight. We ask Ramirez if they'll be running through their greatest hits. "Oh, they're all great," she says, with a grin. "It just depends which great ones I want to show you. Seriously, they're all fucking great. That's why they're on our records. Which ones will we play? The ones I feel like playing."
Detroit Cobras play the Metro Times Blowout at 11:30 p.m. on Thursday, May 1, at Small's, 10339 Conant St., Hamtramck; 313-873-1117; mtblowout.com.