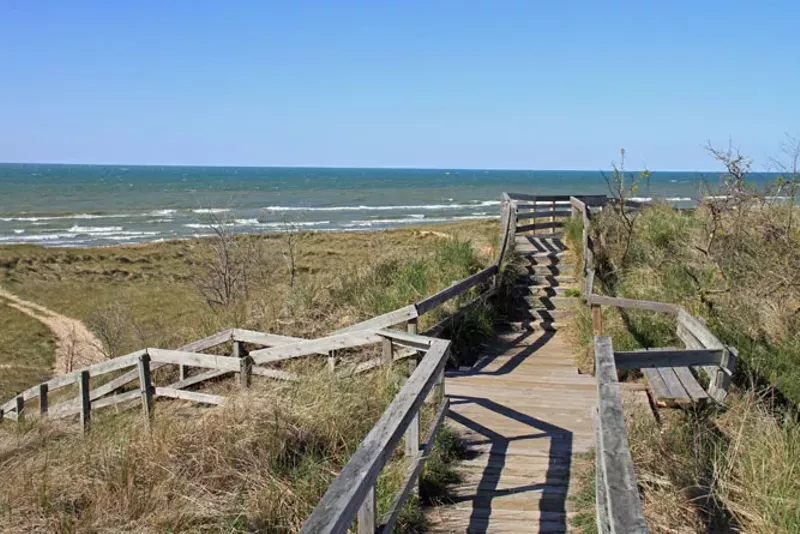 On the hottest days in the Great Lakes State, it seems everybody heads to the nearest body of water — making some beach spots packed with people long before the sun is high in the sky. If you're an early riser and can snag a prime spot, good for you, but sometimes you just want a low-key place you can relax without all the crowds. For a more secluded summertime getaway, try these beaches.
Versluis Park
3650 Versluis Park NE, Grand Rapids (approx. 2 hours, 16 minutes from Detroit); 616-363-9399; website
Hidden deep in Versluis Park sits a beach that is only reached once you pass the busy attractions the park offers, like volleyball, horseshoes, and playgrounds. It's close enough to the activity to make you feel alive, but far enough to make you feel like you're in a dream. $10 per car for entry (cash only).
Fisherman's Island State Park
16480 Bells Bay Rd., Charlevoix (approx. 4 hours, 15 minutes from Detroit); 231-547-6641; website
This state park boasts six miles of pure, untapped coastline, complete with white sandy beaches and crystal clear water. Camp reservation is encouraged.
Aloha State Park
4347 Third St., Cheboygan (approx. 3 hours, 55 minutes from Detroit); 231-625-2522; website
Just a little bit outside of Cheboygan sits a secret hiding place from the bustle of the small city: Aloha State Park. It has all of the attractions you could want from a state park without the crowd.
Caseville County Park
6400 Main St., Caseville (approx. 2 hours, 32 minutes from Detroit); 989-856-2080; website
This 40-acre park is located on the outskirts of Caseville, features places for swimming, picnic spots, a playground, and camping spots. Right on Saginaw Bay, this beach rests in the camping site where all attractions are a bike ride or walk away, creating a small town feel. (Tip: For a secluded experience, steer clear of Caseville's infamous Cheeseburger Festival, held Aug. 11 to 20 this year.) Camping costs.
Fort Custer Recreation Area
5163 Fort Custer Dr., Augusta; (approx. 2 hours, 17 minutes from Detroit); 269-731-4200; website
This recreation area borders three lakes. One of them, Eagle Lake, features a sandy shore that's quiet and secluded and is perfect for swimming, fishing, or relaxing. It's surrounded by the forest, creating a perfectly enclosed place offering tranquility. Free for day trips.
Wabasis Lake
11220 Springhill Dr., Greenville (approx. 2 hours, 22 minutes from Detroit); website
With around 300 feet of shoreline, this small beach in Kent County is basically the perfect size. Winding roads will lead you to the low-key spot, and it's a short trek from the parking lot to the sand. Bonus: This beach even has its own store where you can pick up anything you may have forgotten at home. Free.

Rogers Harbor Lakeside Park
Lake St., Rogers City (approx. 4 hours, 9 minutes from Detroit); 989-734-2191; website
This park is the crown jewel of Rogers City, featuring volleyball courts, playgrounds, band facilities, a pavilion, and food amenities. Oh, and the 10 acres of pristine beach bordering Lake Huron. A beach crossed with a concert venue in Michigan? This place is one of a kind. Free.
Kirk Park Beach
9791 N. Lakeshore Dr., West Olive (approx. 2 hours, 58 minutes from Detroit); 616-738-4810; website
High bluffs and wooded dunes surround this beautiful and quiet stretch of beach along Lake Michigan. Blue water expands as far as the eye can see to create peace of mind. Free.



Ramona Park Beach

8600 South Sprinkle Rd., Portage (approx. 2 hours, 27 minutes from Detroit); 269-329-4522; website

Ramona Park is a great place for a family beach day, due to a full staff of beach lifeguards and a great playground area. Park entry is $5 per vehicle for Portage residents, $10 for non-residents.
Van Buren Park Beach
50901 S. Interstate 94 Service Dr., Belleville (approx. 44 minutes from Detroit); 734-699-8921; website
Hiking trails, pavilions, picnic tables, and concessions round out this beach area along Belleville Lake. Located right off of I-94, this gem creates seclusion to keep you from the fast paced life. $7 for entry for non-residents.
Torch Lake
12283 Public Dock Rd., on US-31 south of M-88, Torch Lake Township (approx. 4 hr, 6 minutes from Detroit); 231-599-2036
The largest inland lake doesn't offer many public beaches, but there are a couple you can find if you know where to look. William K. Good Day Park in Torch Lake Township is a top spot. Or, you can go to the nearby tiny town of Alden, where its beach is the perfect place to catch a sunset.
New Buffalo Beach
100 Marquette Dr., New Buffalo (approx. 3 hours, 13 minutes from Detroit); 269-469-3574; website
Near the border of Michigan and Indiana, New Buffalo's public beach is a beauty. After you've had your fill of swimming, check out their kayak and paddleboard rentals. Free.
East Tawas City Park Beach
407 W. Bay St., East Tawas (approx. 2 hours, 49 minutes from Detroit); 989-362-5562; website
East Tawas' City Park is a quaint little camping area on the shore of Lake Huron with several amenities, chief among them a beautiful beach. Visitors can also enjoy sports facilities, well maintained walkways, and several fishing opportunities, as it's connected to Tawas Bay as well. With water stretching from East to West, Tawas is a perfect getaway. Free.
Rosy Mound Natural Area
13925 Lakeshore Dr., Grand Haven (approx. 2 hours, 57 minutes from Detroit); 616-738-4810; website
You'd be hard-pressed to find a more private beach than the one at the Rosy Mound Natural Area. You've got to hike a ways to get to it, but it's more than worth it. $7 for entry.
Ross Township Park
3800 East Gull Lake Rd., Richland (approx. 2 hours, 16 minutes from Detroit); 269-731-4888; website
Ross Township Park features picnic tables, grills, and even a scuba diving area where you can peruse sunken odds and ends. $5 for entry, $10 for non-residents.
'Hipster Beach'
Belle Isle, Detroit
Named for the younger crowd that tends to congregate here, this beach is a great getaway from the daily grind of the city. While most people will head over to the family-friendly main beach area, this spot is only for the coolest most low-key peeps, and best thing is: dogs are totally allowed.