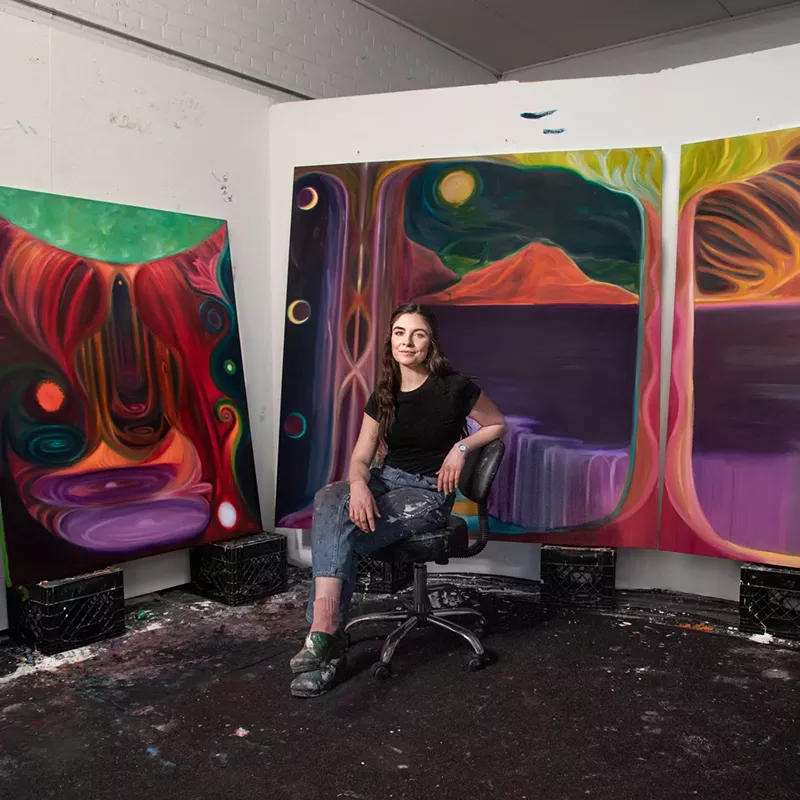 The sun is humanity's original ancestor according to Zoe McGuire.
"We can really trace our origins back to these basic elements coming from the sun," the painter says. "So it's really like a mother figure in a way, but also this kind of indifferent power. There's this quality of it being omnipresent in everything we do."
McGuire's first exhibit in Detroit, Earthshine, is a tribute to this supreme source of light and the world behind the world that humans don't see. Her oil paintings come off as landscapes of a distant planet, but she says the glowing orbs, waves of sound, and pools of deep purple are here on Earth. It's her way of "undressing nature to the what's behind the curtain" at the places where nature and human consciousness intersect.
"They're the connective forces that we can't see on the spectrum of light — the light that we can't see, the energy we don't see because it's not relevant to our biological necessity for survival," she says. "It kind of illuminates the world when you think about all the energy that's connecting things on both a molecular, macroscopic, and microscopic scale. Think about the way that the color we actually see is the color that objects reject and don't absorb."
McGuire was originally based in Brooklyn and studied art history at Skidmore College before moving to Michigan in 2021 to complete her MFA in painting at Cranbrook Academy of Art. After her graduation this month, she'll return to Brooklyn, but not before leaving us with Earthshine's ethereal body of work at Library Street Collective.
The word "earthshine" describes "the glow on the dark side of the moon that is really the reflection of the sun off of the earth, and then reflecting back to us," she says.
A few of the pieces in Earthshine are energetic paintings of McGuire's family members. A vulva-like piece called "Gardner" looks like a cavern into the soul of a deconstructed "Red Magic" daylily. This is McGuire's mother. Another painting called "Ripple In" with bursting sun rays flowing over cosmological orbs, is her father.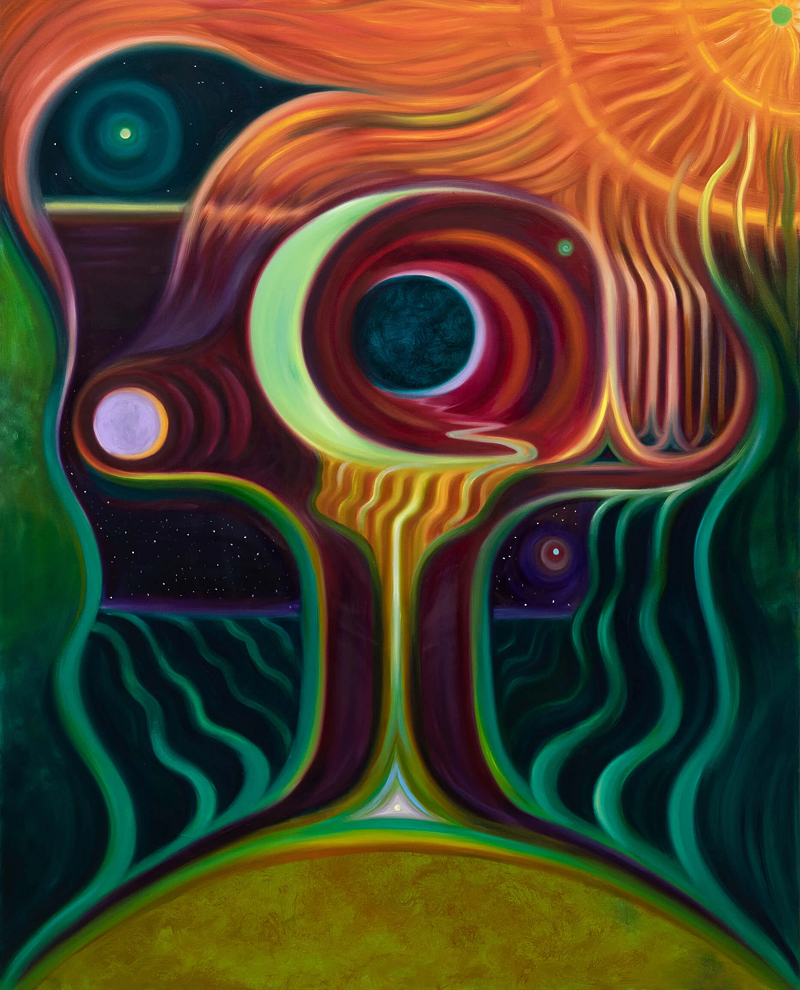 "I was listening to music that specifically pertains to them and trying to conjure their energies, in a way," she says. "I don't sketch before paintings, I just go straight into them. I've done portraits of my family before in a much more literal sense, but this felt more authentic to me. I'm also synesthetic so I have very strong color relationships to music, letters, numbers, etc."
Cranbrook's campus with its gardens and sculptural architecture reminds McGuire of her time growing up in upstate New York where nature was always accessible. As part of her practice, she takes morning walks around Cranbrook to take note of the landscape's natural energies and infuse them into her paintings.
"It makes the world so much more interesting and beautiful and allows us to kind of wake up to what exists around us and all of the incredible processes that we have sort of filtered out or decided aren't important to see," she says. "But I think it enables us to fine-tune this almost muscular ability to recognize connectedness between all things. When you think about the world in this way and think about pollination and these moments of intersection, it has broader implications for how we consider ourselves operating as part of the natural world."
Where to see her work: Earthshine is on view at Library Street Collective until June 24.
Subscribe to Metro Times newsletters.

Follow us: Google News | NewsBreak | Reddit | Instagram | Facebook | Twitter