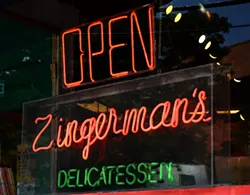 Look no further than the nearest stack of pastrami to find the latest flash point in the immigration debate.

Zingerman's, Russell Street Deli, and COLORS are the first Detroit-area eateries to establish themselves as "sanctuary restaurants." They join a budding national movement designed to offer refuge from Donald Trump's depressing, dangerous, and fear-inspired immigration policies that are a pillar of his presidency.

Beyond that, the concept is a form of protest against ideas that the food industry generally agrees are bad for their businesses.
Over 70 restaurants nationwide now hold sanctuary status, according to Restaurant Opportunities Centers United, which co-organized the movement with Presente.org, a Latinx social justice organization. Participating eateries agree to anti-discrimination policies, agree not to allow any harassment based on immigration status, and place a sign in the window that reads: "SANCTUARY RESTAURANT: A place at the table for everyone." Some restaurants also are receiving training and advice on how to handle a potential immigration raid.
Though the concept and measures are largely symbolic and don't offer any legal protections — private businesses must follow the law of the land – restaurateurs, like Zingerman's co-founder Paul Saginaw, says the sanctuary status is important: "We want it to be known that we have a zero tolerance policy for sexism, racism, and xenophobia. We felt that there was a need to take some action in light of current events, and the hateful and divisive rhetoric during the election cycle that continues to go on."
The sanctuary restaurant ideas and practices are nothing new to Zingerman's, Saginaw says, so partaking has largely involved putting a sign that proclaims its status in the window. The Ann Arbor-based company, which employs 700 in its family of businesses, doesn't hire illegal immigrants.
But that's not the case in other parts of the food system. Immigrants
are estimated to account for around 15 percent of the restaurant industry's
12.7 million workers, and many of those are illegals. In larger cities, the
percentage of immigrants is much higher – up to 70 percent of the workforce, by some estimates. Immigrants – legal and illegal – also account for around 30 percent of workers in the agriculture industry.
Many involved in the business and politics of food are at odds with the Trump administration over proposed immigration policies and other ideas that they see as detrimental to their businesses. It's an especially bizarre situation in the heartland, where the agriculture industry went about 70 percent for Trump despite opposing views on huge issues like immigration and trade.
Though the sanctuary restaurant movement is a small part of the solution, what it represents is important, Saginaw says.
"We like the meaning of 'sanctuary,' which is a safe place for everyone. This has nothing to do with harboring undocumented workers … it's symbolic, but the only thing necessary for evil to succeed is for good people to do nothing," he tells MT.

Of course, some people aren't going to like the move, but Saginaw says his customers have been supportive and the only criticism he's encountered so far are in comment sections below stories.

"If there are people who are customers who are offended, I'll certainly be sorry to lose their business, but we have a duty to do this," he says.