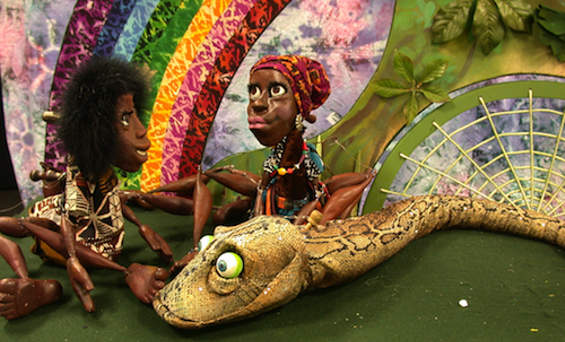 With the closing of PuppetART Theatre's downtown location last year, and the moving of the troupe's performance space and museum to a temporary spot in Southfield, it seemed as though the magic of puppetry would no longer have a place in downtown Detroit.
Fortunately, some other local institutions have stepped in to lend the group stages in and around downtown. For instance,
the International Institute of Metropolitan Detroit hosted the troupe
for a few performances of
The Snow Queen
after Christmas. And now the Jazz Café at Detroit's Music Hall will host the puppetry group for a special performance of the very popular puppetry play
Oh, Ananse!


As we've written before, it's not pure puppetry: Actors, dressed hip-hop style, join tabletop puppets in acting out the tale. It's all based on tales of Ananse the Spider, the wise and lovable trickster who figures prominently in West African Folklore. This great-grandfather of all storytellers helps make the play one of the group's most popular, having been performed for more than 15 years.
Oh, Ananse!
takes the stage at 2 p.m. Feb. 25, at the Jazz Café at Music Hall, 350 Madison Ave., Detroit; $10 for children, $15 for adults; tickets available at www.puppetart.org.