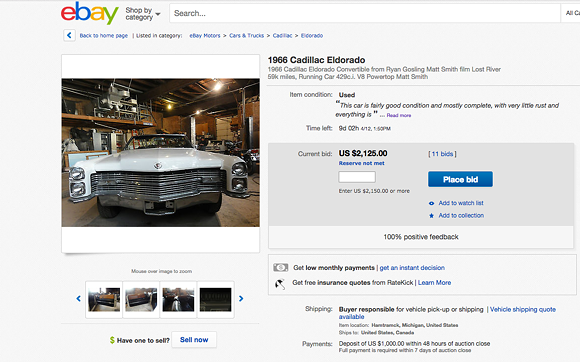 Are you a giant Ryan Gosling fan with a few thousand dollars burning a hole in your pocket? Then you might want to check
this listing on ebay
, which features what the seller says is the 1966 Eldorado featured in Ryan Gosling's directorial debut,
Lost River
.
Bidding starts at $2,150.00, but as the seller point out, the car is in need of quite a bit of repairs. "This car needs a good home that will restore it to its beauty," the seller writes, adding that it runs well. Some of the necessary repairs include work on the doors, an exhaust leak, AC compressor, and the carburetor.
The seller says they have "solid documentation that this is the car used in the film" — but also notes that it is not the same car seen in a crash scene in the movie. ("THIS WAS NOT THE SAME CAR! THERE WAS A STUNT CAR DOUBLE USED FOR THE CRASH SCENE.")
Lost River
was filmed in Detroit and is set for a limited theatrical and video on demand release of April 10. The film has
so far received negative reviews
.
Watch the trailer below: