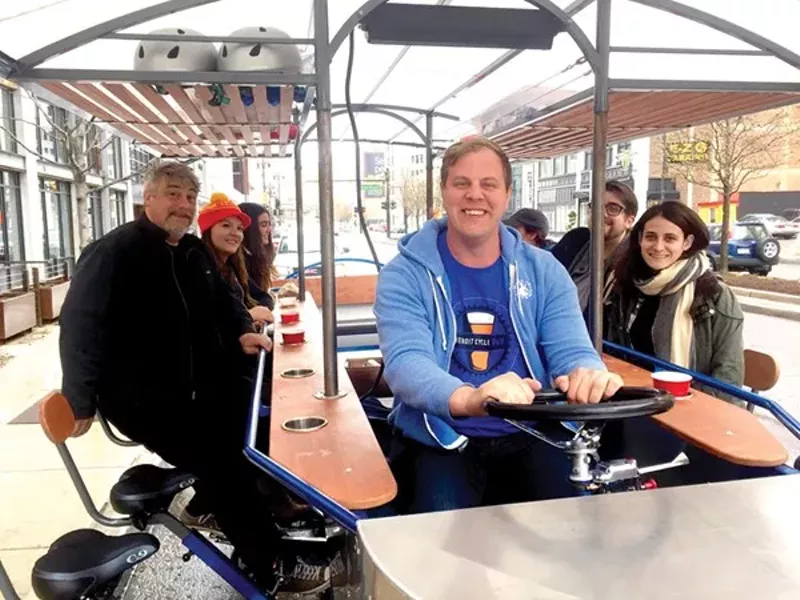 Love them or hate them, pedal pubs are cropping up all over metro areas as a touristy way to see the city, drink booze, and bar hop.
In Detroit, several companies — including Detroit Rolling Pub, The Michigan Pedaler, and the Handlebar Detroit — operate the slowly rolling covered wagons, escorting buzzed riders on a pre-planned pub crawl.
Metro Times
took a spin on Detroit Rolling Pub back when it was known as Detroit Cycle Pub.
We had a pretty good time.
After operating in a sort of legal limbo, Detroit City Council finally voted to make drinking on the pedaled contraptions
legal in November 2016
.
Pedal pubs, known legally as quadricycles, are quickly gaining in popularity outside of Detroit too. Detroit Rolling Pub owners Nick and Jody Blaszczyk experienced so much success, they were able to expand their fleet and even began
operating a cycle boat out of St. Clair Shores
.
The Blaszcyzks also operated a pedal pub in downtown Royal Oak for a summer, but found an
ordinance prohibiting the consumption of alcohol on the bike
was detrimental to business. After a single season, they ceased operating within the city.
Now, a similar ordinance will likely keep pedal pubs from operating within Wyandotte city limits.
At a Jan. 22 meeting, Wyandotte City Council voted to prohibit pedal pubs from the city's downtown area, a section of West Jefferson called Biddle Avenue within city limits.
The strip is home to several bars and restaurants including Whiskey on the Water, Wine Dotte Bistro, Belicoso Martini Cigar Bar, Joe's Hamburgers, Bobcat Bonnies, and Gizzmos Martini Bar. Dotte Pub, Captain's, Sports Brew Pub, Firehouse Pub, and others are nearby.
In addition to not being about to operate in the downtown area, City Council also voted to ban drinking on pedal pubs within city limits.
Blaszcyzk says such a prohibitive ordinance will likely keep pedal pubs from setting up shop in the downriver city.
"It would totally deter me," Blaszcyzk says. "It's not good for business. And it's not worth it for the customer, either."
Blaszcyzk says he's been approached by a number of people who say they'd love to see a pedal pub in downtown Wyandotte, but the new ordinance would make that implausible.
"It's unfortunate because these pedal pubs can bring tourism and business to the city, so economically it's not a smart decision either," he says.
While Blaszcyzk has never made an attempt at operating a pedal pub in the city, Wyandotte City Clerk Lawrence Stec told the
News-Herald
an individual approached Council last year with a proposal to operate a pedal pub within the city. At that time, no ordinance was in place regarding the quadricycles.
The ordinance passed on Monday evening also requires pedal pub operators to purchase a $100 license that will only be issued if the business can show proof of a current insurance policy that covers bodily injury or property damage liability, with a minimum combined single limit of $2 million for all persons injured or for property damage.
Stec told the
News-Herald
he is aware of the concern that the policy could deter pedal pubs from coming to the city, saying it was a "valid concern." He cited Biddle Avenue traffic as the main reason for the pedal pub prohibition.
The ordinance, however, might not be the final word on pedal pub operation in Wyandotte.
"But, like anything else, as these things evolve and become more mainstream, they can be adjusted to fit the needs. As for now, I think we have a good base ordinance to work with," Stec said.