Detroit artist Sabrina Nelson says, by this point, she can draw James Baldwin from memory.
She didn't seek out to become so intimately acquainted with the famed author's face. Initially, she was invited to create drawings of him as part of one of the multidisciplinary plenaries at last year's International James Baldwin Conference in Paris. Back in Detroit, she decided to take the #InkTober challenge with her art students and do one drawing a day in ink — no erasing — for the entire month of October, and posted them to Instagram. Once again, she chose Baldwin as her muse.
Then someone stole her sketchbook.
It was at an art gallery opening in Harlem in New York — "literally down the street, around the corner from where James Baldwin grew up," Nelson says. She said she had gone directly from the airport to the opening, and threw her two sketchbooks in her carry-on bag. Some of her friends at the gallery asked to see her two InkTober sketchbooks, and she obliged. As the gallery quickly became packed ("Jesse Williams' fine ass was there," Nelson explains. "You know, the really fine guy from Grey's Anatomy.") her friends decided to duck out to get a bite to eat so they could keep partying later. But when she got to the restaurant, she realized one of her sketchbooks had disappeared.
"Someone must have reached into my bag and took it. I was devastated," Nelson says. "One of my friends from Detroit said, 'Hey, the spirit of James Baldwin just wanted you to return him home. So just look at it like that.'"
So Nelson got another sketchbook and went to the drawing board again. She says she wound up drawing him, in total, at least 90 times. "Now I can draw him with my eyes closed," she says.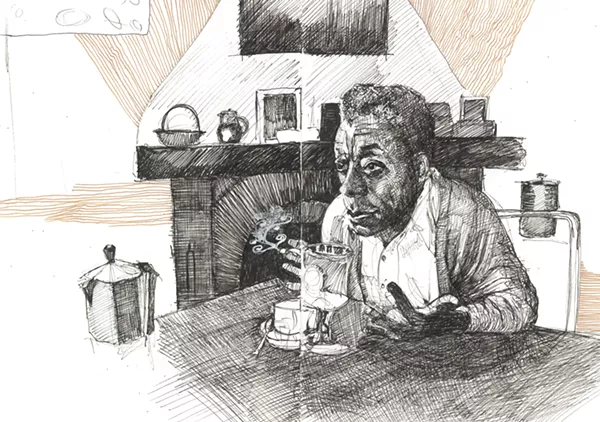 Images from Nelson's Baldwin sketchbooks are currently on view, along with other works of her art, across two exhibitions. The Baldwin sketches can be viewed at Evidence of Things Not Seen, a group show at the College for Creative Studies centered on black representation that features Nelson along with artists Richard Lewis, Mario Moore, and Rashaun Rucker. Meanwhile, a solo show called The She Self currently on view at the Ferndale Public Library features images of femininity, including self-portraits, images of the Detroit-connected Mexican artist Frida Kahlo and Charity Hicks, a Detroit "water warrior" activist who fought for water-related issues in Detroit and Flint who died in a hit-and-run in New York City in 2014.
Nelson's Ferndale show, which has a closing reception on Thursday, includes mixed media, drawings, and paintings. When asked to name her favorite medium, Nelson laughs. "I don't think I ever met a medium I didn't like, with the exception of gauche," she says. "I absolutely loathe it. It reminds me of okra. Like, gauche and okra are on my 'do not disturb me' list."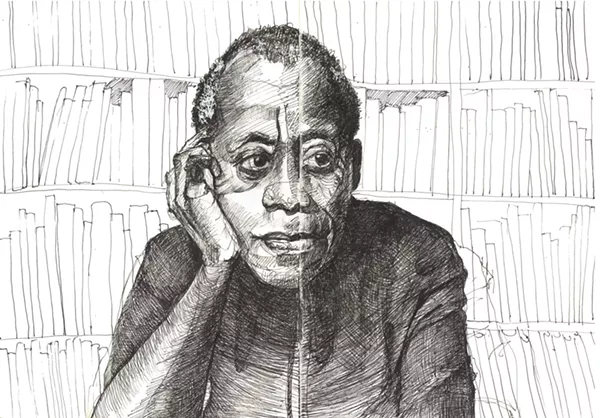 Nelson, who currently works as an admissions counselor at CCS, graduated from the school's 1991 class with a focus in fine arts. Since then, she has taught elementary and middle school art, and in the museum's hands-on studio at the Detroit Institute of Arts. But she says creating art — no matter what medium — is her main thing.
"I'm still in contact with a lot of the folks who graduated in '91, and we're still practicing our craft," she says. "It was just drilled in us to just keep making. 'You're from the blue-collar place that we call Detroit, you know, you got this blue-collar mentality to just keep making until you can't make no more.'"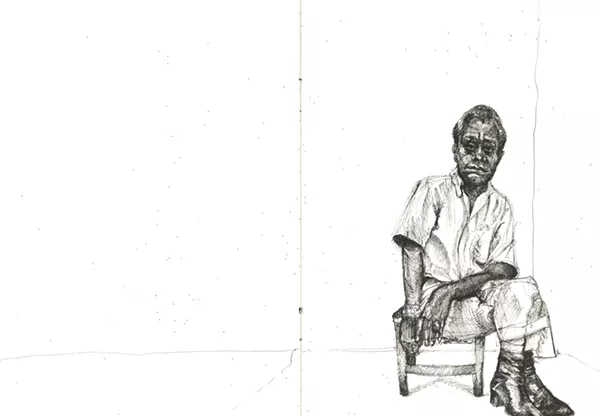 "My art is first," she says. "People ask me if I do my art on the side. No, I have a career on the side. But my art is always on the top. I think that's my language; that's how I speak. I try to bring things to light that people wouldn't see otherwise. It's the job of the artist to make us see what's happening in the world, or just make them hear it in a way, visually. I can't stop. I just can't stop."
The She Self has a closing reception from 6 p.m. to 8 p.m. on Thursday, Nov. 30 at Ferndale Public Library 222 E. Nine Mile Rd.; 248-546-2504; ferndalepubliclibrary.org; Admission is free. The group show Evidence of Things Not Seen runs through Dec. 16 at the College for Creative Studies Center Galleries; 201 E. Kirby St., Detroit; 313-664-7400; collegeforcreativestudies.edu; admission is free.