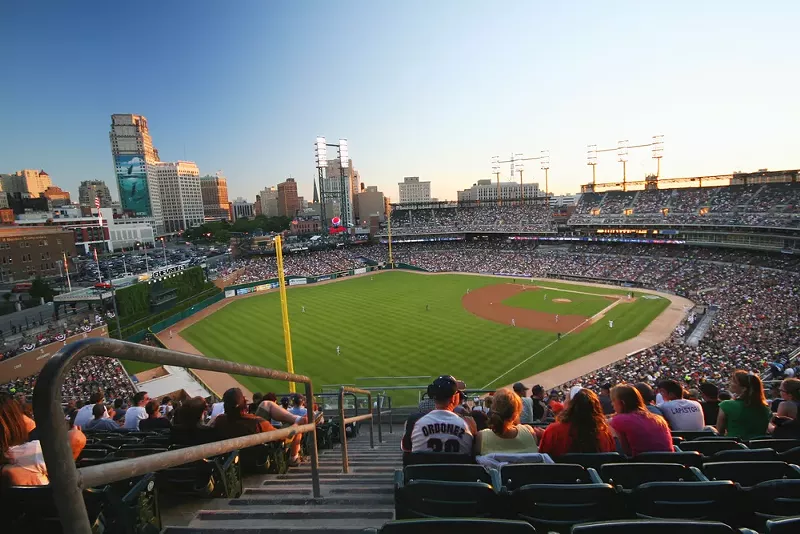 Baseball is a leisurely sport to watch. Haters will argue that it's boring, but well-versed fans understand that good things come to those who wait. On a hot summer day, watching baseball alone isn't the activity; it's the atmosphere of being at the ballpark, the welcome stretch during the seventh inning, and it's the perfectly content feeling while you walk to the concessions for a beer and a hot dog knowing that you likely didn't miss a crucial play or a game-winning buzzer beater. Here's why:
A team is only as good as its worst player: In baseball, it's impossible to hide the weakest link in the lineup. There's no LeBron James to drive mercilessly into the paint, and there's no Tom Brady to read the field on every play. Baseball levels the playing field by giving every player on the field the chance to face down the pitcher on the mound. Sometimes you get started with solid 1-2-3 hitters on base for your cleanup hitter to knock them all in. Other times, the best batters strike out inning after inning. But even in the best-case scenario, the strongest hitters have a limited number of at-bats per game, effectively democratizing the sport.
Some games are won by strength, others with finesse: Physical strength is necessary for baseball, but it's only as good as the mental strength of the players on the field. Not even the fastest pitcher will strike out every batter if he can only throw a fastball. Nor is a home run hitter any good if he swings out of his shoelaces only to pop up to center, leaving runners on base.
Baseball requires finesse, and it requires an incredible amount of strategy. In baseball, statistics are considered to determine every pitch and every position on the field. Games can be won by getting sluggers to swing at a low and away ball, and they can be lost to a team who capitalizes on the small, yet mighty power of the bunt. In this game, sometimes you have to use mind over muscle. Just look to Tigers backup catcher John Hicks, who last season made a game-time decision to lay down a surprise bunt, bringing home outfielder JaCoby Jones with the winning run in the bottom of the 12th inning over the Tampa Bay Rays at Comerica Park.
There's no need to be fit to be an elite athlete: Being fit can definitely be an asset in baseball, but it is by no means a requirement. There's very little cardio, a lot of standing around, hell, even chewing tobacco and boozing at one time were an integral part of the ballpark culture. In this way, baseball is accessible to the everyman. Baseball players are not born through their genetic makeup; they're crafted through years of sharpening technique: tweaking a batting stance, nailing down the perfect spin on a pitch, and having the sixth sense to jump on a play at the crack of the bat. Every baseball fan can envision themselves making a backhanded catch over the wall, or hitting a fastball out of the park because the image of a baseball player isn't a dominating athlete. Generations of players have been known to be a little thick around the middle, and there are no shortage of major league sluggers and even Cy Young winners who have been known to tip the scale. Remember former Detroit Tiger Prince Fielder? Before retiring in 2016, Fielder last weighed in at a hefty 275 pounds for his 5' 11" frame. And if you need further proof... well, look at Babe Ruth.
Today's players still compete with greats of the past: The stories and statistics in baseball are well accounted for, but despite better equipment and improved technology, players today are still competing with the greats of the past. Unlike football or basketball, whose records by former legends have largely been shattered by modern-day contemporaries, major league players are still vying for a page in history next to the likes of Sam Crawford, Ted Williams, and Joe DiMaggio. Lest we forget, players are still chasing after former Detroit Tiger Ty Cobb's career batting average of .366, a record that's stood since 1928.
Failing 70 percent of the time is considered good: Where else in life can you fail 70 percent of the time and still be considered successful? In baseball, getting a hit three out of every 10 at-bats puts a player on par with the best in the league. A career batting average any higher than that and a player is considered one of the best of all time. To be honest, if we were all living our lives by baseball's definition of success, we'd probably be leading much happier lives.
A lot of weird shit happens: You could watch thousands of baseball games in your lifetime, and you'll always end up seeing something you've never seen before. Between players colliding, batters getting caught in weird pickles on the basepaths, and a dove exploding into feather confetti from Randy Johnson's 100 mile-an-hour fastball, baseball sees a lot of weird shit. Who could forget in 1993 when Cleveland's Carlos Martinez hit a long ball-turned home run after hitting Texas Rangers right fielder José Canseco in the head and bouncing over the wall?
And that's just on the field. Off the field, players and fans alike can get embroiled in superstitious baseball traditions. In 2018, a wayward Canadian goose found its way to the field at Comerica Park during a sixth-inning rain delay against the Los Angeles Angels. After being chased on the field by the grounds crew, the goose took flight, circling the stadium before crashing into the scoreboard and plunging into the stadium seats. After the rain delay, the Tigers rallied for five runs to beat the Angels, 6-1. Fortunately, the goose was OK and was eventually released into the wild, but a replica "Rally Goose" kept watch over the Tigers' dugout, helping the team to continue a 3-0 winning streak at Comerica Park.
Stay on top of Detroit news and views. Sign up for our weekly issue newsletter delivered each Wednesday.