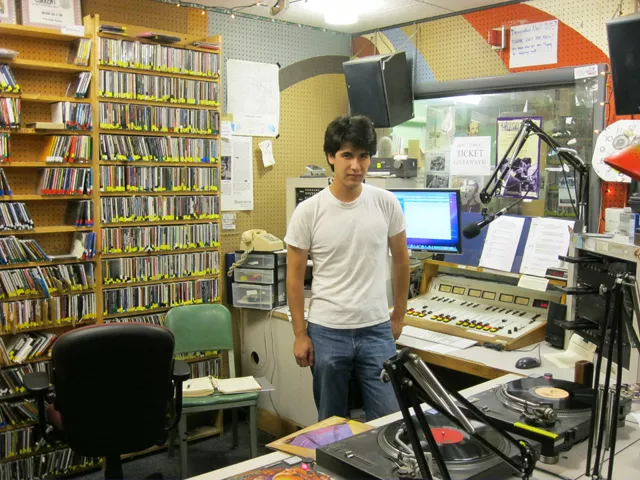 Ben Yee remembers a time when student-staffed, college radio stations were a cultural force to be reckoned with. 
College stations broke near-unknown garage-rockers and basement-rappers who went on to become superstars; the stations could give listeners a well-informed, honest human connection in just one hour of programming, much like the open-format approach of WCBN-Ann Arbor.
"Back in the early '90s, college radio stations were to some degree the minor leagues for mainstream broadcasting," says Yee, then a University of Michigan undergrad who hosted the now-defunct "Jazz Till Noon" program on WCBN. Now he's a nuclear engineering Ph.D. student who also serves on the station board. "You could find college radio stations on at every major recording or broadcasting company because that music was what people were either listening to already or going to listen to in the future."
Sadly, the same cannot be said about the most recent incarnation of the college station, according to Yee.
"I don't think we can make that claim anymore because recording and broadcasting companies have found their own ways to promote artists," he says. The companies now find "the open format of student radio" irrelevant.
Without that leverage with record companies, with shrunken audiences, and with college administrations that sometimes try to dismantle them, college stations are fighting for their lives with the same enterprising spirit that gave them independent influence in the first place. 
And how do campus radio staffs and advisers fight back? For Kevin Piotrowski, faculty adviser to Wayne State University's WAYN, the answer is digital. 
Four years ago, Piotrowski oversaw the revival of student station WAYN, moribund for decade and limited to a very low over-the-air frequency.
Now WAYN streams exclusively online, which is emerging as a standard for many college radio stations, which, in the past, like the old WAYN, were often low-power operations that couldn't be heard much beyond their campus broadcast towers. Now they can be heard worldwide — if anyone bothers to listen.
The problem is that their digital reach, which sounds impressive, hardly matters when many students get their music by direct download platforms (such as mediafire.com) or through BitTorrent peer-to-peer sites, according to Zach Zeidner, a U-M medical student who has contributed weekly columns on jazz music for musicmarauders.com. 
Then there are brand-new streaming platforms, such as Turntable.fm, and Spotify (new, at least, in the United States), which, in various ways, allow users to gain instant access to expansive online catalogs. And that's not to mention all the music consumed via YouTube, Pandora, and other streaming platforms that have been around for a while, and older download platforms such as iTunes.
With that kind of competition, streaming alone will not bring in enough new listeners, Piotrowski says, adding that a new emphasis has been placed on social media platforms as a means of promoting radio programs.
For those students actually taking broadcast classes, using social media is not something instructors mandate, Piotrowski explains, but he calls such promotion essential for a student's success.
"When students ask me whether or not they have to do our own promotion, and do we have to do that on Facebook, I in turn ask them, 'Do you want students to listen to your show?' And I know most of them do," he says. 
In addition to embracing Facebook and Twitter, many student DJs run and maintain their own blogs, as well as station blogs, all of which Piotrowski considers a new form a of broadcasting.
"When you think about Facebook, Twitter, blogs and social networking — well, what is that? In a lot of ways, you're programming. You're putting something out there," he says. "It's different in a way, but in some respects there are a lot of parallels to what a program host does — putting something out there that's going to make them think and turn them on to something new."
And for stations that still broadcast over the air, reaching past their college audience to the wider community has been another avenue for success.
Take Yee's WCBN, for example, which has such staples as the wildly popular Saturday morning bluegrass show — and longtime DJs who keep listeners tuning in.
"It actually makes for a nice mixture," Yee says, "because a big problem is student turnover and newcomers not carrying on popular shows."
Most of the DJs, who began as students, have stayed on for years, without pay, and have even brought their own children into the mix, making WCBN a sort of family affair.
"We have DJs that have been on-air spanning a good 30 years," he said, only adding to the appeal with voices and opinions listeners have come to know, love and trust. 
Yet these hard-fought efforts are often demolished by their own schools, which in some cases have sold off their broadcasting licenses to commercial affiliates and a strange and unlikely enemy — National Public Radio.
Last year, Rice University in Houston told members of the student-run KTRU that the station was being sold off to become a sister-station to the University of Houston's NPR affiliate, completely dismantling KTRU and its DJ roster. In April of this year, Rice sold the station to the tune of $9.6 million, according to The West University Examiner and Radiosurvivor.com. 
Similarly, in Nashville, Vanderbilt University's WRVU was sold to a news-heavy NPR affiliate last June.
Boxing against these kinds of adversaries might seem a lost cause, but Yee claims that stations like his and others can offer "a compelling alternative" to pre-programmed commercial — and noncommercial — stations, not to mention to iPods and services like Spotify.
"With Spotify, Pandora and YouTube, the device that is serving up the music is by nature purely electronic," says Yee. "It has no idea, besides through key words attached, what music is like other music, or what connections lie in between."
College radio stations like WCBN with real DJs are all about the human connection that lies in the communication and understanding of art from one person to another, Yee says.
Whether college radio can stage a comeback is largely up to the radio staffs, advisers and colleges, but artists can play a role if they use the media the way they once did.
"Part of the reason, for example, why Wu Tang Clan blew up so big was because they spent all day long calling into college radio stations all over America and requesting their own songs," Yee says. "That contributed a lot to their success, and it contributed a lot to other artists' success as well. A lot of this was born out of free speech, having a place that was uncensored and uncontrolled for people to listen to and request music.
"I think college radio is very important in that regard and still is — that it's a place where we are free to express ourselves and for artists to express themselves."