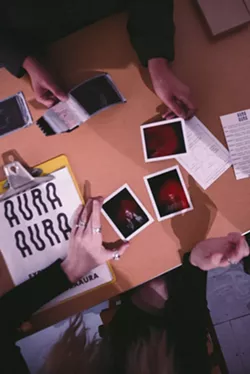 For as long as I can remember, I have carried stones in my pocket, stored crystals on my dashboard, and burned candles that promise the impossible. And, yeah, I am currently in a serious relationship with a self-proclaimed wizard. Apparently I, like many, am not immune to the mystic wiles peddled by Gwenyth Paltrow's Goop.
The first time I had my aura photographed I was day-drunk at a music festival in Austin, Texas, two years ago. The aura yurt, located in the press area, was wedged between a massage therapist and a Kale chips vendor and fell in the shadow of a hair braiding tent. Having my "energy" photographed seemed as much of a music fest novelty accessory as an Urban Outfitters-purchased flower crown. But as I sipped my complimentary coconut water, I decided that I had to have one.
The photo, which up until recently was the centerpiece to my refrigerator's magnetic poetry collection, revealed a very sweaty Jerilyn shrouded in a cloud of magentas, oranges, and pinks. The colors filled the entire frame of the print. I was told that my aura was "very powerful" and spoke to my "creative will-power" and my quest to express love.
Not even a week after my "very powerful" photo was destroyed by means of a freak accident involving a radiator explosion, my Instagram feed suddenly lit up with aura portraits. Was I ahead of a trend? Was this some sneaky spiritual social media algorithm? Or was it a sign? For me, on that day, I decided it was the latter.
Enter Grey Area, Southwest Detroit's newest addition. The space, which features vintage housewares, clothing, records, and other unique oddities also houses Aura Aura, the lovechild of Eileen Lee and partner Christopher Taylor. Lee, a social media and marketing strategist and Taylor, a fashion merchandiser, are both Michigan natives. They returned from a seven year stint in Venice, Calif., last year in hopes of bringing the wayward enlightenment of the West Coast to the not-so-mystic Midwest.
"I'm not a psychic. I'm not a healer. That's not what I bring to this project," Lee explains. "For me, it is more of a study of art logic. It's about awareness and self-exploration."
The aura — or the electromagnetic field that surrounds the human body and, well, everything in the universe — is ultimately internal light, Lee explains. These particles of energy collect and suspend to create what is known as the human energy field.
Long story short, a Russian scientist by the name of Semyon Kirlian stumbled upon the origins of aura exploration in 1939. Kirlian discovered that if an object encountered a high-voltage electric field, an image could be captured if placed on a photographic plate. It wasn't until the '80s that California dreamer and doctor Guy Coggins filled the gaps of existing imaging technology and developed the first mass-market aura camera.
Which brings us to now: the era of New Age narcissism. Like, if you didn't take a selfie and post it to social media, did your spiritual enlightenment even happen?

I crouch to enter Aura Aura's geodesic pop-up dome. Once seated, I am instructed to place my hands on the corresponding hand-plates which, together, read your internal vibrations before sending information to the camera as a double exposure.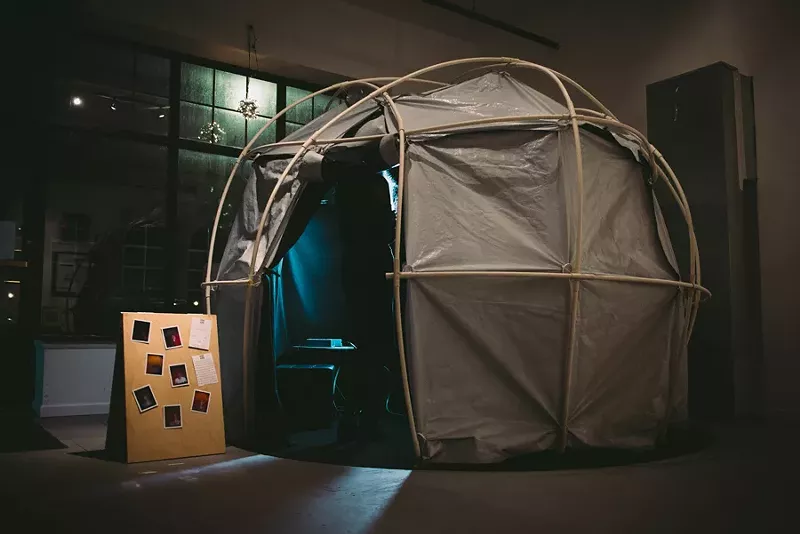 The first exposure is only of the subject. The second exposure captures the vibrations and translates them into the corresponding colors. The process itself does not emit anything; only you do.
"Hold still," Lee instructs. A click, a beep, and it was over. The entire process took 10-15 seconds.
We wait only a few minutes for the image to set. I tap my fingers on the desk as Lee pulls the protective casing from my Instant Film. I cringe. What if it turned out to be a photo of a demon? Or worse, what if I looked like shit?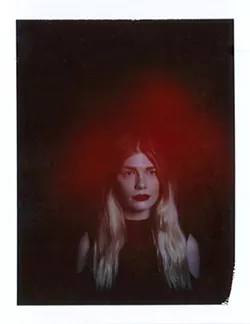 "Don't make that face," Lee laughs, putting the photo under an iPhone flashlight. "Ooooh. Very contained," she says. "This is stunning."
My photo turned out to be devoid of everything I found to be enchanting about other aura portraits I had seen. There were no candy-colored swirls or bursts, nor was their distortion or gradation of tone or hue. Described as "tight" and "restrained," my aura was shown as a dried-blood shade of red just above my head and shoulders, surrounded almost entirely by darkness.
According to Lee, no color is better or worse than any other. "The colors merely represent your current state. And that state can and will change," she says. "Red is a very passionate and vital color. Very action-oriented. You have a slight arch which represents your goals and aspirations. Perhaps you're looking toward new beginnings."
She points to the faint hint of red trailing over my chest and explains that red is part of my core color, which would represent my personality as a whole. When I ask her why my aura was so contained and, in my opinion, rather unremarkable, she says I must be tired.
"That pattern is usually the result of low-energy," Lee says. "Your energy is vibrating at a low frequency and that can affect intensity."
Well, that's pretty fucking boring, I thought.
As I marvel at my $37 photo (which includes a small cardboard box to store it and a "brief interpretation") and wonder if anyone had bothered to let 311 know the color "amber" is technically just "yellow" on the aura chart, one thing does resonate with me. If Lee's explanation was accurate, then maybe aura photography is onto something. Because, truthfully, I was tired. Very tired. And by this trail of logic, it could be proven relationships, experiences, environments, lifestyle changes, and perhaps, even on some level, deficiencies could all impact one's aura. Maybe our consciousness is just as much of a product of our material world as it is a byproduct of the spiritual realm, and — holy shit, it worked.
"I wanted to go into this with a purpose. I'm still learning," Lee says, placing my pretty paper placebo in a tiny cardboard box. ""It all comes back to affirmation."
In January, Lee will team up with Brooklyn, New York-based musician, writer, and fellow aura-ist (is that a thing?) Stephanie Gunther to embark on the Twelve Month Aura project, where — you guessed it — the duo will document participant's auras over the course of a year.
"It is a very inward study but I think it will help connect people," Lee says. "If people are aware of their energy, they can change it themselves. Studies show that if we were all to collectively vibrate at higher frequency we could activate other strands of our DNA."
I leave Aura Aura unconvinced that I had gained a deeper understanding of my energy or myself. But what I did leave with was something to think about, and more importantly something to post. After all, wasn't this about connection?
Grey Area is located at 4200 W. Vernor Hwy., Detroit; Appointments can be made at auraaura.co; Portrait sessions are $37.