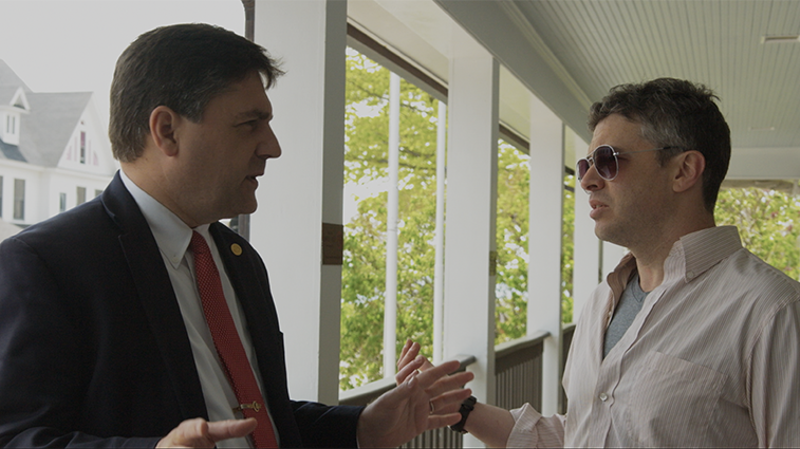 In recent months, Enbridge Energy's controversial Line 5 oil and gas pipeline has become one of those rare flashpoints of bipartisan unity. Even pro-business Republicans like
Gov. Rick Snyder
and
Attorney General Bill Schuette
have called for a timeline to decommission the 65-year-old Great Lakes pipeline, which has been under even more intense scrutiny following
an accidental anchor strike in April
.
In the meantime, Michigan filmmaker Barton Bund has made
Line 5
, a documentary film about the battle over the pipeline.
Part Two
was recently released, and fitting for the primary campaign season, it features a number of candidates for statewide office weighing in on their plans for the pipeline.
In the new clip, Democratic candidates Gretchen Whitmer, Abdul El-Sayed, and Shri Thanedar all call for the line to be decommissioned. Gretchen Whitmer says she would "immediately" begin the legal process to decommission Line 5. Thanedar calls it a "ticking time bomb," and El-Sayed calls for leveraging state departments into action by declaring the pipeline an "imminent threat."
Republican candidate Patrick Colbeck, however, fell short of calling for any drastic action. In an unplanned interview caught during the Mackinac Policy Conference, Colbeck admits that Enbridge could be an example of corporate-government cronyism (the candidate, who has been compared to President Donald Trump, even wrote a book called
Wrestling Gators: An Outsider's Guide to Draining the Swamp
) — but that appears to be as far as he'll go.
"[If] you look at the reliability of all the different components in a different system, pipes are about as reliable as they get," he says in an interview, and adds, "Just because a pipe is old, doesn't mean it's bad." The best Bund can do is get Colbeck to admit the pipeline could use some additional shut-off valves.
In a statement, Bund sets up the clip, and explains that the project has now been expanded into a three-part series:
The project has expanded. After the April 1 anchor strike on Line 5, the story heated up like never before. So we returned to Mackinac, Traverse City, Petoskey, and elsewhere to follow the developments. It became clear that the story needs to be told as a three-part series, with the third and final installment coming this Fall. My crew and I were fortunate to catch these interviews with our candidates, including a surprise talk with Patrick Colbeck on Mackinac Island during the annual Policy Conference. This unplanned interview provided me with some critical insight into how a pro-business leader on the far right would build his Line 5 policy. Compare that with a progressive like Abdul El-Sayed, who wants an immediate shutdown of the line. It's truly fascinating.
Scientists believe the powerful, oscillating currents in the Straits of Mackinac could cause a Line 5 oil spill to contaminate both Lake Michigan and Lake Huron, where it could affect more than 700 miles of coastline.
"We are facing this imminent catastrophe here in the state of Michigan," Attorney General candidate Dana Nessel says in the film. "It would be the biggest economic and ecological catastrophe our state has ever seen, and there is no one willing to do anything about it."
Part 2 can be viewed below. More information about the film is available at
line5film.com
.
You can revisit our 2015 cover story on Line 5
here
.

Stay on top of Detroit news and views. Sign up for our weekly issue newsletter delivered each Wednesday.