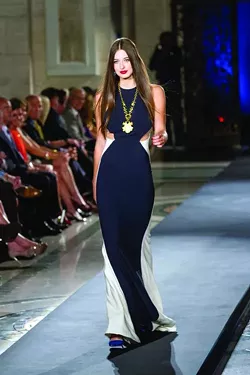 "Yeah," says Freya Gothelf, sounding every bit the 71 inches of teenager, "if you grow up to be 5-foot 11-inches and you're a 14-year-old, you think about [modeling]. People tell you, 'Oh, hey, you should be a model.'"
Now a four-year veteran of runways and fashion shoots, she's pushing 20, about which she says, with sort of mock horror, "I don't want to hear that. In modeling, that's horrible."
Gothelf is very clear that modeling is for kids. Her earliest modeling memories have more to do with sneaking treats put out for fashion show guests than with actual fashion.
"We were the 16-year-olds in the back being draped in these gorgeous outfits and all we wanted was a cookie," she says. "I'm very lucky and I have a lot of fun, but I'm aware that it's temporary. I'm taking advantage of the time I have in the industry. It will end. That's not a question. They want the next 16-year-old to come by and that's just the way it is. Your looks fade, and you evolve as a person, and the modeling industry isn't looking for that."
It's fun, she says, but hard work. Gothelf works out every day, watches what she eats to maintain required measurements and shows up as much as three hours before the lights go on for hairstyling and make-up. But the hardest thing about modeling, she says is the rejection.
"A lot of modeling is not being chosen; that's how models get issues," she says. "My main priority right now is school and studies. I want to major in communications and religious studies," says Gothelf.
"I know I want to express something to the world about what all the religions have in common, about how we shouldn't fight anymore," she explains. "I want to say something important … so we can all simply co-exist with one another."
She pauses and laughs. "I sound like Miss Congeniality."
Serious again, she says: "I'm not an anomaly. Most of my modeling friends have other plans. There has to be a balance."
Gothelf, who is represented by Real Style agency in Clawson, is passionate about her future, her studies, her plans, and also about fashion.
"There's a lot going on in Detroit. People care about fashion here. People care about self-expression. It's a big deal," she says. "I'm honored to be dressed in such beautiful clothes. I look at everything and I love it and I always want to take it home … but I don't."
As a model, she has the insider's view of what goes into making runway or photo shoot magic, and she respects the craft. "It takes a lot of intelligence to be in the fashion industry. Everything you see is crafted. A lot of effort goes into each aspect," she says. "As I'm running out onto a runway, at least three or four people are scrutinizing everything I'm wearing. Everything is very on purpose."