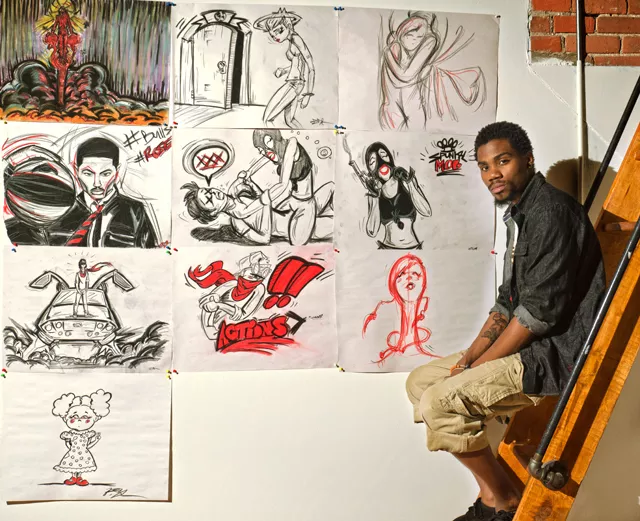 Everett Weathersby is wide-eyed and grinning, but he's a bit weary. He's hunched down in a chair in the main room of the Sweet Epiphany, a poetry club on Detroit's west side that looks more like some crazy beatnik's basement art gallery. The spindly 26-year-old spoken word poet and visual artist had this place packed recently for his spoken word feature called "Nowhere Boy," a spiritual love story revolving around a guy who dies and is brought back from the afterlife by the powerful energy of a woman. Now he's preparing for a few more shows, some of which will take place here.
Weathersby is also finishing up the second issue of his own self-produced comic called Undeathable. (The dense plot is centered on the saga of a female Christ.) But his biggest project is the art space he's preparing to open in the downtown loft that he's also just moved into.
Weathersby (aka Flaco Shalom) is, many say, one of Detroit's premier spoken-word poets — his pieces flow like something rappers Nas and Jay-Z might do — while his artwork reveals a longtime love of comics and sci-fi imagery.
The Detroit-born Weathersby has been active in local poetry since returning home a few years back, and he's been creating art since grade school. He says he's a visual artist first and he's keen on becoming a force in area art circles. His day gig at Sprint funds his work and pays the bills, but things are going well enough — he has auctioned a few works off — that, he says, he'll soon be able to completely support himself through art. And that's saying something.
His in-progress art space, called Untitled, is a roomy loft off Jefferson near downtown. It overlooks the Detroit River on a side street decorated with potholes and graffiti. Giant sketchbooks splay across its walnut floor, and the place is littered with ornate drawings, sketches, paintings and visual experiments.
Weathersby's plans for the loft are ambitious. On July 1 it becomes a gallery for an event he's calling Kingdom Come, when he and many of his local artist chums will display their stuff. He also plans to hold live music shows, and he'll have a mini tattoo parlor in the back.
Ultimately, he's attempting to build a community of like-minded artists and a space to showcase it. "It's just about having a spot for some dope creators," he says. "Out here in the world there are a lot of normal, regular people. They're like energy vampires; they just suck the life out of you because all they have is 9-to-5 dreams and 401k wishes. It messes you up. So, being around that good energy all day with these types of people — it benefits you. That's what we need. We need to be around people like ourselves."
Weathersby was born and raised right on the city's west side, near 7 Mile and Wyoming. Growing up in a mostly female household with his mother and three sisters, he was anything but a social butterfly and spent most of his off-school time in his bedroom, drawing, watching cartoons and playing video games. By middle school he was drawing full-blown comics and auctioning them off to his peers for cash, thus nurturing his inner artist and outer art dealer. His mother noticed his skills and enrolled him into the Detroit School of Arts, part of the Detroit Public Schools system, a move that Weathersby's eternally grateful for; he credits his views on art and life so far to the teachings he received at the DSA.
After his 2003 DSA graduation, he wound up studying fashion design at Alabama A&M. He quit that to accumulate some life experience, spent time in Chicago — where he successfully organized pro-Obama rallies — and eventually found himself back to Detroit.
So what happened with the fashion design? Weathersby says he helmed his own clothing line called God's Label but became jaded with the trendy world of fashion and, he explains, the lack of true appreciation for the art he was slaving over.
"If I know I'm taking my artwork and putting it on a shirt and you're only going to wear it when it's cool or popular and that it's going to sit in the back of your closet when it's not, that's a slap in the face to me," he says. "This is my artwork. You're not going to let my artwork sit in the back of your closet where no one can see. This is not just a fad. This is classic stuff."
Sure, Weathersby can sound arrogant, but what's to fault in a young guy who's confident of his work?
And with that, dude's psyched to make the most of his time.
In addition to showing art, tattooing and music, Weathersby also plans to hold Sunday art classes for kids once the gallery is set up. The desire to further educate a new generation of artists stems from his DSA experience. "When I went to school, it was something more beautiful, something more refined," he says. "I had great art teachers. They actually cared about the students. And, they not only taught lessons as far as school but also lessons on life; how to conduct myself, how to uphold myself, how to be able to function in this trivial world as an artist."
Among Weathersby's art-world passions, the Beatles loom large, John Lennon in particular. The idea of a pop icon using his position to actively protest what he sees as unjust in the world, and to be fiercely outspoken about it, has really inspired Weathersby. Weathersby got hip to the Beatles after hearing the The Grey Album, Danger Mouse's mash-up of the White Album and Jay-Z's The Black Album.
Weathersby's activist side rose out of respect for Lennon. He organized good-sized political rallies in Chicago, but, he says, it's a different story in Detroit. "I haven't been able to do something like that here because the young people here are a lot more selfish," he says, bluntly. "They're about getting money and helping themselves move forward. That's not the type of person I am. I'm more of a John Lennon, 'let's give peace a chance', let's have a rally and play guitar and come together ..."
"You know, everybody is a creator," he says. "You should want to see the world. You should want to be able to create something and make this world a better place, not just to go somewhere, get a check, go home, go to sleep, go back to that place and get another check, go home and go to sleep. That should not be your life cycle. That's not living. That's being a robot."
Friday, June 3, at Sweet Epiphany (13305 W. Seven Mile, Detroit; tinyurl.com/sweetrevolt) with MI Cule, Ivy League Crew, Willy J Peso, Chavis Chandler, RenCen, CoolBeans, JFin, J-Sun, GPitts, Sheefy McFly and the DeLorean and more.