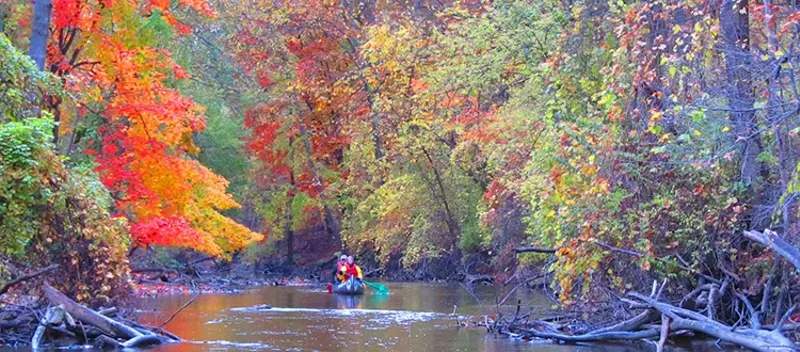 When we heard that the Friends of the Rouge were hosting kayak and canoe trips up the Rouge River this fall, our mind was swirling with questions.
Chief among them was: "Are you freakin' crazy?"
After a bit of gracious chuckling, the Friends of the Rouge's Sally Petrella helps set us straight.
"Lots of people are out there paddling on the Rouge River every day," she says. "The water quality has really improved, and people really like to get out there and paddle.
"So, no, we're not crazy," she adds with a laugh. "We're out there to enjoy the river like we should be."
Then again, we'd gotten most of our firsthand knowledge of the Rouge decades ago, specifically the heavily polluted part that ran through Dearborn, back when there was some talk of simply covering it over and turning it officially into a sewer. On sunny days after heavy rains, it would exude a smell that could knock a buzzard off a dung wagon. And when one classmate bragged that he had touched his face to the bottom of the river, we all gasped as if he had chugged a bottle of toxic waste – and lived.
That impression wasn't improved too much by by a book that came out almost 10 years ago: In Joel Thurtell's
Up the Rouge!
, the longtime journalist chronicled a 2005 canoe journey up the river. As Thurtell paddled his way up the trash-strewn, polluted waterway, scrambling over logjams and avoiding staph infections, the narrative wound up becoming an unusual and insightful bit of investigative journalism. While it asked worthy questions, and helped provide answers, it provided little impetus to pick up an oar.
That, of course, was more than 10 years ago, and concerned several parts of the Rouge that are too challenging for a day tour. And, thanks to the help of the Friends of the Rouge, the river is in much better health these days, though water quality concerns remain. (Frankly, they do with almost any natural body of water outside of an official swimming area.)
"For somebody who's just out there for a couple hours," Petrella says, "you don't want any open cuts, and when you're all through you'll want to take a shower, but it's not a real big cause for concern."
Petrella says the two routes have been planned to show off the river's beauty, as well as views of the city from an unusual vantage point.
The October canoe trip sounds tailor-made to challenge those stubborn perceptions of the river, timed to coincide with the lustrous gold and crimson of fall color.
"The lower branch of the river goes through the forested corridor within Wayne County Parks and it feels like you're up North. It should be really nice color around there. The color may even change early this year, because it's been so dry."
The September kayak trip will offer stunning views of Detroit industry, but often offers unexpected bits of nature as well.
"We go in at Melvindale, which is on the concrete channel, and then you'll come to the Ford turning basin, the boat slip by the Ford Rouge Plant, that's where you get into heavy industry. You get to go by the Rouge Plant with all these interesting suspension bridges. Then you go under the Dix bridge, you go by Fordson Island, you go under the newly replaced Fort Street Bridge. And you actually will see quite a bit of wildlife. We always see great blue herons and lots of different birds."
This is the 12th year the group has hosted a tour on the water. It's a successful event that draws dozens of pleasure seekers each year. It helps raise funds for the organization while giving people an on-the-water appreciation of the watershed, and how far it has come.
"They can see how water quality has improved," Petrella says, "and we're starting to see more fish coming back. And what better way to understand the value of the resource than to get out there and recreate in it."
And what about people who still consider, "Go jump in the Rouge" to be a fearful imprecation?
"The Rouge has this reputation that's really hard for people to get over," Petrella concedes, "but as it gets cleaner, people should turn back to the river. It's a really wonderful resource that's so close to home for so many people. You don't have to drive miles and miles to canoe or kayak a beautiful stretch of river."

Friends of the Rouge presents two Rouge River excursions this fall. They partners with Riverside Kayak Connection for a tour of the river's industrial past that begins in Melvindale on On Saturday, Sept. 16. They partner with Heavner Canoe Rental for a journey on the Rouge River's lower branch within the City of Wayne, with views of towering cottonwoods, steep riverbanks and some white water; that trip is on Saturday, Oct. 7. Both tours are limited to experienced paddlers due to water quality concerns. Sign up for the Sept. 16 kayak tour with Riverside Kayak Connection by calling 734-285-2925; $50 with kayak rental, $30 with your own kayak, shuttle and lunch included. Sign up for the Oct. 7 paddle by calling 313-792-9621 or emailing [email protected]; $45 per canoe rental, $10 with your own canoe. For more information, see the "Organized Trips" listed here.