Detroit Tigers fans were treated to more than a big win during last night's game against the Toronto Blue Jays.
The jungle cats crushed the baby birds 11-0, and as the universe is wont to do, it rewarded fans who braved the temperamental weather with a stunning display of color and majesty.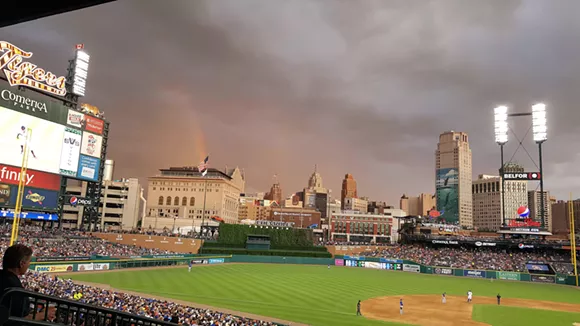 And as you can imagine, people were
really
pumped.
@KMacTWN Lovely rainbow over downtown Detroit, seen from Comerica Park. By the way, Tigers pounded the Jays, 11-0.⚾️ pic.twitter.com/FLZPim9Hb3

— Tony Annyschyn (@Bowler1961) June 7, 2016
Haha, he said "pounded."
Double rainbow tonight above Detroit. pic.twitter.com/h9vrzdwhx6

— D.A. Lockhart (@WRiverLockhart) June 7, 2016
We guess the rest of the city could see the double rainbow too. Today was a good day, indeed.
Basically, everyone was thrilled... except this guy.
I guess nobody never seen a rainbow in Detroit before 😭 I done see 8 people post it 😩

— Deezy (@Unf_ckwithable) June 7, 2016
Whatever, Deezy, double rainbows are magic. Or witchcraft, same thing.