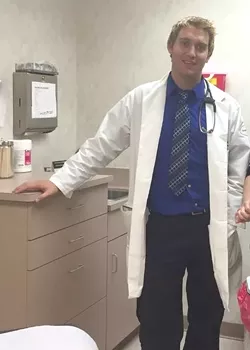 William Powers is doing something we can really get behind.
The doctor who works out of Be Well Medical Center in Berkley is something of an advocate for transgender people and is most certainly an advocate for their health.
Transgender people face unique challenges in nearly every aspect of their lives and obtaining health care is often a problem. Some are afraid to visit a traditional doctor for fear of being turned away, others feel they're be misunderstood by conventional practitioners.
Powers, who was recently profiled in
Between the Lines
, understands a fundamental, yet often ignored, truth about transgender people: They're people. And he wants to treat them as such. So, while doing his residency, he specialized in treating transgender patients for typical ailments like sinus infections and high blood pressure.
"People forget that trans people are people, and people get sick," said Powers, 31. "Not every visit involves hormones. Trans people come in with sinus infections. They have high blood pressure. Trans women die of breast cancer because they take high levels of estrogen their whole lives and no one ever gives them a mammogram or a DEXA scan, a bone density test. Trans men get cervical cancer. Doctors assume trans men are lesbians and are only sexually active with females, so they don't do any usual testing they would do for a heterosexual female. That is not the case. They need pap smears. As long as they have the organ, they still need to have the test."

According to the article, Powers operates on a sliding fee scale for patients with no insurance and the office also employs a nurse who helps get them set up with Medicaid, if possible.
The Be Well Medical Center also offers other treatments and procedures that are unique to trans patients. For example, they offer laser hair removal, and a pixel laser that's used to remove acne scars, which many transmen suffer from.
In addition, Powers is the president of the Ferndale Cat Shelter, a regular at the Catfe Lounge, and the owner of three well-named cats, Arcturus, Cygnus, and Sirius. Basically, he's a hero.