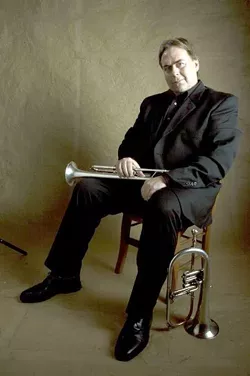 The biggest challenge interviewing an accomplished artist like trumpeter Walt Szymanski is deciding what parts of his career to focus on. Throughout the '80s, he was the great Detroit jazz drummer J.C. Heard's music director, all while fronting his own hard bop band the Motor City Jazz Quintet. Then there's his two decades in New York as a headliner, and playing with jazz heavies like Junior Mance, Cecil McBee and Kirk Lightsey. Now, Szymanski is living in Quito, Ecuador, where he's helping grow the Ecuadorian jazz scene. Jazz in Ecuador, who knew? You heard it here first.
A longtime friend of the Szymanski, bassist Paul Keller, joked recently that Szymanski has become the "Wynton Marsalis" of Ecuador — composing, teaching, and touring throughout the country.
"Walt is an amazing triple-A music personality. He's always on full blast. When you see him play, he's always going 100 percent. I've known him for 26 years and he's always been that way," Keller said.
Szymanski, 59, moved from Detroit 21 years ago. Two decades is a long time to be away from home, and at heart he remains a red-blooded Detroiter. No matter where in the world he's performing, he represents Detroit. Listening to him talk about his Detroit days — particularly his run with J.C Heard — is like a historian lecturing about an epic period.
On the bandstand, Szymanski is a hell-raiser who cooks in the upper register of the trumpet, and who's equally proficient simmering in the low-register, playing ballads such as My Only Love, Old Folks and Stardust so tenderly he could make a mountain lion cry.
Szymanski was raised on Detroit's east side. His father wanted him to be a doctor; Szymanski briefly pursued that dream by attending the University of Michigan, but transferred to Oakland University for its jazz program — to study with the likes of saxophonist Marvin "Doc" Holladay and trumpeters Herbie Williams and Marcus Belgrave. In the '70s, the program's faculty was loaded with Detroit jazz royalty and Szymanski took full advantage.
"It was an old-school environment and it was a great experience," Szymanski recalled via cell phone from Ecuador. The afternoon of the interview he was under the weather. That didn't stop him reminiscing about his Detroit years, especially his relationship with Heard.
In the early the '80s, at Mackinac Island's Grand Hotel, Szymanski worked as a staff arranger. Heard, who had played with everyone from Benny Goodman to Dizzy Gillespie, caught one of Szymanski's shows, and immediately after offered him a job.
"The great thing about playing with J.[C. Heard] was I got a chance to play with legendary cats like Oscar Peterson, Ray Brown and Dizzy Gillespie — musicians like that," he said. "With J., it was more than playing. I learned how to lead a band, how to motivate and to manage musicians, all the kind of things that you never learn unless you're out there doing them.
"I was always one who respected my elders because I knew that I could learn from them," Szymanski explained. "One of the things I find with a lot of younger musicians is they don't respect the older cats. A lot of the younger cats act like the music began when they were born".
One of Szymanski's fondest memories of Heard was his stands against any form of bigotry in the industry: "I remember being at his house and some promoter called him, wanting to know how many brothers he had in the band, meaning black musicians. J. said 'What do you mean, brothers?' He told the promoter he had black, white, blue, purple, and polka dot musicians in the band. Then he hung up the phone".
After Heard died in 1988, Szymanski hung around Detroit for three years. Then he left for New York, feeling it was time to expand.
"When I went there I could play — and I went there with everything I learned from J.," he said. "When I got there, I discovered that J. had a lot of clout. Musicians would ask who I played with. I would tell them I was J.C. Heard's music director for eight years, and they would go, 'Damn!'"
In New York, he worked with bassist Cecil McBee and pianist Kirk Lightsey, former Detroiters who were jazz heavies in New York, and internationally. Szymanski did some stellar studio work also, cutting two albums with vocalist Ms. Jo Thompson and the Detroit Jewels: Slender, Tender, and Tall and Forever Fabulous. There were also collaborations with other native Detroiters, vocalist Carla Cook and violinist Regina Carter.
After living in Detroit 21 years, Szymanski moved to Ecuador in in 2011 to teach at a branch of the University of San Francisco. He's a professor of brass there. On top of that, he's helping shape the Ecuadorian jazz scene, which is a blend of straight-ahead jazz and native Ecuadorian music. Szymanski has a band that includes some of his students.
"There're a lot of strong, young musicians. I'm giving them what we used to say in Detroit that 'concept that never dies.'"
Szymanski is coming home again. The last time he returned was two years ago to play the J.C. Heard tribute at the Detroit Jazz Festival. This time, Szymanski is reuniting with two original members of the Motor City Jazz Quintet Paul Keller and pianist Phil Kelly.
"I feel like the universe has rewarded me for staying true to what I've been doing for 30 years," Szymanski said. That's making outstanding jazz and representing Detroit to the hilt.
Szymanski will play July 17-20 at the Dirty Dog Jazz Café, 97 Kercheval Ave., Grosse Pointe Farms; 313-882-5299 for reservations.
Charles L. Latimer writes about arts and culture for the Metro Times, and the jazz blog I Dig Jazz idigjazz.blogspot.com. Send comments to [email protected]