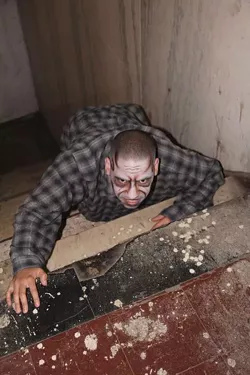 "It's increasingly hard to really scare a motherfucker these days," says Dedan Blackmon, freelance photographer. "You can't just put the gun to their heads no more; you really have to pull the fucking trigger."
When my companion joins me during a visit to Erebus Haunted House in Pontiac, he completely pooh-poohs the scariest "haunted house" in Michigan. We spend the next hour on a quest — from one end of the house to the other — looking to be scared.
By the way, I should mention my companion is a big black man from the west side of Detroit. That shouldn't minimize the spectacular-scale fun of Erebus, but should provide some perspective on the house and its origins and goals.
The house's owners, fear aficionados and brothers, Ed and Jim Terebus, have been in the scare business for 34 years, and building Erebus has been a dream.
"We build everything from the swamp people to the buried alive experience, we conceived it and built it," Ed says. "We eat, sleep and drink this stuff."
Judging from their elaborate, frightful creations, inspired by nail-biters like Aliens and Big Trouble in Little China, the monsters present a Ripley-type hero's journey into the unknown. With Erebus' creature theme, the specifics of what happens are less important than the arrangement of their presentations.
At the house's entrance, groups are gathered in front of a large movie screen where a mad doctor prepares us for our journey. Then, when the door opens, only two or three people can move in the small areas at once. What starts as many quickly narrows down to just a few.
You soon find yourself alone, except for ghoulish figures that shock the shit out of you and, in some crazy way, aid you along the spiraling mazes of escape. The other spectators' screams (remember those other group members) from behind the numerous walls add to the frightening suspense.
Before you can meet the light, you must encounter endless obstacle or creature creations of disgust before meeting the next challenge, bringing you closer to the end.
While Erebus' ability to feed on human phobias is evident throughout the house, the concept of humor clicks with the choice of music, design and actors. The zombie-style costumes, facial makeup and pitch-black corridors blend fear with motivation. No review can truly convey the sheer excitement of the experience, which unfolds like a combination of high-speed horror and fantasy-escape movies. When the blood-dripping ape creation moves toward you, it's no different than any Tim Burton movie. While Erebus may lack the cohesive storytelling of a feature length film, it's got flamboyant villains under caves, floor-vanishing head games, shown in complete darkness, and an actual moving circular catwalk.
We left Erebus victorious — ensconced in our own sweat from both the fear and laughter. We were scared and entertained — the perfect trick and treat.
Erebus Haunted Attraction is located at 18 S. Perry St., Pontiac and is open now through Nov. 2. Ticket prices range from $23-$28 per person, depending on the day. Call for hours of operation and more information; 248-332-7884; hauntedpontiac.com.
Darralynn Hutson contributes to the Metro Times. Send comments to [email protected]