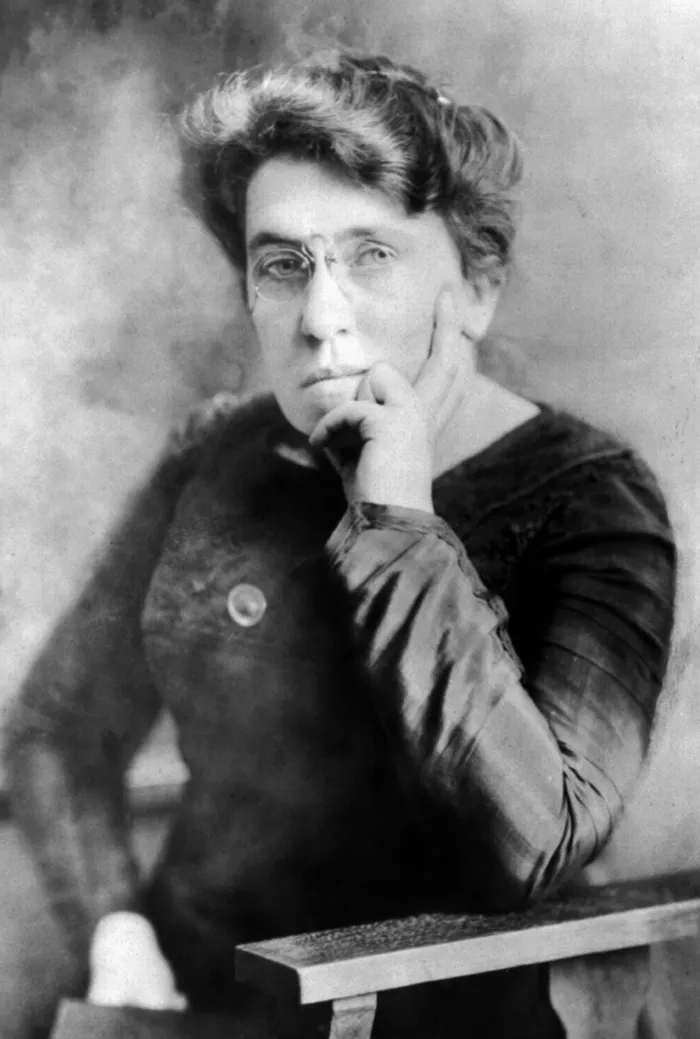 STAGE: Emma
Anarchist political philosopher, women's activist, Russian-Jewish immigrant, and American dissident Emma Goldman was way ahead of her time back in the early 1900s. She was imprisoned, deported, and vilified, but was a prevailing orator and pensive essayist. Goldman's dramatized life that helped shape the civil rights movement is told in historian Howard Zinn's Emma and is being shared on stage at the Matrix Theatre Company in southwest Detroit (2730 Bagley St., Detroit). This staged reading includes selections from Goldman's personal life as well as speeches, and will engage the audience by including them as her divided opponents and supporters. Tickets are only $10 and performances will run at 8 p.m. May 16 and 17, and at 3 p.m. May 18.
CANVAS: The River Gallery
Chelsea's River Gallery has two incredibly different but equally remarkable displays of exceptional talent currently in their care. Saving Daniel Rhodes and Resonance will be exhibited through 6/7.
Daniel Rhodes, a prolific champion of ceramic art in the 20th century, died in 1989 at his home in Nevada, but his life is still being celebrated all over the world in acclaimed establishments such as the Victoria and Albert Museum (London), the National Museum of Modern Art (Kyoto) and the Smithsonian Institution (Washington, D.C.). Although he never had any ties of note to Michigan, an exceptional collection of his rescued pots, sculptures, paintings, and drawings was discovered in the basement of a foreclosed building in Pontiac. River Gallery, along with Michael Feeney, devised and executed a rescue mission to save these pieces from an unfavorable fate. Saving Daniel Rhodes has turned into a philanthropic effort for two locally esteemed nonprofits, the Purple Rose Theatre Company and the Harold and Kay Peplau Therapeutic Riding Center.
Naturalist painters Lesa Chittenden Lim, Meighen Jackson, and Linda King Ferguson named their collaborative exhibit Resonance since the definition — "harmonies among people and objects" — best described all three artists' newest work. Using watercolors and pastels, Lim's landscapes invoke the mood one feels standing still, quiet and alone while in nature. Jackson's Asian ink brush creates lines to instead depict motion such as wind blowing through blades of grass or layers of multi-directional currents streaming in perfect choreography. Bringing it all together are Ferguson's bold use of space and her autumn-hued interchanging strokes of paint that beautifully contrast her co-artists' more delicate use of line. Like the other show, 20 percent of Resonance's sales will also go to the Purple Rose Theatre Company and the Harold and Kay Peplau Therapeutic Riding Center.
To read more about the art rescue mission as well as gallery details, visit chelsearivergallery.com.
CANVAS: Last chance
Cuban artist Roberto "Valentin" Hernandez Exposito's work will be coming down this week, but there are two more opportunities to check it out. Complementing the post-impressionism paintings will be Jack Kenny's black-and-white prints of Cuba along with Afro-Cuban inspired painted furniture by Charlene Uresy. The Liberal Arts Gallery will be open from 6 to 9 p.m. May 16, and from noon to 4 p.m. May 17, and is located at 3361 Gratiot Ave., Detroit.
CANVAS: Emerging artist
The Scarab Club's Emerging Artist program is excited to present Luke MacGilvray's No More Heroes. MacGilvray draws from his experience traveling abroad, as well as his passion for comic books. Using a plethora of media, including Japanese paper cut art, his work sucks you into a world of graphic novels, punk music, and black eyeliner. This one-night exhibit will also be accompanied with an event at the Scarab Club from 6 to 10 p.m. May 15.
CANVAS: Art yard sale
On May 17, the Huron Valley Council for the Arts is having an art yard sale. Located at 205 W. Livingston Rd. in Highland, Mich., the 9 a.m.-4 p.m. event will be selling deeply discounted art work as well as art supplies. — Amelia Kanan