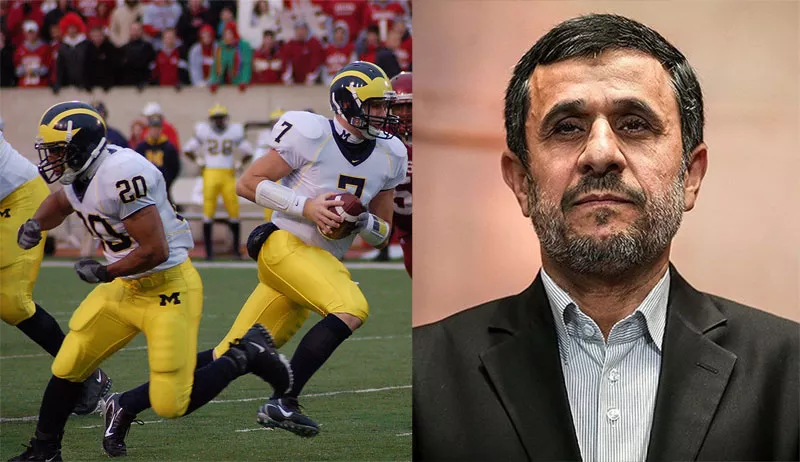 We haven't had our coffee yet, so maybe we're tripping. Or maybe we really do live in the
Twilight Zone
now. Or maybe Twitter was just a terrible, strange mistake.
Anyway, it seems that Mahmoud Ahmadinejad — the hard-line ex-president of Iran who is known for denying the Holocaust as well as a regime criticized for human rights violations — is a University of Michigan football fan.
On Tuesday, Ahmadinejad tweeted support of the Wolverines, tweeting "With a hard work ethic Inshallah [god willing] the U of M will return to its glory days," he wrote.
How did we get here?
Back in September, Ahmadinejad weighed in on the Colin Kaepernick NFL controversy. "The #NFL season will start this week, unfortunately once again (Colin Kaepernick) is not on a NFL roster," he tweeted. "Even though he is one of the best Quarterbacks in the league."
In response, a Twitter user from Ann Arbor replied, "Dear Mahmoud, We have much bigger problems here. #Michigan is 8-8 in its last 16 games under @CoachJim4UM . #GoBlue," adding, "Also, college football is the only authentic football."
With a hard work ethic Inshallah the U of M will return to its glory days.

— Mahmoud Ahmadinejad (@Ahmadinejad1956) October 16, 2018
As
The Detroit Free Press
reports
, "On Tuesday, Ahmadinejad seemed to discover that he could reply to other tweets," which is when he responded to a month-old Tweet about U-M football.
The Washington Post
tracked down the Ann Arbor tweeter, Fred Zimmerman, for comment:
"Like everyone else I was and am a little bit boggled that he knew to refer to Michigan as 'U of M' and call out the 'glory days,'" added the 57-year-old Ann Arbor resident, who first attended a Wolverines game in 1966. "As far as I can tell from his biography he has no U.S. educational connections so [I] wonder if perhaps someone in his circle does."
This is weird for a multitude of reasons, including Zimmerman's observations above, but also because ironically, Ahmadinejad banned Twitter as president in 2009 to quell dissent. It's
still banned
, as is Facebook, but apparently not for Ahmadinejad, who — like other powerful men like President Donald Trump and
Elon Musk
— now spends his days talking smack with random strangers on the internet.
OK, we think it's time to get that coffee.
Stay on top of Detroit news and views. Sign up for our weekly issue newsletter delivered each Wednesday.