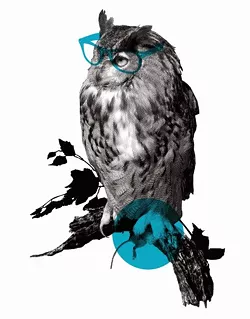 Sarah Zagacki's love of art began with a love of nature. On the camping trips, bike rides and hiking trails her father took her on all through her childhood, Zagacki gained a respect for natural beauty, sharpening her eye for realism. She now has a strong technical talent for faithful rendering what she sees.
While attending Wayne State University earning a bachelor's degree in fine art, that technical talent of faithful rendering, she says, is something that actually hurt her. It was a struggle for her to see other students with great ideas, thinking outside the box, "and all I really knew how to do was to replicate what I saw in front me."
It wasn't until Zagacki began working as a graphic designer that her art began to open up. Instead of falling back on absolute realism, she now had to concentrate on distilling images into their essential shape and flat form. Zagacki also began screen printing, creating T-shirts and posters. It became an inventive work-around, freeing her from her limitations and forcing her to think creatively — which is good news for local art lovers.
Sarah Zagacki is creating art for the upcoming fall season and has recently launched a design company, Rusty Feathers Design. See a slideshow of Sarah's artwork here.
Katherine Montalto is Web editor at Metro Times. Send comments to [email protected].