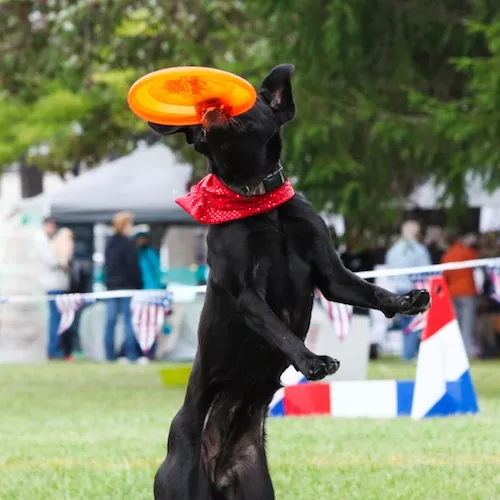 Want to spent a super day with your little four-legged friend? You could do worse than attend Paws in the Park Royal Oak. They've prepared a program of hours of entertainment for owners and pets, including entertainment, contests, food and shopping to delight dogs and their owners.
We had our doubts about this event. Like, how much fun can you put together for humans and dogs? Aren't dogs just happy chasing their tails? Who needs a carnival for canines?
Well, once we perused the presser, we realized there you can plan a ton of fun for dogs and their human friends. There will be an "air show" of sorts with Disc Dogs of Michigan, which will bring an entourage of incredibly talented, high-flying canines who dart into the air to catch flying discs. The Rock n' Roll K9's will present an agility show choreographed to popular rock n' roll tunes. A variety of dog breeds will offer three shows daily.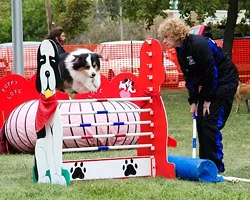 Then, of course, there's your little pal, who is welcome to come with you (on a leash 6 feet or shorter) and even to compete in the many dog contests, such as the Pug Run, the Look-A-Like Contest and the Wiener Dog Races, as well as Silly Pet Tricks, Best Kisser, and Costume Contests, with prizes donated by participating sponsors.
Several vendors will be present to offer lessons on pet nutrition, obedience training, pet care, and grooming, and exhibitors will be hawking pet products, as well as (we can't believe we're saying this) the latest pet fashions. (Yup, Americans regularly spend more than $300 million on pet apparel each year.)
There will also be food trucks (and a convenient ATM) and plenty of water bowls so you and your pal can stay all day.

Paws in the Park takes place 10 a.m.-5 p.m. Sept. 17-18 in Royal Oak's Memorial Park, 31050 Woodward Ave., Royal Oak; $5 entry fee for adults, children 10 and younger free; portion of proceeds benefits Michigan Animal Rescue League and Royal Oak Animal Shelter; for more info see pawsintheparkroyaloak.com.