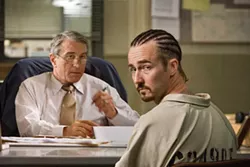 Portentous, ponderous and downright pretentious, Stone is a film that works very hard to convince us of its serious intentions, though the filmmakers have neglected to tell themselves what those intentions really were. It's the sort of meandering, talky and challenging "actor's showcase" in which high-intensity stars, such as Robert De Niro and Edward Norton, love to immerse themselves, though whether you'll be willing to follow them down into the murky shadows is a highly personal question.
Norton is Stone, a sinister, sad-eyed, fast-talking convict as twisted as his white-guy cornrows, and De Niro plays Jack, an upright but profoundly conflicted parole officer trying his damnedest to stay on the straight and narrow.
Stone can see daylight at the end of his long incarceration for arson and accessory to murder, and Jack is coming to the end of an honorable but thankless career as the last roadblock for an endless stream of psycho degenerates and lost souls. These two hard cases slam into each other, like proud rams clashing horns on the prairie, neither willing to give an inch, though cooperation is in their mutual best interests. But pride cometh before a fall, and in this movie's pride comes before everything, as the macho stare-downs and showy, soul-barring monologues continue to pile up like freeway roadkill.
Jack's a devout man, as we're constantly reminded through the evangelical talk radio he listens to and the church services he joylessly sits through with his long-suffering bride, nicely played by the avatar of quietly tormented housewives, Six Feet Under's Frances Conroy. Knowing he's a God-fearing, pent-up stick-in-the-mud, Stone keeps pouring on the dirty talk about his smokin' hot wife, and the Mrs. (Milla Jovovich) herself keeps popping by the prison in pert nipples, and the leaving home messages to tease and flirt with the middle-aged lawman.
And the plot trudges on. ... It doesn't take a film studies degree to see the ending, that Jack will surrender to temptation and things will end badly for everybody, but the film's dogged quirkiness gives room for doubt.
The real letdown is that screenwriter Angus MacLachlan (Junebug) and director John Curran (We Don't Live Here Anymore) have each done better work, and while clearly taking risks they undermine themselves with weird or self-conscious choices. Those bad decisions include letting Norton prattle on in an absurd ghetto hilljack, and inserting a flashback to an appalling moment that completely erodes whatever moral authority De Niro's character may've had. There appears to be some grand statement about false morality and the corruption of desire, but it's lost in a mire of bad choices and worse vibes.
Showing at the Birmingham 8, 211 S. Old Woodward Ave., Birmingham; 248-644-3456.