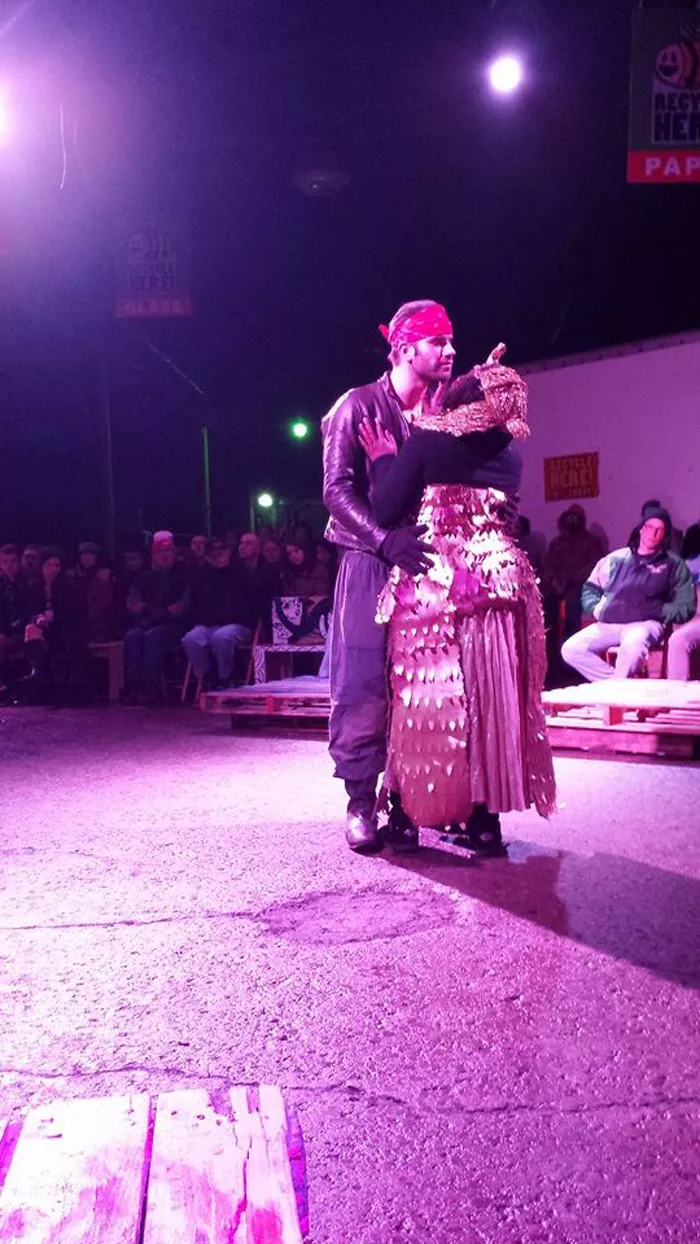 This last dreary spring, Shakespeare in Detroit performed Antony and Cleopatra in Detroit's Recycling Center. Surrounded by pallets, trash compactors, industrial detritus, puddles, fire, and friendly faces, many of the performances were held in sub 40 degree temperatures. Characters wore costumes made from junk that patrons brought to be recycled. Everyone could see their breath. Ice creeped in the shadows along the walls.
The performance was incredible.
Clear without pandering, hilarious without losing any of its tragic beauty, and deeply affecting while being emotionally immediate, one audience member walked away thinking, "Congratulations, Detroit. We now have a world-class Shakespeare company."
SID is currently prepping for its summer season, which opens July 12 with a free performance of A Midsummer Night's Dream in New Center Park. Last year's inaugural performance of Othello in Grand Circus Park was a resounding success and brought more than 500 people to the show.
SID founder Samantha White is likely the only woman, and almost certainly the only black woman, in the United States who runs a full-time professional Shakespeare company.
"If any city in the world can relate to Shakespeare, it's Detroit," says White. "If a girl from Seven Mile can fall in love with this dude from Stratford, anything is possible."
White describes SID as a site-specific company, and brings Shakespeare to places people "live, work and play." Her two missions for the company are diversity and accessibility, and she's committed to radically diverse and local casts and crews. She wishes the same for her audience.
"Diversity's not just about the actors," White said. "I want everyone [at the show]. If it's not everyone, I've failed. Art is one of the only opportunities to bring people from all walks of life together."
Cal Schwartz, current director of Midsummer for SID, said during a rehearsal at Detroit's Ponyride Studios that the ultimate goal is "for all of the summer shows to be free."
"The emotion and telling the story is what we're all about," he said to his cast. "We're for the masses."
A perennial summer favorite, A Midsummer Night's Dream includes fairies, a love potion, someone being turned into an ass, and a ribald theater troupe referred to as the "rude mechanicals." It's sure to be a good time and you can bet SID will bring it, both for Shakespeare veterans and newcomers to The Bard.
White stresses this is a kid- and family friendly-show, yet if the quality of this spring's version of Antony and Cleopatra is any indication, aficionados will not be disappointed.
SID will also perform Romeo and Juliet this summer, and a third show White is not yet prepared to announce.
She did say, though, "Belle Isle — that's the dream space. The Tempest on the beach in the water. That's the dream."

A Midsummer Night's Dream at New Center Park, Saturday July 12. Gates open at 8 p.m. and the show begins promptly at 8:30 p.m. Cash bar, family-friendly. Free. Sponsored by Midtown Detroit Inc.
Romeo and Juliet at Grand Circus Park, Saturday, July 26. Show begins at 7 p.m. Cash bar, family-friendly. Free. Sponsored by Detroit 300 Conservancy.