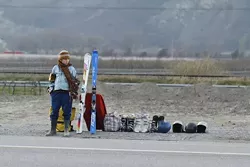 Sister B+
If the stark neorealism of the Dardenne Brothers (The Kid With a Bike, Lorna's Silence) is your cup of tea, then you may find French-born director and co-screenwriter Ursula Meier's foray into the raw and uncomfortable agony of poverty, lost youth and parental abandonment a worthy companion piece.
Twelve-year-old Simon (Kacey Mottet Klein) is a scrawny, scrappy, self-sufficient kid who lives in a grim housing complex at the base of an Alpine ski resort. He takes care of his older sister Louise (Léa Seydoux), who is constantly losing both jobs and men, by stealing equipment from rich tourists at the resort and selling them to the locals. Meier starts off by following Simon on his thieving rounds, as he calmly slips a mask and helmet over his face then searches for high-end skis, goggles and boots. In a bathroom stall, he wolfs down sandwiches he's pilfered from unattended backpacks. It's the matter-of-factness of his routine that keeps us both riveted and disturbed. As we watch Simon rob from the complacent rich and redistribute their booty among the kids who live at the bottom of the lift, there's never sense of victory or accomplishment. Only necessity and strain.
Despite his larcenous actions and Meier's incisive subtext of class-warfare, Simon is just a wounded little boy who craves human connection. It's something Louise reluctantly and rarely provides, mostly treating him as a nuisance. And so he attempts to connect with a sympathetic but opportunistic cook (Martin Compston) and a British mother (the always welcome Gillian Anderson) on holiday with her children. Neither provides him with the bond he's looking for. And, so, he returns to self-destructive Louise, in search of the acceptance and comfort he so desperately needs.
Klein and Seydoux are remarkably naturalistic performers, and their relationship —filled with jealousy, tenderness, resentment and inside jokes —seems at all times authentic. Over time, we learn not only who these two are but, ultimately, what they mean to each other —even if they themselves are unsure. For every instance of kindness and connection there's a heart-wrenching example of dysfunction, particularly when Simon must bribe Louise to let him sleep beside her.
Yet even with such instances of neediness and heartbreak, Sister is defiantly detached, never sentimental. Simon may not be a particularly likable child, but his mix of courage and vulnerability make for compelling viewing.
Meier captures his reality of his situation with an immediate, hand-held shooting scheme. Cinematographer Agnes Godard juxtaposes that offhand approach with gorgeously composed shots of the Alps and washed-out images of the housing project, contrasting the soaring natural beauty of the mountains with the functional austerity of the apartment flats. It's a richly atmospheric exercise in displacement, highlighting the thin and envy-laden boundary between entitled opulence and quiet despair.
In many ways, Sister feels like a sensitive and penetrating short story. Some of its supporting characters may be a bit contrived and stock, but they provide Louise and Simon with small instances of hope, a path, however tentative, toward redemption. And just when you think Meier has committed her characters to a ruthlessly bleak and unforgiving ending, she provides a startling glimpse of love and concern that resonates long after the final credits have rolled. Whether it is enough or not is up to you.
In French and English with English subtitles.
Plays at 7 p.m. Friday-Saturday, Jan. 18-19, at 2 p.m. Jan. 20, at 9:30 p.m. Friday-Saturday Jan. 25-26, and at 4:30 p.m. Sunday, Jan. 27, at the Detroit Film Theatre, inside the DIA, 5200 Woodward Ave., Detroit; 313-833-3237.