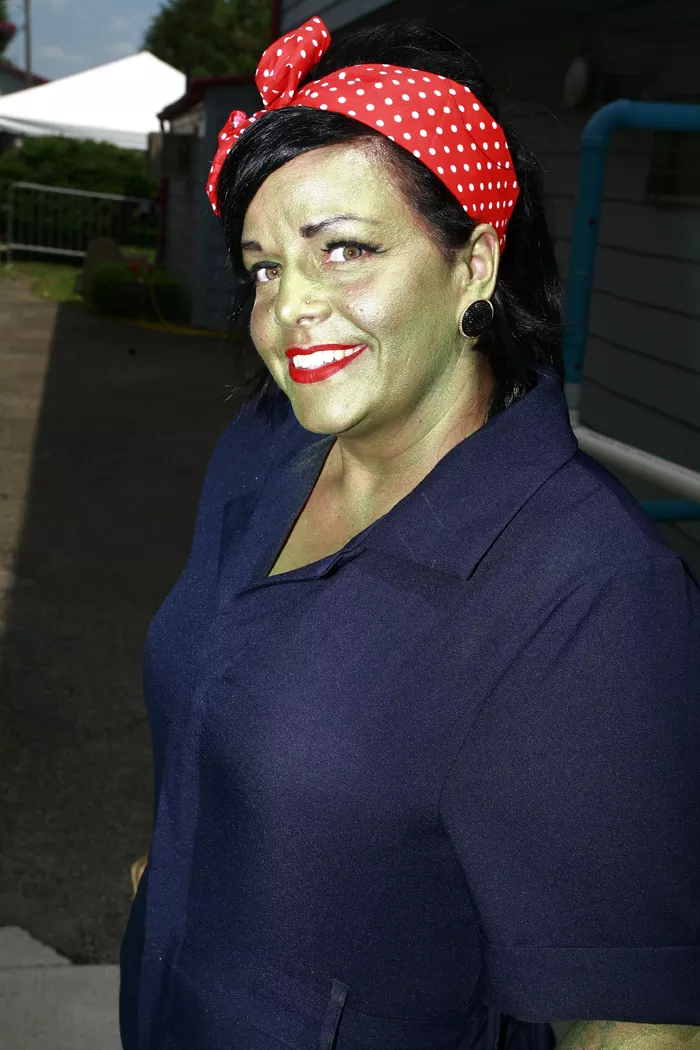 Boonquisha v. Judge Ratchet
Both Vonzell Solomon and her ratchet alter ego, Boonquisha Jenkins, made an appearance at Twerk Du Soleil, which stopped by Detroit's Saint Andrews Hall last Wednesday. Boonquisha opened the show by facilitating a twerking competition among the audience. Next, Vonzell made a reappearance singing a fan favorite, Whitney Houston's "I Have Nothing." Later, Boonquisha came onstage screaming, "It's so cold in the D! You gotta be from the D to know that!" in an improv scene mocking popular courtroom shows. And when the audience screamed in support of Boonquisha, Todrick Hall (a.k.a. Judge Ratchet) quickly reprimanded anyone who got out of hand. Soon after, Boonquisha threw her wig off and charged across the stage to attack her stagemate, who supposedly stole her weave earlier — all in the name of comedy, of course. Overall, the show was full of twerking, ebonics, and singalongs with a special twist to appeal to Detroiters. During one of his songs, Hall mentioned that Detroit was the city that inspired him to embark on this tour. Twerk Du Soleil ran for about two hours; afterward, Hall stayed for a meet-and-greet, while the remainder of the cast packed up the set.
Days of Suds
The Michigan Brewers Guild held the 17th annual Ypsilanti Summer Beer Fest Friday and Saturday in historic Depot Town. It featured over 800 different beers from more than 85 of the best craft breweries in Michigan. There were many great bands playing this year too, like Dragon Wagon, the Reefermen, and Sponge. DDAYS sampled so many amazing beers, and some of our favorites were from breweries like Unity Vibration, Oddside Ales, Saugatuck, Jolly Pumpkin, Short's, Great Baraboo, and Dragonmead. But one of the most popular breweries there — and the one with the longest beer line — had to be Dark Horse Brewing Co. These guys hail from Marshall, Mich., and are really blowing up. This week is the premiere of their reality TV show, Dark Horse Nation, which depicts the rebel lifestyle of Dark Horse Brewing Co.'s owner, family, friends, and employees. Look for it on the History Channel this week. These guys had a huge 20-foot ice luge for the beer lines and giant guns, which shot Dark Horse T-shirts up into the air and out into the crowds. It was a great time, and we can't wait till next summer's Beer Fest!
Cannabis Cup: A Normal Expo
The most remarkable — and important — thing about the High Times Cannabis Cup might've actually been just how unremarkable it was. It wasn't another occasion like the Hash Bash (er, "Monroe Street Fair") to fire up the VW bus and get baked (although the air was indeed visibly smokier and more festive when 4:20 struck). For the most part, DDAYS found Cannabis Cup to be a totally normal expo — almost indistinguishable from the kind that just about every industry has, sleepily hosted in venues like, say, the Suburban Collection Showplace in Novi, with little buzz or fanfare.
Wasting Away Again in Comerica Park
We're not sure why we wanted to see Jimmy Buffett. For the last three years, the man who made cheeseburgers a $100 million industry has taken over Comerica Park for an annual beach bonanza. DDAYS had to laugh as we saw some older fans passed out before doors even opened. We also had to laugh at ourselves, because, really, the entire show was a sight to behold. During the 150-minute set, Buffett sang the hits, some covers, and every Parrothead loved it. For us, we loved the people-watching. It was really something else.