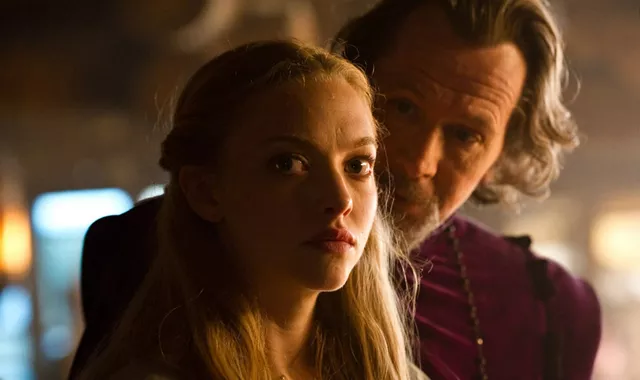 Which Hollywood agent talked Julie Christie into this turkey? Because, unless she desperately needed the cash, he should be fired. Three years ago, Christie earned an Oscar nomination for her role in the beautifully tragic Away From Her. Now, she's Grandmother to Red Riding Hood. And there are moments here when you wonder if Christie was hoping to indulge in some camp. No such luck; director Katherine Hardwicke's gothic teen-bait fable is a dull, humorless and incompetently soapy slog.
The tiny medieval village of Daggerhorn is under a werewolf's siege. Valerie (wide-eyed Amanda Seyfried), a morose woodsman's daughter, is to be married off to Henry (hunky but sensitive Max Irons), but her heart belongs to her broody childhood love, Peter (Shiloh Fernandez). The two plan to elope. Too bad it's Red Moon week, and with the savage death of Valerie's older sister, the townfolk are all in danger of being killed or turned by the werewolf. Luckily, werewolf-killer Father Solomon (Gary Oldman) shows up with his coterie of well-armed soldiers. Eager to face the monster and convinced one of the villagers is actually the beast, Solomon initiates a small-scale inquisition, discovering that Valerie may have a personal connection to his prey. Who is the werewolf? Which boy will Valerie choose? Who cares?
If you were hoping for a feminist retooling of the Grimm's fairy tale (after all, Hardwicke did direct Thirteen), silly you. Box office considerations are the only consideration in this second-rate Twilight knock-off. Right, Hardwicke directed that too. It's amazing how blatantly she cribs from herself here. Red Riding Hood is filled with shots of sweeping landscapes, an emo-driven soundtrack, a moody ingénue caught between two heavy-breathing hunks, and a digitally generated werewolf. Heck, even Bella's pop (Billy Burke) has been imported to play ... Valerie's pop.
But unlike Twilight, which actually managed to muster atmosphere and teenage passion, Red Riding Hood plays like a big-budget version of community theater. The acting is mostly wooden, the direction is tension-free, the editing is haphazard, and the romance is completely unconvincing. David Leslie Johnson's screenplay is crammed with witless, on-the-nose dialogue and laughably predictable plot points; he misses every opportunity to create an interesting or compelling story. Werewolf movies have great potential to twist a whodunnit mystery into a whoisit thriller. Unfortunately, Red Riding Hood'sbig reveal is as undramatic as it is inevitable. You're asleep if you can't figure out who the monster is in the first half-hour. Hardwicke is too busy lingering over her fake-looking, claustrophobic sets (they look like rejects from Disney's Magic Kingdom) to provide any subtext, and even the film's ever-so subtle suggestion of incestuous desire goes nowhere. The "what big eyes you have" bit appears — and that's as clever as it gets.
Shockingly, for all of Red Riding Hood's $42 million budget (most of it earmarked for digital effects), Hollywood still can't create a convincing werewolf; so far, CGI has yet to surpass the practical make-up effects employed by An American Werewolf in London or The Howling 30 years ago.
Gary Oldham's shameless mugging is the lone bright spot. More noisy than dramatic, he chews the scenery with more fang and fury than the movie's lupine villain. Yes, it's pure and ham and cheese, but amid the lumber that passes for acting, it's a welcome reprieve. —Jeff Meyers