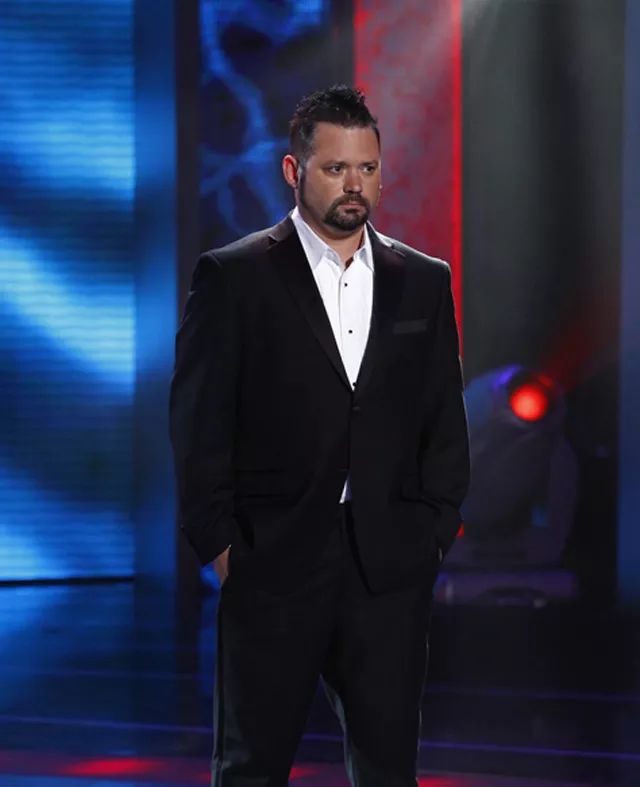 Birmingham-born comedian-musician J. Chris Newberg has blown through his 15 minutes of international stardom, at least for the moment. He was voted off America's Got Talent this month after receiving a second-chance, "wild card" reprieve from judge and fellow cockeyed comic Howie Mandel. Ultimately, he lost out to a troupe of crazed acrobats who skip flaming ropes for giggles and a quasi-folk string band called the Fiddleheads.
Now that's funny.
But while our J. (for James) Chris won't be on the show for the results of AGT's semifinal round at 9 tonight (NBC/Channel 4 in Detroit), he'll be there in spirit. Because after being slammed by Piers Morgan for being "not funny," "almost startlingly inappropriate" and mounting an act that "is probably, in fact definitely a bad idea," Newberg turned the tables while going down in the all-time annals of the reality series by assailing the prissy Brit judge with a blistering one-man "celebrity" roast.
"You're a dream-squisher," Newberg charged, squinting at Morgan. "You've made more kids cry than divorce."
Then, "There's your other show, Piers Morgan Tonight (9 weeknights, CNN). It's broadcast in almost 100 countries, and watched by almost 100 people. Your ratings are so bad, I heard Leno might take over."
And the clincher: "Thanks again for being a good sport," Newberg told Morgan, "and thank you for giving me a career. Because anybody in this business will tell you that you're nobody until you've been insulted by a nobody on a reality show. So Piers, thank you for being my nobody. America's Got Talent, thank you for being my reality show. I am J. Chris Newberg, I am made in Detroit, and I love you all!"
How could you not root for this guy?
"You've got balls of steel!" marveled Sharon Osbourne, Morgan's fellow judge.
Even the smug Morgan had to admit he'd been one-upped. "I think I just got 'owned,'" he tweeted shortly after the segment. "Fair's fair, that was a funny roast J. Chris Newberg. I'll 'suck it up,' as you Yanks say."
Piers may suck, but J. Chris does not. Those of us who have followed Newberg from his many appearances at Mark Ridley's Comedy Club and other local stages know he's been an established entertainer for at least a dozen years, a performer since the late '80s. He'd already made national TV appearances on Jimmy Kimmel Live, Last Comic Standing and several other shows. In fact, he began his memorable stay on AGT after concluding a road tour opening for comic supernova Dane Cook. "I went right from private jets, tour buses and personal security to sitting in a holding tent in a parking lot, sharing space with 150 people," Newberg said by phone the other day.
So, what's the punch line? What could persuade a seasoned talent to appear on what is essentially a glorified amateur hour?
"They begged me," says Newberg, 41, after a casting director caught his act in Los Angeles. "I said no four times. They're like, 'Just do it.' 'Nope.' 'C'mon, do it.' 'No! That douche bag judge is going to insult me in front of millions of people, and I'm not going to be able to tell him to fuck off! No!' But finally I said, 'You know what? I have a free hour tomorrow, I'll come in.'
"I knew I didn't have a chance. I was surprised every time I went through [to the next round]. That show is so 'shiny object, shiny object,' and what I do is so asking people to think. When your competition is a super-kind and unbelievably talented 11-year-old girl who has more vocal control than most adults, or an army of incredible Latin dancers who are all glitzy, and you're telling jokes about scaring PETA with animal crackers, who do you think is going to get ousted? Bye."
Newberg says being dismissed from the show one day after the adrenalin rush of his Morgan moment prompted him to go into seclusion for a few days. He needed time to process what had happened. "You know what it was the equivalent to?" he asks. "You're a Detroiter and a sports fan. Remember the last time the Tigers went to the World Series? When Magglio [Ordoñez] hit that walk-off home run into the left field bleachers [in the 2006 AL Championship Series] and the whole city went crazy, then they went to the World Series and got housed by St. Louis? Well, Tuesday [the roast] was the walk-off homer, and Wednesday was the whole World Series. I was like, 'Oh, my God.'" 
Newberg, a gifted guitarist who punctuates his jokes with melodies, laments that TV audiences didn't receive the full J. Chris experience from America's Got Talent. "Me in a club is totally different than me on television, being monitored," he explains. "Comedy on television goes against everything that comedy is, because you have to have your material approved by three separate levels of people." But not Morgan, who had no idea his "roast" was forthcoming. "But after watching so many roasts, I came to the realization that I had to make it look like he knew, so America wouldn't be mad at me," he says. "The worst thing on earth as far as roasts go is when the audience isn't in on it, and they think you're just being mean."
Newberg's coming home Sept. 4 to do a private show at an office building in Taylor (don't ask). Meanwhile, he's waiting to see what kind of career boost — if any — his America's Got Talent appearance may bring. 
"Performing in front of 15 million people three separate times was very cool, and making more money for what I do would be nice," he says. "But I'm a Midwestern guy, a blue-collar town kid. I just want to work, so hopefully something good comes from this. I don't think I would have done anything differently, I don't think it could have gone over much better. To be honest, it actually worked out better that I didn't go through, because I think I left the people wanting more."