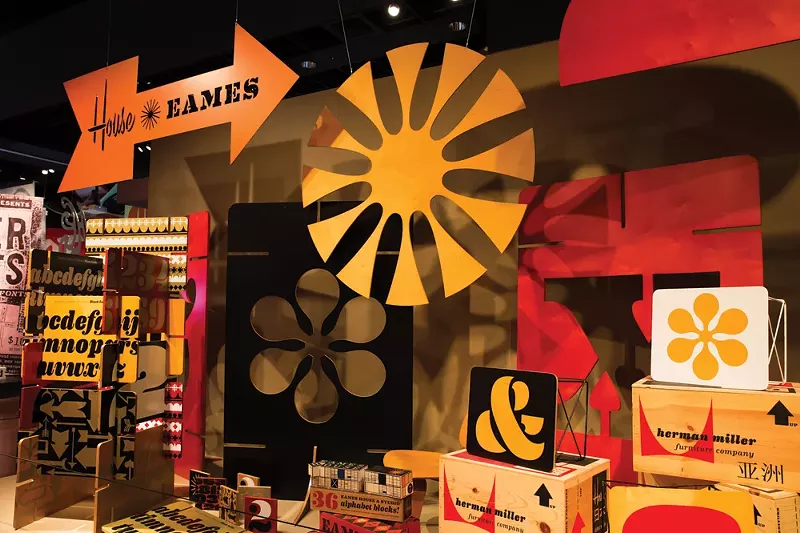 Step through the larger-than-life entrance to House Industries: A Type of Learning inside the Henry Ford Museum of American Innovation and you're transported to a cartoonish world — one where a comically grotesque Rat Fink and NASA space shuttles exist side by side. This is the world of House Industries co-founders Andy Cruz and Rich Roat.
The pair met in the early 1990s while working at a marketing agency, but according to Cruz, they found working with clients was often tedious and less than fruitful. Fast forward a few years, Cruz and Roat launched a design firm that would create fonts for Adele albums, late night talk shows, car companies, Wendy's, and countless other pop culture icons.
And while the company is probably the genesis of an innumerable number of typefaces you see every day (they also created the popular Neutraface font as well as fonts for Third Man Records, Shinola, and SXSW) there is more to their story than decorative lettering. Starting with an epilogue of sorts that includes early inspirations like Evel Knievel, Mystery Science Theater 3000, and Herman Miller, guests to this new exhibit will get a kaleidoscopic walk-through featuring pristine hot rods, a menagerie of punk T-shirts, earthy pottery, and mid-century modern design elements.
"They have a no-holds-barred approach to work," says Marc Greuther, the museum's chief curator, during a preview. Most of the exhibit was pulled together during our sneak peek, but Cruz was still working to hoist some elements into place before it would open to the public that weekend.
The exhibit explores how Cruz and Roat were able to fuse their personal interests with their creative skills to turn whimsy into work. For example, an early love of Ed Roth's Rat Fink led to a collaboration that brought to life House33. Early in their career, the pair partnered with Simon "Barnzley" Armitage to create a clothing line that combined "London folklore with our juvenile fascination for drawing blood, guts, skulls, and slime." The shirts are showcased in a display embellished with cartoony drips of bright red blood.
For Greuther, those shirts are the embodiment of the inspiration the exhibit seeks to provide to creative types everywhere. "They are fans first and they're having fun doing it. There is a humor that runs through their work," he says. "There is a possibility you can do what you love, even if it's just printing a T-shirt."
But, the campy nature of the shirts are also a symbol of self-awareness for House Industries.
"There is a balance between being deliberate and not believing your own press," Greuther says.
While the exhibit was coming together, Cruz and Roat were simultaneously preparing to release a coffee table book of their work, yet Cruz seemed to be in an observable state of excitement rather than exhaustion.
"The process has been a bit of a birthing," says Cruz. "But, we're pretty psyched."
With an overarching mid-century modern feel, the exhibit will feature a number of tangible items on which House Industries fonts have been used. The pair partnered with Heath Ceramics, a historic company founded by Edith Heath, to produce modernistic clay clocks and tiles. They also worked with a traditional Japanese pottery studio to create special pieces that were still authentic.
Other collaborations include work with Grand Rapids' Uncle Goose to make classic block toys for children, bubbly fonts used on clothing for Japanese design company Uniqlo, and stoneware for Eldreth — all of which are featured in the exhibit.
The type foundry has also collaborated with the estate of Charles and Ray Eames, a union that's helped lead them to prosperity.
"Partnering with people like Eames has helped them be successful," Greuther says. "There is craftsmanship and detail. They work very closely together. It's a real partnership."
House Industries: A Type of Learning will remain open through September, and a celebratory opening night on June 8 will include a short presentation with Cruz and Roat, plus their longtime co-conspirator Ken Barber, as well as live music and cocktails. Admission is $85, and also includes a signed copy of their book, House Industries: The Process is In The Inspiration.
House Industries: A Type of Learning is now open in the Henry Ford Museum of American Innovation. An opening reception is planned for June 8 at 6:30 p.m. A House Industries Happy Hour will take place every third Wednesday in June, July, and August from 5 p.m. to 8 p.m. For more info go to thehenryford.org.