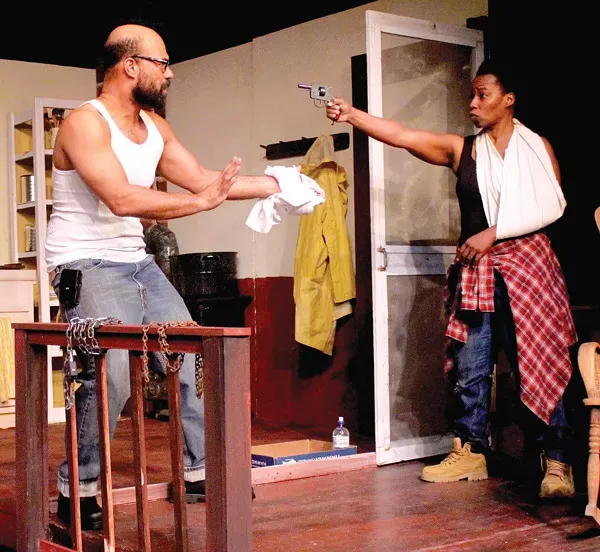 They say there are no second acts in American lives. That proposition gets tested by two very different kinds of characters undergoing mid-life crises in a new comedy-drama at the Detroit Repertory Theatre this winter.
It's called
Dauphin Island
, and it's written by actor, award-winning playwright, and Inkster native Jeffry Chastang. The play was well-received at its world premiere at the Alabama Shakespeare Festival in March 2017, and has now been given its Midwest premiere this month at the Detroit Repertory Theatre, where it runs until March. It's directed by Detroit theater veteran Leah Smith and stars two talented actors familiar to Rep audiences, Jonathon West and Yolanda Jack.
The play focuses on two displaced characters, Detroit-born Selwyn, fleeing the aftermath of an acrimonious divorce, and Chicagoan Kendra, looking for a place to disappear and begin a new life. When their paths cross in the dense pine woods of southern Alabama, they challenge each other's dearly held preconceptions and change each other forever.
We sat down with Wayne-based Chastang, 51, to ask about the play. He's the sort of playwright who enjoys discussing his characters, who constructs whole fictional families for them, and enjoys telling their stories almost as if they were friends of his. Of Selwyn, he says, "He's a construction guy who lost his job when the bottom fell out of the economy. He and his wife had a very bitter divorce. He has a 12-year-old daughter that he adores. They talk on the cell phone every day, but his daughter has to be very careful not to let her mother catch her — it's that kind of situation."
"Selwyn is a wonderful father but a lousy husband," Chastang says with a laugh. "Or at least he was not a faithful husband. So he's used to charming women and having his way, basically here today gone tomorrow."
How the proud fall. In better days, he and his registered wife nurse lived in a fine home near Outer Drive and Livernois. Before long he was $7,000 behind on child support and living in his car in Southwest Detroit, so when word-of-mouth arrived of a construction job on Dauphin Island, Selwyn aimed his car toward Louisville and headed south down I-65. About 1,000 miles and one failed ball joint later, he's left stranded in the pine woods, knocking at Kendra's door.
Almost before he can begin smooth-talking her, Kendra has pulled a gun on him, fired a warning shot, and handcuffed him to the porch, a scene Chastang says elicits whoops of laughter from audiences. Suddenly the Lonyo Avenue lothario finds himself outmaneuvered by the proverbial "strong female character."
It's made all the more unusual because Kendra is from the right side of the tracks, a lifetime member of the black bourgeoisie who left her corporate executive husband and her two children. She'd only heard of Dauphin Island briefly on a hurricane news report, thinking, "It looked like a good place to get lost." In her case, "getting lost" initially meant nursing herself through a mastectomy, though she's now inherited a fading juke joint from its dying owner. That roadhouse is full of promise, as a planned Winn-Dixie distribution center nearby ought to provide a steady stream of customers. But can Kendra persuade Selwyn to stay? At least without a sidearm and handcuffs?
Yes, the play has some strong language and adult situations, but don't let that trick you into thinking it isn't funny. Chastang says it gets loads of laughs. "To me, the thing about black people is, we've been through so much and had so many things happen, if we didn't have a sense of humor, we wouldn't be here!" he says. "I didn't set out to write a comedy, but that humor is there. It's just inherent."
Dauphin Island
will be performed Thursdays through Sundays until March 18, at the Detroit Repertory Theatre, 13103 Woodrow Wilson St., Detroit; 313-868-1347; for online ticket sales, click here.