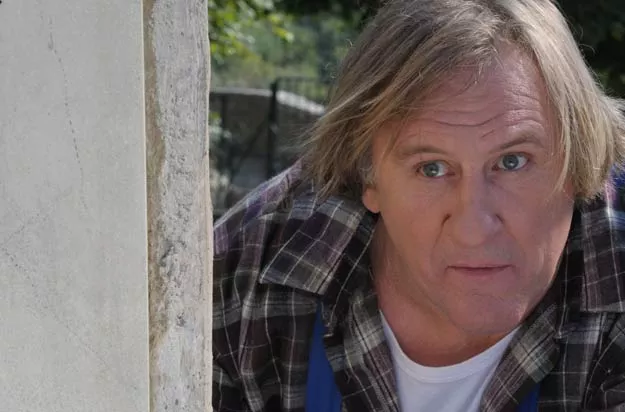 My Afternoons with Marguerite
B
Gérard Depardieu is a towering figure in the French cinema, a fact belied by his Falstaffian girth, which is now rivaling late-period Orson Welles. His stature has only grown, even as in recent years he's increasingly taken to lighter fare; at least at work, if not at the dinner table. Here he grounds a particularly airy soufflé of a film, lending gravity to subject matter that could have easily floated away on the trip from the page to the screen.
Depardieu stars as Germain, a lovable buffoon in a bucolic little French town where everybody seems to know your name, and intimate personal details. He shuffles along through life blissfully ignorant, getting by as a handyman and selling vegetables from his garden at the weekend market, while living in a trailer next door to his miserable, cranky shrew of a mother. He willingly acts the gregarious fool, because no one expects much of him, not his boozy chums down at the pub, or his charming, patient and entirely too young for him, bus driver girlfriend (Sophie Guillemin). The only one concerned with nurturing the wounded soul inside Germain's hulking frame, is a delicately lovely and frail retiree named Marguerite (graceful, 97-year-old Gisele Casadesus), who shares his love of watching pigeons from a park bench. While the big galoot has never had much interest in reading himself, Marguerite thinks he's a great listener, and starts reading to him from, of all books, Camus' The Plague. As soon as you can say cliché, our bumpkin embraces literature, and begins to find the long missing self-confidence stripped away by a lifetime of abuse and belittling.
This is as mainstream as French filmmaking gets, amiably romantic and enjoyable, yet still infused with a soupcon of rueful philosophy to cut the sweetness. In this country, the same faintly hokey material would've screamed Hallmark channel tripe, and stunk of potpourri and Jessica Tandy's dying breath. Depardieu wills the story forward, even as it meanders through flashbacks and sidetracks, and the force of his charm is undeniable. Slight as the film is, director Jean Becker has perfectly calibrated all the elements, and like rind of Brie and a good baguette, sometimes the simplest ingredients can work wonders.