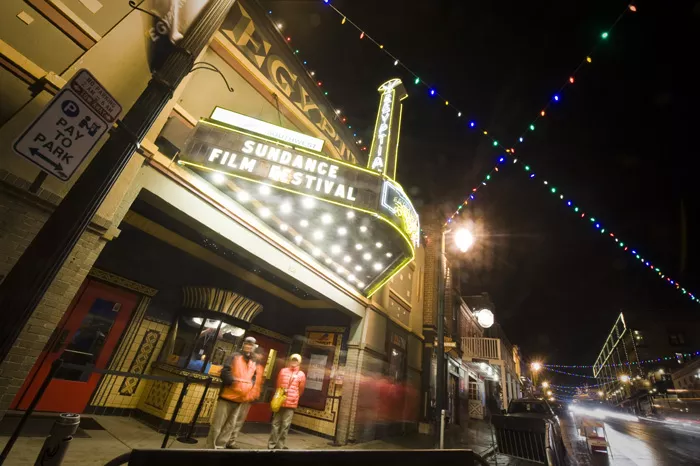 I meet Jean Lortie on the hour-long shuttle ride from Salt Lake City's airport to Park City. For the last 10 years, the Sundance Film Festival (which came to an end last Friday) has been an annual pilgrimage for the Ottawa native. Each year, he plots and plans his festival schedule with an accountant's eye, hoping to maximize his viewing preferences. He averages 40 films per festival, he tells me. Fifty is his all-time record. This year he has 18 tickets in hand but is worried about the festival's new online wait-list system.
It works like this: Two hours before a screening, your Sundance app will release a certain number of wait-list slots. Hit the button quick enough and you'll be given a number. You can even request two numbers if your account is linked to a friend.
"I guess folks with dumb phones are out of luck," Lortie says.
Unlike the mammoth Toronto International Film Festival, Sundance is particularly ripe for casual contacts and conversations like this. Park City is 7,500 people tiny, and the chances are high of striking up a conversation with a festivalgoer on a shuttle or in line waiting for a screening or at one of the many, many parties and drop-in welcome centers (all connected to corporate sponsors, of course).
Over the course of five days, I make insta-friends with filmmakers, fellow journalists, festival programmers, producers, distributors, marketing folks and an actor or two. Though purchase and distribution deals are constantly being made and everyone's is networking overdrive, Sundance has the feel of a film-industry summer camp. For the better part of a week, you live in a bubble where movies are like oxygen, and everyone is breathing in the same nosebleed-dry atmosphere. People are chatty, happy and surprisingly accessible. I guess that's what happens when you bring thousands of New Yorkers and Los Angelenos into the thin mountainside air and ply them with a steady flow of alcohol, cheap food and ego-boosting compliments.
Even during an interview with director Alex Ross Perry, whose misanthropic literary film Listen Up Philip is being compared to the work of Noah Baumbach, actress Elisabeth Moss (Mad Men'sPeggy) spontaneously drops in to tell me how awesome Perry is as a director. Later, when every writer's nightmare comes true and I discover that my digital recorder failed to record our half-hour Q&A, Perry shrugs and jokes, "Well, at least it was a great conversation. But serious bummer for you. I was giving you real gems there."
Lortie wasn't even my first Sundance social encounter. Things started early on the plane ride out as I found myself seated next to an Acura marketing exec. Handling the high-end auto's presence at the festival and sponsoring several invite-only parties (I was not extended an invitation), he explains to me that he has been very successful at marketing Acuras to "independent thinkers." When I suggest that seems oxymoronic he grins and nods, seemingly unaware of my point.
On Thursday, several films are already generating a huge buzz. Whiplash, which played on the festival's first afternoon (before the hordes arrived) is already earning accolades (so much so that I am unable to get a ticket for the rest of the fest). A kinetic drama about a drumming student at a New York music school (Miles Teller) and his volatile teacher (J.K. Simmons), it takes the top audience and grand jury awards in the U.S. dramatic competition and is snapped up for a cool $3 million.
Missing some of the hotter films (including Zach Braff's Kickstarted Wish I Was Here, the Roger Ebert do Life Itself and the much ballyhooed drama The Skeleton Twins, starring Bill Hader and Kristen Wiig as siblings) would become a recurring theme for me at Sundance. Slow shuttles, unfortunate scheduling, interviews and, ahem, a party or three had me frequently rearranging plans. The biggest disappointment was being unable to get a ticket for Richard Linklater's 12-years-in-the-making Boyhood and a surprise screening for Lars von Trier's Nymphomaniac. Still, here's a quick rundown of a few of the standouts I did manage to catch:
Locke— Here's the pitch: Thomas Hardy driving in a BMW for 85 minutes, fielding calls via Bluetooth from his family, coworkers and an anonymous woman. That's it. And, shockingly, it works. I mean, not completely. But Hardy is so good and the writing is so tight that this cinematic one-man show keeps you on the hook the whole time.
Calvary — John Michael McDonagh (celebrated playwright-filmmaker Martin's older brother) proves he shares his sibling's dark and wicked wit with The Guard. He also gives Brendan Gleeson a much-deserved starring role. This sophomore effort tries to catch lightning in a bottle twice and comes damn near close. Gleeson plays a priest who, in the film's opening, is threatened with death by a confesser seeking retribution for the sexual abuse he suffered as a child at the hands of a now deceased priest. The rest of Calvary is a weeklong who-will-do-it, as we meet the humorously disgruntled citizens of Gleeson's small Irish community.
Ida — Haunting, lyrical and patient, this black-and-white drama by Pawel Pawlikowski doesn't spare a moment of its 85-minute running time on its simple yet memorably rich drama. It's 1962, and young Anna is on the verge of taking her vows as a nun. First, however, she must visit an aunt she never knew she had. A prominent judge in Soviet-controlled Poland, Wanda is boozy and promiscuous, and reluctant to help her niece discover what happened to her parents during the war. But eventually she joins Anna on a road trip into the countryside, where the secrets of their pasts will be revealed. To anyone who knows history, the revelations are far from surprising. But how each character responds is unforgettable.
The Raid 2: Berandal — The convoluted plot is borderline incompetent, but Gareth Evans' follow-up to his hit Indonesian: The Raid pushes the envelope for what is possible in an action film. Hyperviolent and jaw-dropping in its audacity, the sequel features the most batshit crazy car chase, gun duels, and martial arts brawls ever burned into the big screen. An epic prison-yard riot set in a gigantic mud pit features dozens of pugilists snapping bones and gouging eyes. A brother-and-deaf sister team of assassins has one wielding a baseball and bat and the other slashing and pounding victims with a pair of hammers. The car chase must be seen to be believed. The movie is two-and-a-half hours long, half of which is an adrenaline junkie's wet dream, the other half a snooze-inducing bore. With some judicious pruning, the plot and writing wouldn't get any better, but at least the breaks between blow-your-mind stunt sequences would be shortened. Oh, and did I mention that the budget was a mere $4 million?
What We Do in the Shadows — It's The Real World set in Wellington, New Zealand, with four vampires who are flatmates. Taika Waititi (Boy, Eagle Vs Shark) and Jemaine Clement (The Flight of the Conchords) write, star and direct, and the results are damn funny. Comedy is, of course, subjective and some didn't cop to the duo's mockumentary approach. But I found the movie frequently clever and occasionally hilarious.
Dear White People — Finally, someone confidently steps into Spike Lee's domain and makes it his own. First-time feature director Justin Simien presents a clever, nuanced and, most importantly, funny look at race relations on an upscale college campus. Though the pace could use some tightening and his narrative sense is loose, his characters, dialogue and comic timing are whip-smart. It's the perfect vehicle for discussions about race, gender and identity in post-Obama America, and its takedown of Tyler Perry movies is worth the price of admission alone.