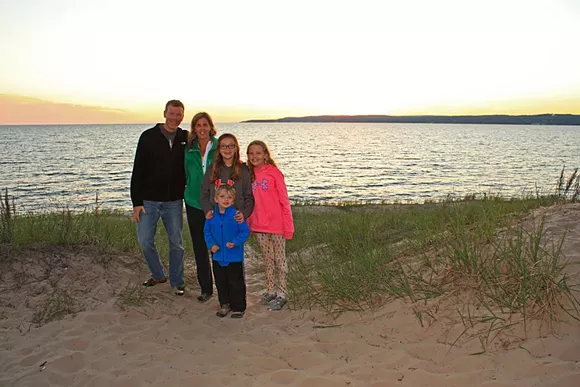 The Steenwyk family — made up of Brian, Kim, and their children Regan (age 12), Reese (age 9), and Reid (age 5) — have taken their travel journal digital and are helping Michigan travelers in the process.

The family of five calls Holland, Michigan home, and they've been documenting their travels around the state since 2010 on their website mymichigantrips.com.

The beginnings of the site started in 2005. Brian made a website for his brother's kayak rental business and included a section that featured photos from camping trips with friends and family.
"After doing this for a few years I noticed that more and more visitors were finding macboathouse.com because of our photo pages," he said. "At the same time we were also having more people ask us about our favorite places to vacation in Michigan."
With the increase in traffic and comments, Brian ultimately decided to give his travel documentaries their own domain.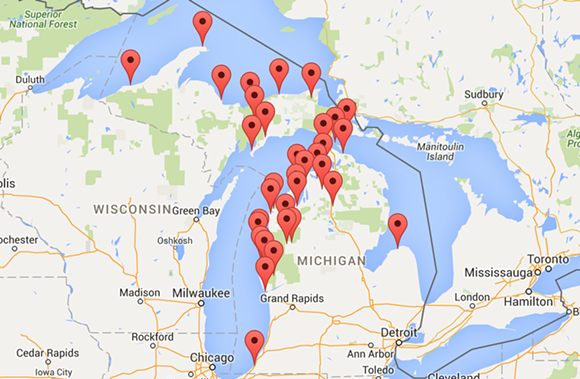 On their website, the family publishes trip reports from their adventures. Since the site started, the Steenwyks have documented more than 30 destinations around the state, with the hopes of helping people who are looking for ideas on where to camp, hike, kayak, and bike plan their trips. Every post on the site is in-depth and includes pictures, maps, tips, and stories from the trip.
The family also has a YouTube channel, where they publish more pictures and videos from various trips. Here's a look at their bike ride on Glacial Hills Pathway from earlier this year:



Brian does his research before each trip and gathers information from a number of resources. One of his favorite authors is Jim DuFrense, who runs michigantrailmaps.com, which Brian said is "very useful for planning trips." He also follows several Michigan photographers to get ideas, like John McCormick from Michigan Nut Photography and Richard Thompson Photography.
"I have always loved researching and planning new adventures," Brian said. "I own about every Michigan outdoor guide book that has been written and read them cover to cover several times."
Planning ahead is one of the Steenwyk's keys to a successful trip, as most State park campsites are booked six months in advance.
"If you do not book on the exact day, all of the good campsites will be taken, especially at the popular parks," Brian pointed out. "Getting a waterfront or secluded campsite can make for a much more enjoyable stay. Look at sites ahead of time and use Google Maps to have a few choices ready when the reservation period opens."
While planning the trip itself is important, Kim pointed out it's also important to be flexible. "Sometimes our days are structured with a list of things we want to see or do. Other days we take it easy and head to a beach for the whole afternoon," she added. "If it rains, we go out to eat, or check out the visitor center. Having a list of possibilities ahead of time helps when the weather is in control of your day."
Things don't always go according to plan, which the Steenwyks have learned to adapt to.


"The kids also like rating the hikes," Kim said. "We have actually had some hikes rate in the negative because of heat or bugs. Sometimes, when we end up on a frustrating hike, we share stories of other hikes that were either much better or much worse. It helps us all get through it."
And in the end, it's always worth it. "Camping is a time for our family to relax and enjoy each other, and just be ourselves," Kim said.
For those wary about outdoor adventures with kids, the Steenwyks are proof it's possible. "Hiking with kids can be fun!" Kim added. "We choose hikes we think everyone will enjoy with a view or something rewarding at the end."A treat, like lollipops, is a must for our crew, she added.
The family's next trip is already in the works. "We try to make it up to the Upper Peninsula every year and this summer we will be spending a week camping in the Pictured Rocks area," Brian said. They plan on staying at the Munising Tourist Park Campground for the first time before heading to one of their favorite campgrounds in Grand Maris.

Here are each of the Steenwyks' favorite destinations (so far).
Brian, Copper Harbor



"Copper Harbor is the furthest we can go from our house and still be in Michigan. You definitely feel like you are getting away from everything. I picked this as my favorite because Copper Harbor has 33 miles of some of the best mountain biking trails in the state and probably the entire Midwest. In 2009 the trail system was rated as an "Epic Ride" by the International Mountain Biking Association. In addition to the biking there are several short, but scenic family friendly hiking trails. We also enjoyed the secluded rocky beaches and the great scenery while driving along the shores of Lake Superior."
Kim, Pictured Rocks



"We have had great camping sites at Grand Maris and in Christmas. I love the slow pace and variety of things to do there. We can spend the day hiking to waterfalls, kayaking or just relaxing at the beach. Lake Superior isn't always great for swimming, but it is clear and beautiful and perfect for collecting rocks and there is so much to see when you kayak. Plus,we have seen amazing sunsets here."
Regan, Fayette State Park



"What I really liked about camping in Fayette is that the campsite was great. At our campsite we had a little trail that led to a rocky beach. I loved sitting on the giant rocks while watching the sunset or drawing a picture. I also like biking down a dirt road to go look at the ghost town. In some of the houses there was activities to do and it was so much fun."
Reese, Ludington State Park



"I like hiking the island trail around lost lake. I also like when we ride our bikes to Big Sable Point Lighthouse and climb to the top. Ludington also has really nice beaches where you can sit down and relax and sometimes you can find treasures that washed up on shore."
Reid (pictured below), Silver Lake Dune Rides



"My favorite is the Dunes Rides at Silver Lake. I like going fast up and down the hills. It is fun to put your hands up in the air."


***


"It is a lot of work to do an outdoor family vacation, but it has also given us some of the best times together," Brian said. "It often feels like I am the outfitter and Kim is the camp cook. I am always unpacking or packing up bikes, kayaks and camping gear while she is preparing and cleaning up meals. We are a team, sharing the workload in different ways."
To stay up to date with the Steenwyks, and to get inspiration for your next Michigan vacation, you can visit mymichigantrips.com and like them on Facebook.

All photos courtesy of the Steenwyk family.