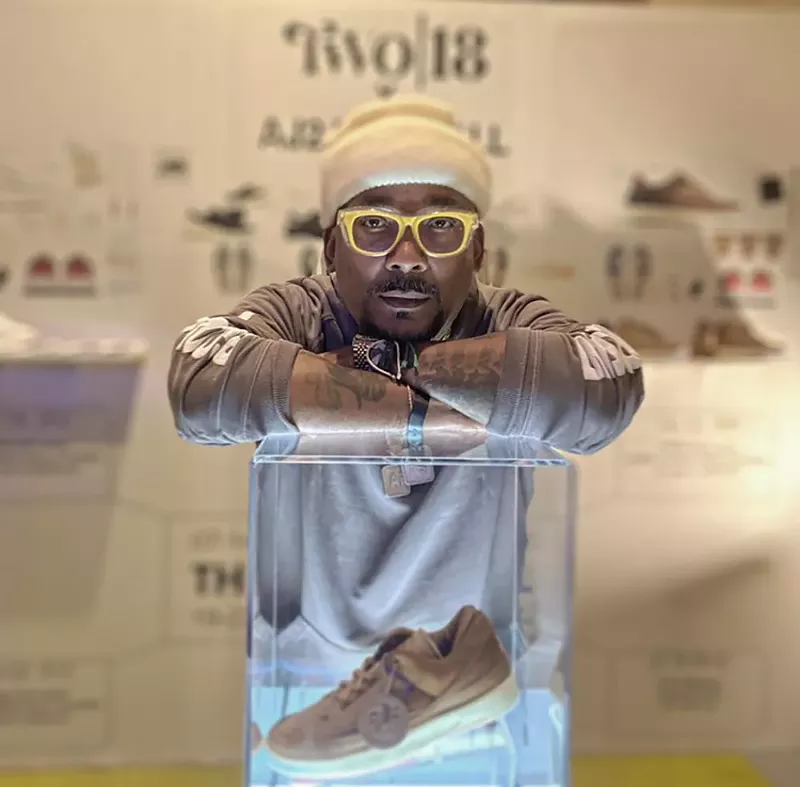 For three decades artist Mario Butterfield has played a part in every significant hip-hop and streetwear movement in Detroit. Currently creative director for Burn Rubber and Two 18, he's a photographer, illustrator, videographer, and overall renaissance man.
Now 44 years old, he first found his artistic footing at 14 in Maurice Malone's famed Hip-Hop Shop.
"That age is important to me because that's when I discovered who I was and what I wanted to do — and I've been doing it since," he says.
In the mid-1990s, the Hip-Hop Shop was an explosion waiting to happen. Slum Village, Proof, J Dilla, and Eminem were all on the brink of success. Butterfield was able to witness it — and even contribute.
"Johnnie Muhamad, he stepped in when I was 14 as well. He hooked me up with like $10,0000 worth of software because at the time to buy Photoshop was, like, 1,000 bucks. He had a whole catalog of design software burned for me," Butterfield says.
"I stood close to Maurice Malone at the shop, so that was like an advantage too," he continues. "So that inspiration obviously still bleeds into me. Just seeing a designer who's tangible meant a lot."
When Proof started paying him $75 a week to design flyers for Hip-Hop Shop's weekly open mic series, it was Butterfield's first paid gig.
"On the movie 8 Mile, in the Chin Tiki, when they're passing the flier for the open mic at the hip-hop shop, one of those flyers is like a replica of my actual flier," he says.
Over the years Butterfield has done work for legendary clothing retailer Strictly Sportswear and fashion brand Marc Buchanan. He drew the logo for famed DJs 12 Tech Mob, worked as the creative director for Proof's Iron Fist Records, and founded SkinnyboysGraphix with fellow creative Waajeed.
He says the work has changed since his early years.
"The tangible process was a lot different than what people do now," he says. "You don't take those risks. I lived through the risk era. We had to know how to do it. With photography, I wasn't looking at a screen to know what the photos would look like. I had to know my aperture, shutter speed. I had to know how to take a picture."
Butterfield is also the man behind many of Detroit's most famous album covers. He photographed and illustrated Big Herk's classic 2003 debut album Guilty as Charged and Black Milk's second album Popular Demand (2007). He's worked with Doughboyz Cashout member Payroll Giovanni multiple times: 10 Stack Commandments (2018), Ghetto Rich Niggaz (2020), Spirit of a Boss (2020), and Back to Ba$ics (2022).
"Payroll, he always has ideas. He's a hardcore creative," Butterfield says.
Last year Butterfield saw his career reach a new high as he was the lead designer on the Two 18 x Air Jordan 2, Detroit's first themed Nike Air Jordan sneaker.
"It's definitely the biggest thing I ever put my hands on, I would say that would be tops," he says.
Roland Coit, owner of Burn Rubber and Two 18, says Butterfield's creativity has made a big impact on the sneaker and streetwear boutiques.
"On the Burn Rubber side, we both learned from him as young pups in the game. On the Two 18 side, although we work hand in hand on ideas and the big picture, I gave him the lead on creating what the brand looks like," Coit explains. "As a friend, he's the best kind of left-brained weirdo to exchange energy with."
Butterfield loves seeing how that energy has made ripples across the city's hip hop scene.
"I take pride in how I've been able to spread myself," he says. "I feel like I've worked on at least one component on anybody in Detroit that people could think of."
Subscribe to Metro Times newsletters.

Follow us: Google News | NewsBreak | Reddit | Instagram | Facebook | Twitter