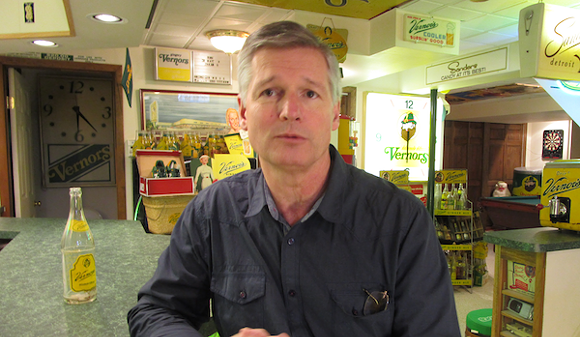 Want to see the collection? Click here to see our 43-picture slideshow of it.
Keith Wunderlich always enjoyed Detroit history. The 59-year-old Troy resident says that, even in his 20s, he liked picking up whatever he could find at flea markets and antique stores. One day, when he was poking around in his parents' garage, he found a big box of Vernor's bottles.
"They were returnable bottles," he says, "but you could no longer return them at that time. So I asked if I could have them — and all of a sudden Vernor's outnumbered everything else I had in my collection, and I decided I'm gonna go with Vernor's then. It kind of took off from there."
Did it ever. Visitors to Wunderlich's basement will find an absolutely massive collection of Vernor's memorabilia. He has vintage bottles, original sales materials, gnome statues, coolers, coin-operated vending machines, even a complete soda fountain (salvaged from Waterford's Richardson Farm Dairy) set up with stools and everything.
The collection that started with a few odds and ends and a bunch of bottles grew over the years with pieces he picked up at sales over the years. Of course, much of it was collected via online auctions and sales over the last 20 years, but he says he still gets calls from people who've been directed to him as a likely buyer for their unusual Vernor's-related relics.
"I get people calling me up to say, 'Hey, do you have a bottle like this?'" Wunderlich says. And 90 percent of the time, I say, 'Yeah, I have it.' But 10 percent of the time, I say, 'Oh, I would kind of like to see what you have.'"
"I used to think, many years ago, you know, Vernor's is a small company, it couldn't have produced that much stuff. I must have most of what they did," Wunderlich says. "As I got older and wiser, I figured I'm just scratching the surface. I personally know of 50 signs that I don't have and have only seen in pictures. How many other things are out there that I just never saw? It's amazing how much they produced."
Is it the biggest Vernor's collection? "As far as I know," Wunderlich says. "I haven't seen one bigger, and I pretty much know the Vernor's nuts that are around. There are a lot of people who collect Vernor's, but with other sodas, or it's just a part of their Detroit collection, or something like that. I know some people with some really big collections, collections bigger than mine, but it's not exclusively Vernor's. So I think this is probably the most Vernor's stuff you'll see in the same place."
"I always tell my wife there's worse habits I could have," he says with a smile.
Of course, like all Vernor's lovers of a certain age, he still recalls the super-effervescent pop of a freshly opened Vernor's — before the formula was altered.
"They've toned it down some for a larger market," he says, "but, yeah, you used to not be able to bring it to your nose. If you were still breathing, you were going to have a problem. You needed to stop breathing if you wanted to drink it. I thought it was great. I still like it. It just doesn't have the punch that it used to have."
Wunderlich is also actively involved with a group called Vernor's Ginger Ale Collectors Club, or "The Vernor's Club." Its members number about 70, and it was founded a decade ago. For much of that time, Wunderlich has been editing a quarterly newsletter on the topic. It has made him something of an authority on the arcane details. Yes, he believes James Vernor was messing around with a ginger ale formula and left for the Civil War, and that played into the discovery of the Vernor's formula. No, there wasn't always a gnome; the original mascot of Vernor's was a delivery boy. Did you know the elder Vernor was instrumental in the creation of the Michigan Board of Pharmacy? Or that the drink wasn't bottled until around 1900, and then each bottle may have come from about 250 bottling plants across the country? Always a local favorite, the drink apparently almost had a national reach.
And it left a trail of unusual promotional materials, including large sales displays and even mechanical gnomes (Wunderlich has one). There are no cars in Wunderlich's collection, but he is aware of a Vernor's station wagon the factory used for deliveries, as well as a "Gnomemobile," a green AMC Pacer with hubcaps that bore the image of gnome faces. Sometimes it would be driven by artist Ron Bialecki, who'd dress up as a gnome. He'd been hired to freshen up the brand, and "got kind of caught up in it."
In fact, Bialecki is in good company. The collectors in the club share Wunderlich's fanaticism for the brand, even though it's now owned by Dr. Pepper. Wunderlich says there are a couple people in the club with Vernor's tattoos.
Also, Vernor's has lived at various locations throughout Detroit. At first, it was in James Vernor's shop. Vernor was many things, including a florist and a druggist. In those days, druggists had soda fountains. And Vernor's soda fountain served his own soft drink at Woodward and Clifford. In the 1890s, the drug store closed and the soda business moved south of Jefferson Avenue. By 1915, it had grown into a massive bottling plant that sported its own soda fountain. In the 1950s, the business moved again, up to Canfield and Woodward, so the city could redevelop the riverfront into what is now Hart Plaza. The plant was closed in the 1980s, and University Tower now stands where it used to be.
Usually, collectors like Wunderlich are happy to go about their business quietly, sharing tidbits in their club newsletters. But this year, he's trying to drum up some interest in the press. The reason for that? 2016 marks the 150th anniversary of the oldest surviving ginger ale brand in the United States, and Wunderlich and company aren't about to let that pass without a celebration.
He and other organizers are aiming for a June 11 celebration. He's hoping people will want to get involved. He envisions restaurant owners offering special menus featuring Vernor's-related items, or downtown taverns offering mixed drinks made with the beverage, and that Detroit breweries offer a commemorative ginger beer. He'll also help organize a poker run-style scavenger hunt, related to a dozen places handpicked for their significance to the soft drink. He'll also be leading a presentation on Vernor's history, and there will also be an attempt for a new world record: the Most People Drinking Pop. It sounds like a fun-filled day loaded with Vernor's floats and Boston coolers. The goal is to raise the $5,000 required for a historical marker. "There's actually no historical marker in Detroit for Vernor's," Wunderlich says. "We'd like to change that."
It should be quite a shindig. Wunderlich simply can't be alone in recalling those memories fondly: "My dad would take my mom on a date at least every other week to Vernor's. They had a car service outside, where you would just pull up in the parking lot and girls would serve you outside, right on the river. There are great stories I've heard of marriage proposals at Vernor's, or going to Vernor's before or after the taking the Boblo boat. It's such a part of the history of Detroit and the history of Detroiters. It's a good anniversary to celebrate."
Curious? Like to get involved? You can reach Wunderlich by sending an email to

[email protected]

.

Editor's note: Yes, we know it's officially called Vernors now, sans apostrophe. We decided, given the historical nature of this piece, to include it for old time's sake.